Katie Holmes, Jamie Foxx Reportedly Ready To Take Their Romance Public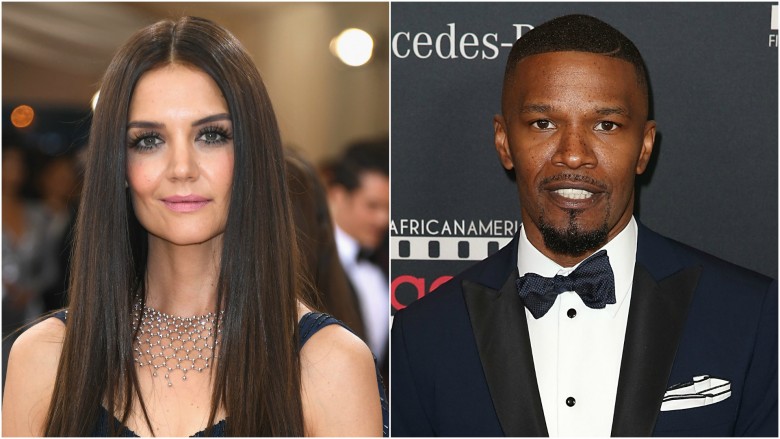 Getty Images
Prepare to see a lot more of Katie Holmes and Jamie Foxx.
Us Weekly reports that Holmes and Foxx, who have been dating since 2013, are finally ready to present their love to the world. A source told the publication that the couple "used to be super worried about public attention," but apparently that's all changed.
While you might think it odd that Holmes, 38, and Foxx, 49, have rarely been photographed together throughout their four-year relationship, it's important to note just how strategic both actors have been. According to a second source, Holmes, who shares a child with ex-husband Tom Cruise, and Foxx went to great lengths to avoid making headlines. "To make it impossible to get photo evidence that they are together, they traveled in cars with tinted windows and took secret back elevators," the insider explained. "They had it down to a science."
Despite past reports that the couple had split, Holmes and Foxx sound like they're closer than ever. "Katie and Jamie are finally getting to a place in their relationship where they are feeling free and proud of their love. They have been secretly dating for years and until recently have kept their passion for each other behind closed doors," an insider told Hollywood Life. "Katie and Jamie have been together for so many years, they are slowly bringing their relationship out in public and are OK with their not-so-secret romance."
Us Weekly's first source also stated that "Katie is tired of playing the hiding game." And we can't say we blame her one bit.
"They're going to go out to dinner more," the magazine's source went on, "and are talking about a trip to Europe."
We can't wait to see this pair go public. Maybe they'll make their debut while traveling—we'd love to see their vacation photos!