Katie Holmes And Jamie Foxx Split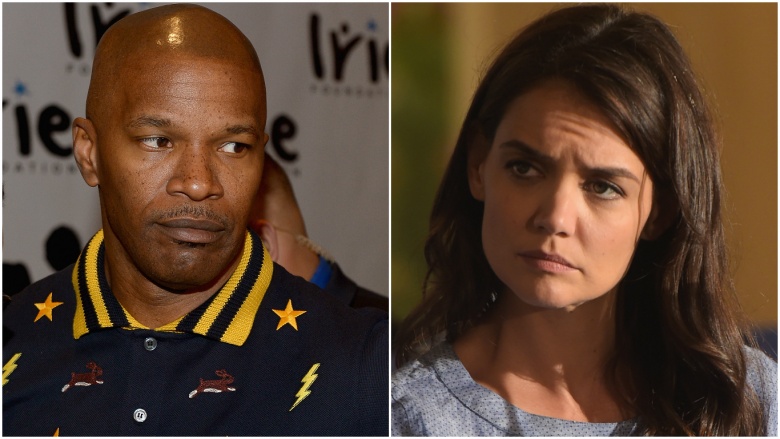 Getty Images
What was possibly the most discreet Hollywood couple of all time has called it quits. Katie Holmes and Jamie Foxx, who've never even confirmed their relationship and have only been photographed together publicly once, are reportedly dunzo.
A source told Radar Online that Foxx broke it off after Holmes wanted to be more open about their romance. "Jamie is tired of being pressured by Katie into going public," the insider said. "He's asked for a few months out and made no promise he'll be available after that. It's heartbreaking for Katie, who would marry him in a heartbeat if he were keen," the source added. "She's hoping he'll change his mind and come running back, which, to be fair, he's done numerous times before." The insider also noted that Foxx appreciated the relationship when it was "super discreet" but "hated the scrutiny" once the public learned that they were together.
The Real Housewives of Atlanta star Claudia Jordan, a close pal of Foxx, was one of the first to confirm the relationship when she was a guest on the Allegedly podcast (via E! News) in June 2016. When asked about Foxx's relationship with Holmes, she said, "He is very happy with her. I like that he seems very happy."
Radar Online reported that Holmes and Foxx previously hit a rough patch in May 2016 when Holmes requested to go public. A source said at the time, "Katie has grown weary of playing hide-and-seek with their relationship. After several years skulking about with him on the down low, she desperately wants to show off her man."
Foxx's relationship with Holmes is not the first romance he's kept quiet about. He has successfully guarded the identity of daughter Corinne Foxx's mother for 21 years and counting, telling Oprah Winfrey (via ABC News), "I can be in a monogamous relationship, but my motto is, whoever you date, don't let people know."
Maybe so, but a source told Page Six that Foxx's reluctance could have something to do with just not wanting to settle down, noting, "Jamie wants to continue to act like the carefree guy he is in public. Eventually, the question had to come about whether he was committed enough to the relationship."
Holmes was last spotted cheering for Foxx and waiting in his dressing room when he performed with Barbra Streisand on Aug. 13, 2016, though the pair wasn't photographed together. In June 2016, Foxx was photographed holding hands with a mystery blonde at a charity gala and also bumping and grinding with a gaggle of women in a Miami club, so it seems he may be hypocritical about his public displays of affection.