IRS Empties Tori Spelling And Dean McDermott's Bank Accounts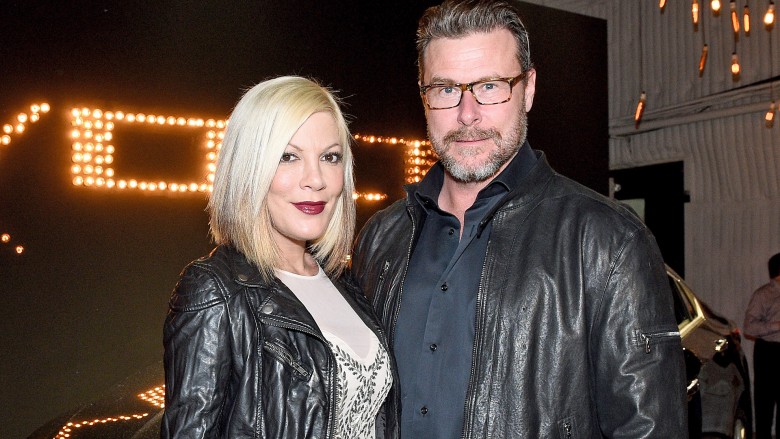 Getty Images
Tori Spelling and husband Dean McDermott are in dire financial straits again.
Page Six reports that the Internal Revenue Service "emptied" Spelling and McDermott's bank accounts for back taxes.
In July 2016, People reported that Spelling, 43, and McDermott, 50, owed more than $259,000 in unpaid state taxes from 2014. Later that month, it was revealed that the couple also owed more than $700,000 in federal taxes as well. E! News reported that in Aug. 2016, Spelling was ordered to pay a nearly $38,000 debt to American Express in a default judgment. The couple also faced a lawsuit from Citi Bank in Dec. 2016 for $200,000 for defaulting on a $400,000 loan from 2012, owing close to $189,000 including interest and late fees—on top of having to repay more than $17,000 that Tori overdrew from her checking account that September.
In Feb. 2017, Radar Online reported that McDermott owed more than $100,000 in back child support to his ex-wife, Mary Jo Eustace, for their son, Jack, after McDermott "just stopped paying." He faced jail time for contempt charges, but they were dismissed after he coughed up approximately $2,500.
Spelling and McDermott claimed to People that their financial troubles began in 2011, when they sold their home at a $1 million loss and when Spelling's retail shop, InvenTORI, failed.
Likely also not helping their finances is the fact that they keep having kids: They're parents to Liam, 10, Stella, 8, Hattie, 5, Finn, 4, and newborn Beau—and Spelling told People that she's considering a sixth child for their brood. Strangely, in Oct. 2013, McDermott revealed that his business manager said he couldn't afford a vasectomy at the time, which likely would have ended up saving him more money than expanding his family (and stretching his dollars) would.
Spelling's mother, Candy—who inherited the bulk of father Aaron's $600 million estate, leaving "only" $800,000 for Tori—told TMZ, "I've been paying all her bills now, except I'm not paying extras like that. I'm not paying any back payments—just for the house, and the kids' schools, and their food."
Tori previously told E! News that she never really learned how to manage money from her parents. "I don't blame anyone, but that probably set me up for not knowing too much about how to handle money a little bit. I don't want the same thing to happen with my children, so we're open about stuff." She added, "My husband and I work really hard. I'm constantly out there working. It's so important for my children to see that both their parents are working, and we talk to them about it." In 2013, she told People, "We're in the entertainment business, and things change year to year. We don't have a series on the air right now, so we have to be more restrictive of what we can spend, just like anyone who doesn't currently have a steady job."
In her 2013 memoir, Spelling It Like It Is (via Page Six), Tori wrote, "It's no mystery why I have money problems. I grew up rich beyond anyone's wildest dreams. I never knew anything else. Even when I try to embrace a simpler lifestyle, I can't seem to let go of my expensive tastes. Even when my tastes aren't fancy, they're still costly. I moved houses to simplify my life, but lost almost a million dollars along the way."