How Many Kids Does Robert Redford Have?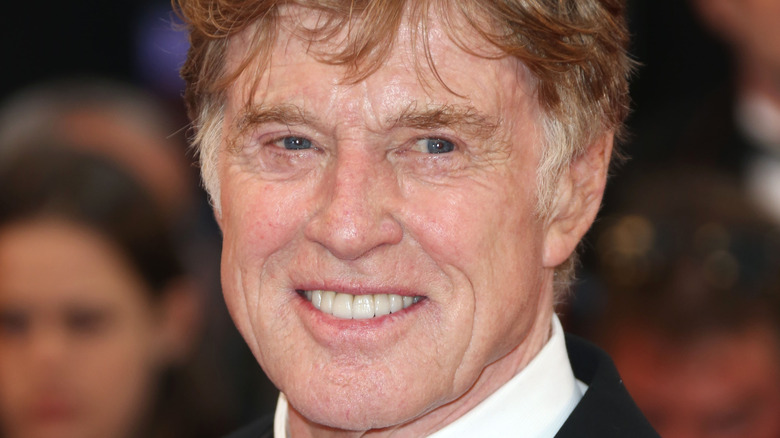 Featureflash Photo Agency/Shutterstock
Screen legend Robert Redford has undeniably one of the most accomplished filmographies in Hollywood. With his dashingly handsome good looks and versatile thespian skills, Robert was seemingly born to play many of the charismatic icons he's brought to life on-screen. (After all this time, it is still hard to imagine someone else playing the Sundance Kid.)
Oscar-nominated for his role opposite Paul Newman in the genre-defining "The Sting," Robert was also twice-nominated for his directing talents in 1980's "Ordinary People" and 1994's "Quiz Show," scoring a golden statuette for the former. In 2000, the Academy Awards also acknowledged Robert's influence on other artists in the industry with an Honorary Oscar. Presented by co-star Barbra Streisand from one of his best-known films (which is saying a lot) "The Way We Were," the Honorary Award not only paid homage to Robert's high-profile work as an actor, producer, and director, but also highlighted his founding the Sundance Institute to support aspiring filmmakers. 
For all of his name recognition, Robert Redford has always been a private movie star. Finding himself inspired by "the extraordinary lands encompassed in America's Red Rock Wilderness Act," per a HuffPost op-ed piece, Robert resides in the canyons of Utah in lieu of Hollywood. He also quietly married German painter Sibylle Szaggars in 2009, but not before having four children with his previous wife, producer Lola Van Wagenen. Here is the truth about Robert's little-known brood.
Both of Robert Redford's sons are deceased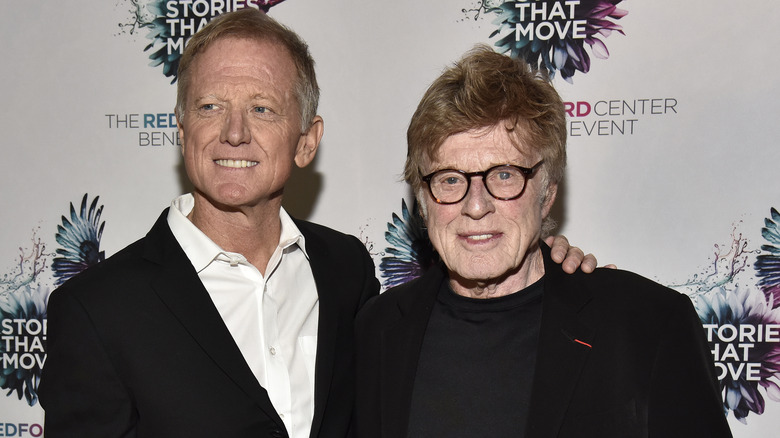 Tim Mosenfelder/Getty Images
Robert Redford's family life has sadly been burdened by heavy tragedy, largely unfolding out of the public eye. Via Amo Mama, Robert and his ex-wife of three decades, producer Lola Van Wagenen, had four children — Scott Anthony, David James "James," Shauna Jean, and Amy Hart Redford. Per the outlet, Scott Anthony died at 7 weeks old in 1959 of "crib death," or sudden infant death syndrome (SIDS).
"It was the heartbreak of Robert Redford's life, a tragedy that forever altered his psyche, plunging him into a depression that he only escaped by immersing himself in acting," Express described, for Robert and Wagenen never spoke of the tragedy publicly. In 1998, Robert did admit in an interview, per the British outlet, "People think it's been easy for me ... It's so untrue. The hardest thing in the world is when your children have problems. There have been so many hits on our family that no one knows about." 
One of the aforementioned "problems" could have been a reference to Robert's second son James' dyslexia. Via The Guardian, James' award-winning documentary, "The Big Picture: Rethinking Dyslexia," in 2012 even featured his own son Dylan Redford's dyslexia journey and accrued massive critical acclaim. The third-oldest Redford child, James died at 58 from liver cancer in 2020, per CNN, with a statement from Robert's publicist reading that James' "legacy lives on through his children, art, filmmaking and devoted passion to conservation and the environment." 
Robert Redford's daughter was involved in a murder investigation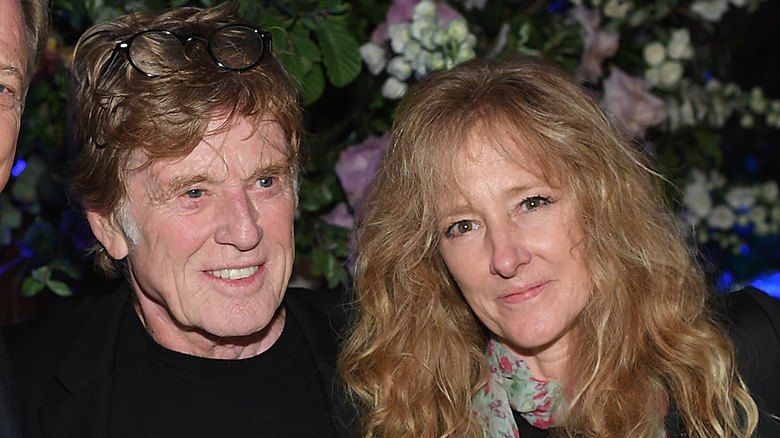 Dimitrios Kambouris/Getty Images
In addition to sons Scott Anthony and David James "James" Redford, Robert Redford and ex-wife Lola Van Wagenen also share two daughters, Shauna and Amy Redford, per Closer Weekly. Eldest daughter Shauna, born in 1960, is a successful painter with an estimated net worth of $2 million as of 2021 (via Information Cradle). She's married to "Fast Food Nation" author Eric Schlosser. A mother herself to two children, Shauna's most surprising life tidbit actually revolves around her time in college when, per the Daily Mail, her then-boyfriend was murdered in a since-unsolved investigation. 
Robert and Van Wagenen's youngest child, daughter Amy, was born in October 1970, per Amo Mama. She was the only Redford child to attempt an acting career as seriously as her father's. With the outlet reporting that Amy "began acting as soon as she was old enough to do so," she studied drama at San Francisco State University (via Wide Open Country). Her filmography features a string of impressive shows and films, including "The Sopranos," "Sex and the City," and "Maid in Manhattan." Like Robert, Amy also forayed into directing with a 2008 film "The Guitar" starring Saffron Burrows, as well as a star-studded documentary "Aperture," with the likes of Rosario Dawson and Drea de Matteo.