Carmelo And La La Anthony Split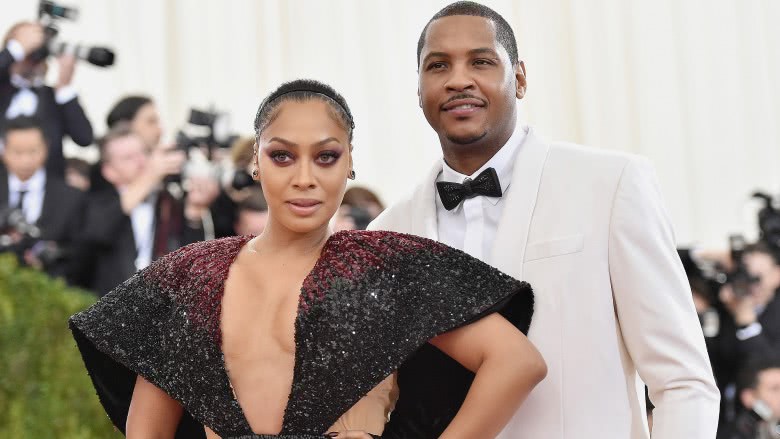 Getty Images
Say it isn't so! NBA star Carmelo Anthony and wife La La Anthony have split after seven years of marriage and almost 13 years as a couple. They share a 10-year-old son, Kiyan, whom they both adore.
A source told TMZ that Carmelo and La La have been living apart, with the TV personality getting her own apartment in the Big Apple. The main cause of the strain is said to be Carmelo's most recent NBA season—the New York Knicks have been in talks to trade him to another franchise all season. In fact, Knicks president Phil Jackson told reporters in a season-ending press conference (via the New York Post), "We have not been able to win with [Carmelo] on the court ... I think the direction with our team is that he is a player that would be better off somewhere else and using his talents somewhere he can win, or chase that championship." Ouch!
An insider told Page Six that the likelihood of Carmelo's move is a large factor in the split. "Especially if he isn't going to be in NYC, why would she want to be traipsing around to a city like Cleveland so he can go win a ring?"
Additionally, a source told Page Six that the couple simply grew apart over time. "At the very beginning, he was so smitten and in love with her," the source said. "She was on TV and he was so young. Their relationship was legit."
Towards the end of the romance, however, their relationship reportedly became more about money than love.
"At the end of his Denver stint and beginning of his New York stint, it became more about their business arrangement," the source said, adding that they were in a relationship "in name only."
"He signed with [publicists], so they would take her on their roster too, all for the purpose of advancing her career," the insider continued. "It's very much a Hollywood relationship. They've lived separate lives for years."
A source also told the Daily News that the pair has been hot and cold for a long time. "They have been fighting for about a year," the insider said. "The marriage has always been a rocky one, so this is no surprise."
The pair are said to be getting along well and are committed to co-parenting Kiyan, who will remain in New York with La La regardless of where Carmelo ends up getting moved career-wise.
One thing that may be a surprise? TMZ Sports reports that Carmelo may have gotten another woman pregnant while still married to La La. Sources told the site that a dancer at a New York City strip club claims to be six months along with Carmelo's child, and that she expects him to pay for her medical costs, as well as for child support for the baby once it's born. Still, insiders insist that the pregnancy wasn't the catalyst for the breakup ... but that it pretty much ensured that though their breakup is amicable, La La and Carmelo won't reconcile ever.