How Did Jessica Chastain Permanently Damage Her Skin Playing This Famous Role?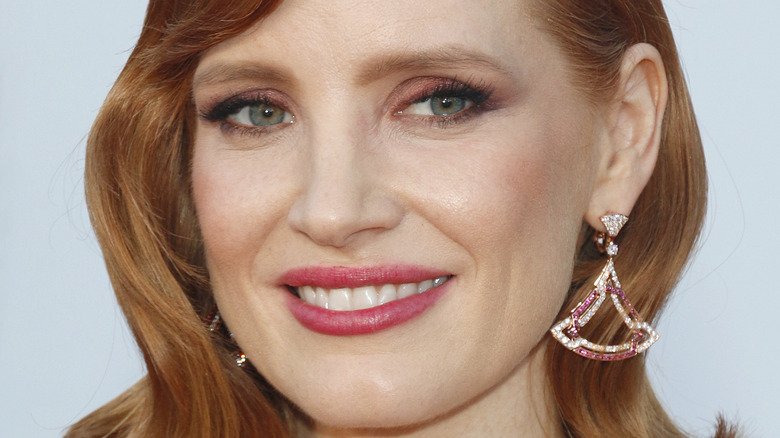 Tinseltown/Shutterstock
Jessica Chastain is no stranger to portraying larger-than-life characters. However, the role of late televangelist Tammy Faye Bakker in "The Eyes of Tammy Faye" shook her, with the "It: Chapter 2" star calling it "the hardest" role she had ever taken on.
As Chastain told the Los Angeles Times, "I was scared the people were going to make fun of me ... I had been fed that she was a terrible human being ... The media taught me that she used people and stole their money." But after doing research, Chastain noted, "I had this judgment against her, and I realized it's so fascinating how the media can give everyone a collective memory that may not really be the truth," adding, "It's not right. I wanted to do something about it to honor her." So, she acquired the rights to make the 2021 film.
Per ABC News, Tammy Faye's televangelist husband Jim Bakker was found guilty of mail fraud, conspiracy, and wire fraud. Before his arrest, he and Tammy Faye were Scrooge McDuckin' their way through life with a private jet, luxury cars, and mansions. When asked by the L.A. Times if she believes in Tammy Faye's innocence, Chastain replied, "What matters to me is that she was never tried. There was never any evidence that said she knew. What matters to me is that society and the media found her guilty based on what? ... Her mascara?"
Little did Chastain know the role would impact her physically, too.
Jessica Chastain's makeup took up to seven and a half hours to do
Tammy Faye Bakker was known for her over-the-top makeup. In an interview with The Ledger, the televangelist shared, "The key is false eyelashes and mascara on the eyelashes." But she certainly did not skimp on her lips: "I could just wear a little lipstick and look like I'm pulled-together, but I can't help it — I have to put on more. I like to line my lips because it makes them distinctive."
Jessica Chastain can truly attest to Tammy Faye's beauty routine. She told the Los Angeles Times that it took about four hours for makeup artists to transform her into Tammy Faye. However, "the longest was actually seven and a half hours," according to Chastain, who revealed that she "started to have hot flashes because it's so heavy and hot ... Because if it takes seven and a half hours to put on, it's going to take at least two hours to get off." She added, "Even the bronzer and the foundation are so much darker, the lashes are thicker." There was also the issue of "the makeup [getting] heavier as she gets older," noting that this was "the most prosthetics I've worn." 
Previously, Chastain told People that her face shape differed from Tammy Faye's. "I have a dimple in my chin ... so we would seal that up. Her face was more round than mine, so I would have things on my cheeks," she said.
Jessica Chastain's skin was impacted by the heavy makeup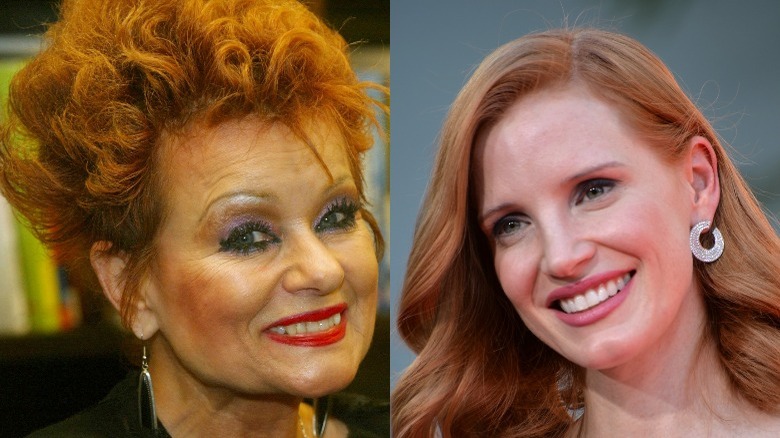 J. Emilio Flores/Getty Images & Featureflash Photo Agency/Shutterstock
Jessica Chastain underwent a stunning transformation to play the lead role in "The Eyes of Tammy Faye." However, she also paid a hefty price for her metamorphosis. 
"I think for sure I've done some permanent damage to my skin on this," she confessed to the Los Angeles Times. "Listen, I eat very pure and I take very good care of my skin and I stay out of the sun and all that stuff. But it's heavy," she revealed. She added why she believes that the intense face beat routine had an impact on her skin. "When you're wearing it all day every day — the weight of it on your body, it stretches your skin out." Chastain still managed to joke about the face beat, saying, "I finally took it off and I was like, "I look 50 years old!" However, she added, "No, I'm kidding. But it's fine. It's for my art."
The role also affected her personally. Chastain revealed, "[T]here's shades of me in it. I love that Tammy Faye doesn't write anyone off. I love that she believes everyone is deserving of love without judgment ... So I connected with her on that." It seems as if Tammy Faye Bakker made a lasting impression on Chastain.