The Truth About Gavin Rossdale And The New Gwen In His Life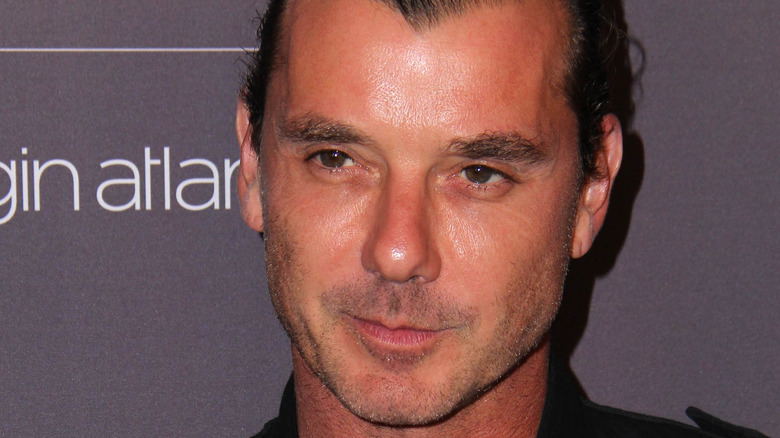 Kathy Hutchins/Shutterstock
Gwen Stefani found marital bliss with Blake Shelton after her devastating divorce from Gavin Rossdale, and now the Bush frontman has a new special someone of his own. According to The Sun, Rossdale and a different woman named Gwen have been dating for a few months — How B-A-N-A-N-A-S is that? She's not nearly as famous as his ex, but she does have a solid following on social media.
Stefani was married to Rossdale for 13 years before she made her not-so-sweet escape. They announced their split in 2015 and released a statement saying that they would remain "partners in parenthood" for the sake of their three sons, Kingston, Zuma, and Apollo, per People. Weeks after the couple's shocking announcement, Us Weekly reported that Rossdale had been cheating on Stefani with their boys' nanny Mindy Mann. The secret affair allegedly lasted for three years before another nanny found out about it and told Stefani.
In the years that followed, Rossdale dated a few different women, most of whom were in their 20s (He's 55). His first public post-divorce romance came in 2017 when he fell for German model Sophia Thomalla. They split in 2018, and by the following year, he was walking the red carpet with Natalie Golba, another much-younger model. He was also spotted spending time with Aussie model Tina Louise (no, not the "Gilligan's Island" star) in 2020. Read on to find out if Rossdale's latest rumored girlfriend has anything in common with his ex-wife other than her name.
Gavin Rossdale's girlfriend just celebrated a major career accomplishment
Combine the first name of Gavin Rossdale's ex-wife with her profession, and you get the full name of his new ladylove: Gwen Singer. The influencer is famous for her Instagram page, where she treats her 1.3 million followers to racy content like photos of her baking pizza in nothing but an apron. She also has an OnlyFans account, and, much like Rossdale's other exes, she's decades younger than him. As The Sun pointed out, Rossdale's daughter Daisy Lowe is six years older than the 26-year-old model. The couple is reportedly taking things slow for the time being. "Gavin and Gwen both find each other hot and they're having fun together," an insider dished.
Singer's star is on the rise right now. She landed a role in the music video for the song "Better Believe" by Belly, The Weeknd, and Young Thug. In it, she got to sit in the passenger seat of a car beside The Weeknd. However, she seemed especially excited about her next gig appearing in the video for Marshmello's single "Bad B***hes," featuring Megan Thee Stallion and Nitti Gritti. "Guys I'm so honored to be a part of this badass video with my girls," she wrote on Instagram. "I've always wanted to play a sexy super hero and this was an incredible way to get to do so." Singer's character was a "weapon's specialist" who bore a striking resemblance to video game character Lara Croft.
Gavin Rossdale is surprising Gwen Singer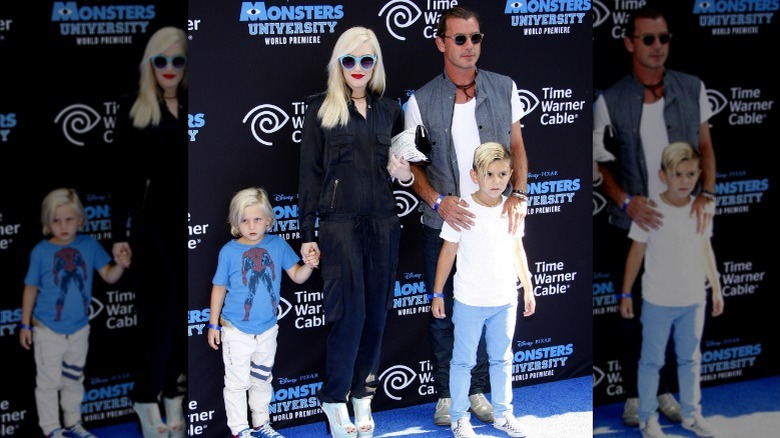 Tinseltown/Shutterstock
Gavin Rossdale got a chance to charm Gwen Singer when he appeared on her "POV with Gwen Singer" podcast in May. It's highly unlikely that the two were already dating at the time, as Singer told Rossdale that she didn't know he was British. She mentioned his marriage to Gwen Stefani, but the conversation was quickly steered toward his experience as a father. Rossdale had to correct Singer when she said that he and Stefani had just one son together, and she expressed surprise when she learned that the couple had more kids. "Oh, you have three sons together! Oh my goodness, wow!" she said.
Rossdale had Singer giggling throughout the interview, and they discovered that they shared a love for art. This revelation had Rossdale slyly suggesting that they should meet up to record another podcast at The Broad art museum in Los Angeles. Later on, Singer praised the rocker's appearance. "You look wonderful after touring for like, gosh, nearly three decades," she said.
Rossdale also learned a lot about Singer on her podcast. She shared her plans to dip her toes into other sectors of the entertainment industry and described her career as an influencer as a "stepping stone." "I've always wanted to sing. I've always wanted to do some acting," she said. "But really, my biggest dream was I wanted to be a journalist."