The Truth About Hugh Jackman's Wife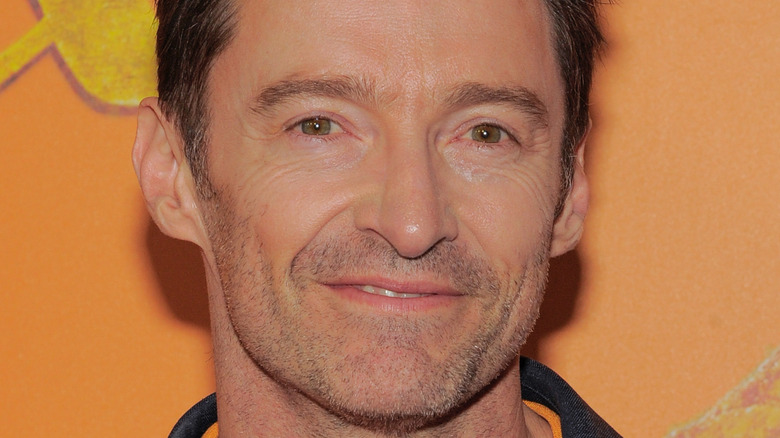 Ron Adar/Shutterstock
"'Til death do us part" is a rarity among marriages in Hollywood. In fact, it's a milestone if couples even make it to their 10-year anniversary these days. A-listers Kim Kardashian and Kanye West called it quits following six years of marriage ... surprising absolutely no one. But one couple that's stood the test of time includes actors Hugh Jackman and wife Deborra-Lee Furness, who recently celebrated their 25th anniversary. Perhaps it's that sunny Aussie disposition? Nevertheless, while making it to the big anniversary is one thing, maintaining that effervescent love for each other is another — which Jackman and Furness certainly have.
In honor of their silver anniversary, Jackman posted a gorgeous throwback Instagram from their wedding back in 1996. "Being married to you Deb is as natural as breathing," he wrote in a caption. "From nearly the moment we met ... I knew our destiny was to be together. In our 25 years – our love has only grown deeper. The fun, excitement and adventure more exhilarating; the learning even greater." And if his profession of love wasn't convincing enough, Jackman also sweetly wrote their journey has only just "begun." On Valentine's Day, Jackman shared another wedding post and wrote, "Deb. You are, and always will be, the great love of my life."
While it's not uncommon for celebs to show affection for their partners on social media, these two have gushed over each other in interviews over the years. But how did Furness woo "Wolverine," who's actually 13 years her junior? 
Deborra-Lee Furness turned down Mick Jagger to spend time with Hugh Jackman
Before Hugh Jackman became a household name, he was a little-known actor, who simply wanted to make it down under. Fresh out of drama school, Jackman was cast in the 10-episode Australian drama "Correlli," alongside Deborra-Lee Furness, per E! News. Jackman recalled their romance to People back in 2017, saying he would "never forget" their first meeting.
"Deb, she was a big star. I get picked up, and Deb is in the front seat of the car. I'll never forget. She took off her seatbelt, and she turned around and put out her hand and took off her sunglasses and said, 'Hi, I'm Deborra-lee Furness, nice to meet you.' I remember thinking, 'I like this girl,'" he recalled. Jackman was just 27, while Furness was almost 40. "I knew two weeks into meeting Deb that we were going to be together for the rest of our lives," he told Today.
Within a few weeks, Jackman confessed he had a "crush" on her, which she "reciprocated" ... but it all could've gone sour, had Furness hopped in a limo with Mick Jagger. Just two weeks into their fast-forming relationship, Furness got a call from the Rolling Stones frontman who was parked out front of Jackman's place in Melbourne. Jackman, who was hosting a dinner party, thought she would get up and go and that would be it. "She goes, 'You can tell Mick I'm having dinner with Hugh Jackman.' I went, 'Whoa'," he told Jimmy Fallon in 2020.
Hugh Jackman and Deborra-Lee Furness adopted after struggling to conceive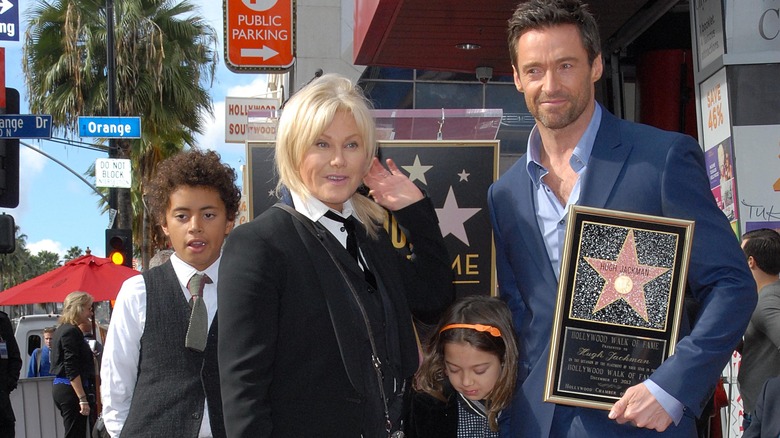 s_bukley/Shutterstock
Hugh Jackman and Deborra-Lee Furness may have gotten married within a year — but expanding their family took a little longer. As Furness was already 40, they began trying straightaway, but "struggled." After a "couple miscarriages" and IVF, they made the decision to adopt. "Obviously we tried, and it was not happening for us, and it is a difficult time. I'll never forget it, the miscarriage thing ... It's a good thing to talk about it. It's more common, and it is tough. There's a grieving that you have to go through," Jackman told ABC's "Katie."
Good news came their way in 2000 with the arrival of Oscar Maximilian. However, Furness revealed on "Enough Rope with Andrew Denton" that the adoption wasn't exactly conventional. The couple was not only in the room when Oscar was born, but invited his Iowan biological mother to live with them prior to the birth. "She stayed with us, with her 14-month-old. So we were like this crazy family ... my mother was there, and we were all there. Here is this woman going to give me the greatest gift of my life, and I want to look after her. And so, you know, we were told not to do certain things, but for us, it worked." Five years later, Jackman and Furness adopted daughter Ava Eliot.
Despite being adopted, Jackman and Furness simply think of Ava and Oscar as "our children." "It sounds airy-fairy, but it's something we feel very deeply," he said, per Closer.