Inside Todd Chrisley's Relationship With His Daughter Savannah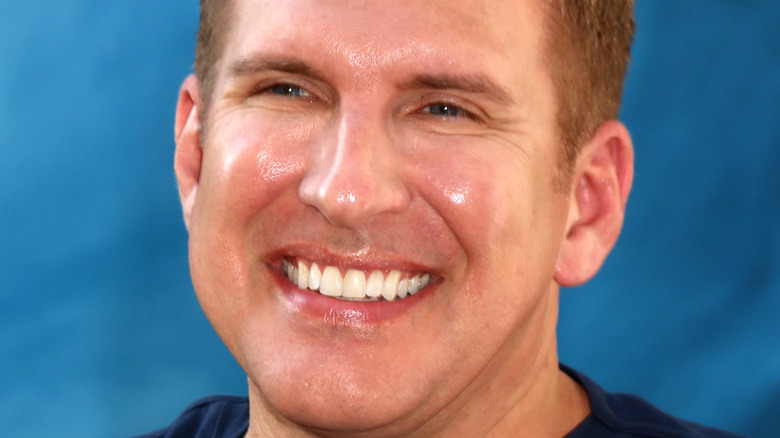 Kathy Hutchins/Shutterstock
Todd Chrisley and his family members appear to be a close-knit crew on their reality series "Chrisley Knows Best," but the patriarch's relationships with his kids who no longer appear on camera have been contentious. His youngest daughter Savannah Chrisley described herself as "a daddy's girl since I came out of the womb" in a 2018 Facebook post, and it's pretty obvious that she has Todd wrapped around her little finger, despite all of his attempts to lay down the law when she was a teenager.
Todd's estranged daughter Lindsie Chrisley is a different story. She accused her dad of attempting to extort her with a sex tape, and he claimed that she had extramarital affairs with "Bachelorette" contestants Josh Murray and Robby Hayes. Then there's Kyle, Todd's other child from his first marriage. He called his family's reality series "fake" during a 2014 interview with The Daily Mail, and he had some harsh words for his father. "This show has been nothing but bad for me," Todd claimed. "At this point he's ruined me and he's ruined the other three kids he's had who are spoiled." The "spoiled" half-siblings Kyle was referencing were Savannah, Chase, and Grayson. Todd and Kyle eventually reconciled, but Todd told People that he has refused to speak to Lindsie.
So, how has Savannah managed to stay on Todd's good side all of these years when some of her siblings have struggled to? Let's take a closer look at their close bond.
What it was really like growing up Chrisley
When "Growing Up Chrisley" began filming, Savannah Chrisley was just 15 years old (via USA Today). During the early episodes, Todd Chrisley established a reputation for being strict and opinionated. He insisted on having a say in Savannah's wardrobe and introduced viewers to one of his famous Toddisms when she tried on a dress that he deemed too short: "Class not a**."
Todd sometimes went to extreme lengths to get his kids to behave the way he wanted them to. While speaking to People Now in 2014, he explained why he threw Savannah's phone in the toilet. "If you're going to talk crap on the phone, then I'm going to put the phone where the crap goes," he said. On the "Beauty Bytes with Dr. Kay" podcast, Savannah revealed that Todd would also go through her phone when she was 17 years old.
Todd has admitted that he was too tough on his kids when they were growing up. "I expected them to do the right thing all the time," he said during a 2020 episode of his "Chrisley Confessions" podcast. Savannah was guest-hosting at the time, and while her father didn't apologize for burdening her with such unrealistic standards, he did express some regret over the way he raised her. "If I had my time to go over, I wouldn't have made my kids feel like that anything less than the best wasn't acceptable," he said.
How Todd and Savannah Chrisley's closeness complicates their relationship
David Becker/Getty Images
On "Beauty Bytes," Savannah Chrisley described how her father views their relationship. "He's not worried about being our friend. He's like, 'I'm your parent first. Doesn't matter how old you get,'" she said. However, Savannah has a habit of treating Todd like her BFF, which sometimes backfires. When she tried to gossip with him about one of her friends, he called her "fake." The two got in a heated argument that continued during a May 2020 episode of "Chrisley Confessions." "We're so close that at times it can cause friction," Savannah stated. She also admitted that she and Todd "are both very stubborn."
The pair often discuss their relationship on Todd's podcast. They share the same therapist, and Todd has confessed to being nosy and asking about Savannah's sessions during his own. Their dynamic on "Chrisley Knows Best" has led some viewers to believe that Todd has more say in Savannah's adult life than he actually does. During a June 2020 episode, Todd addressed the belief that he still tries to tell his daughter what she can and cannot wear. "She's 23 now, folks," he said.
However, Todd does believe that he deserves a say in Savannah's love life. "It's my business," he told Access Hollywood in 2018. It's a good thing Savannah is back together with Nic Kerdiles, who she has described as being "too close" with her father.