Todd Chrisley And Lindsie Chrisley's Entire Feud Explained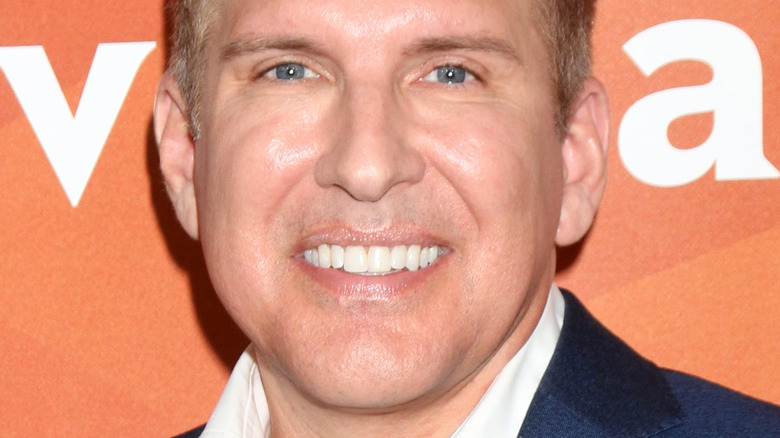 Shutterstock
Todd Chrisley is known for his quick wit and humor on his show "Chrisley Knows Best," but life isn't all hunky dory. As fans know, the patriarch's rocky relationship with son Kyle Chrisley played out before viewer's eyes, but they have since patched things up. Now, the point of contention in his life is with his daughter, Lindsie Chrisley, and their relationship has been through the wringer.
Lindsie appeared on the family's series from 2014 to 2017, per IMDb. After leaving the show, she had a tough "breakup" with her family. Shortly after Todd and wife Julie were charged with tax evasion in 2019, Todd spoke out, accusing Lindsie of having an extramarital affair with former "Bachelorette" contestants Robby Hayes and Josh Murray. Lindsie then accused her father and brother Chase Chrisley of threatening to release a sex tape with Robby. Of course, both Todd and Chase have denied the claims and, in an interview with Entertainment Tonight in August, Todd revealed the supposed reason why Lindsie allegedly made up the sex tape drama. 
"There was never any extortion. That was all used for headlines. That was used to gain social media following," he shared. Todd also said that, at the time, Lindsie was jealous that her sister Savannah Chrisley had more Instagram followers, so she made up a juicy headline in hopes of getting more followers. Phew, that's a lot of drama packed into a short time! So, is there any chance of a reconciliation? Keep reading to find out.
Todd Chrisley isn't on speaking terms with Lindsie Chrisley
Jason Kempin/Getty Images
It's clear the Todd Chrisley and his daughter Lindsie Chrisley have been through a lot over the past few years, leaving many to wonder if there's any hope for a reconciliation. As of this writing, Todd seems to have closed the door on that. He told PeopleTV's Reality Check that Lindsie reached out to him to try and chat, but he is not interested in sitting down with their lawyers as she suggested. He also dropped the bombshell that Lindsie is the "catalyst" behind the tax evasion drama.
Todd dished that Lindsie's storyline on the family show was written off since she still lived in Atlanta. After that, he alleged that Lindsie began feeding false stories to the press and tarnished her relationship with her father. While he noted that he will love his firstborn "until the day I die," Todd still said that it doesn't mean he's ready to reconcile. "There are certain things in life that I don't think you get past. And unfortunately, I think that's where Lindsie and I are," he explained.
He listed all of the things Lindsie had done to hurt him, his wife Julie, and their three children. "The hurt is still there," Todd said, noting that said hurt will likely always be there. "But I'm not looking to intrude in Lindsie's life. We're leading a very full life, and I wish nothing but the greatest joys and blessings for Lindsie and for Jackson." Wow.
Todd Chrisley says he has walked with the devil
Rick Diamond/Getty Images
In July, Lindsie Chrisley took to her Instagram page to share that she and her husband Will Campbell are divorcing. "It's with the deepest sadness that, after 9 years of marriage, Will & I have mutually decided to end our marriage," she shared with fans. "We maintain the greatest respect & love for one another, & we're so grateful for our time together. We will continue to remain friends & be devoted parents to our son whom we both love very much." Lindsie continued, saying that she's focused on "new beginnings."
Shortly after Lindsie's post, Todd Chrisley shared one that seemed to be aimed at his daughter. "I'm here. I love you. Whatever is going on in your life right now, I see it, and I'm working all things out for good, for you, my child," he wrote. But Todd spoke with Entertainment Tonight, reiterating that his relationship with Lindsie remains damaged. "She's our daughter, and I will tell you that the anger was there for a long time," he stated. "Revenge and anger belongs to the devil. So I walked with the devil. I was dancing with the devil there for a minute. God allowed me to get back into my faith ... I had to remember that I am a father first." He does not even know how long it has been since he and Lindsie have spoken to one another (face to face and not in the press). 
It's a lot to take in, but maybe one day, the two will reconnect.