What Todd Chrisley's Relationship With His Daughter Lindsie Is Like Today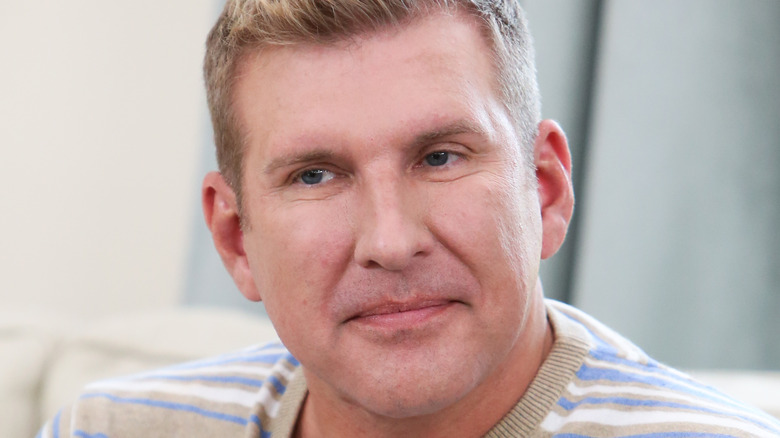 Paul Archuleta/Getty Images
You could say that Todd Chrisley's relationship with his eldest daughter, Lindsie Chrisley, has been rocky for the past decade. While they've only been estranged for the past few years, the drama started all the way back in 2012 when Lindsie eloped with her husband, Will Campbell, without either asking for Todd's permission. Fans saw a lot of it play out on the family's reality show "Chrisley Knows Best." Todd later told E!, "The level of respect wasn't there. Lindsie should have never condoned that kind of disrespect."
Lindsie eventually left the show in 2017 and didn't hold back when talking about it on her "Coffee Convos" podcast. She revealed (via Life and Style), "I kind of felt like an outcast. Even though the [my family] didn't make me feel like that intentionally, I just felt that way." Things got worse in 2019 when Todd and his wife, Julie Chrisley, were indicted on fraud and tax evasion charges. Lindsie alleged that Todd and her brother Chase threatened to release a sex tape of hers if she didn't cooperate with the indictment case and even filed a police report.
In return, Todd accused Lindsie of "extramarital relationships," and said that, "for reasons we can only guess at, she ran to the sheriff's office to accuse her brother of buying a sex tape of her and Robby, which was a complete lie." However, despite the drama, Todd still feels for his daughter, saying, "Although our hearts are broken, Lindsie is our daughter and we will always love her."
Todd and Lindsie Chrisley still don't speak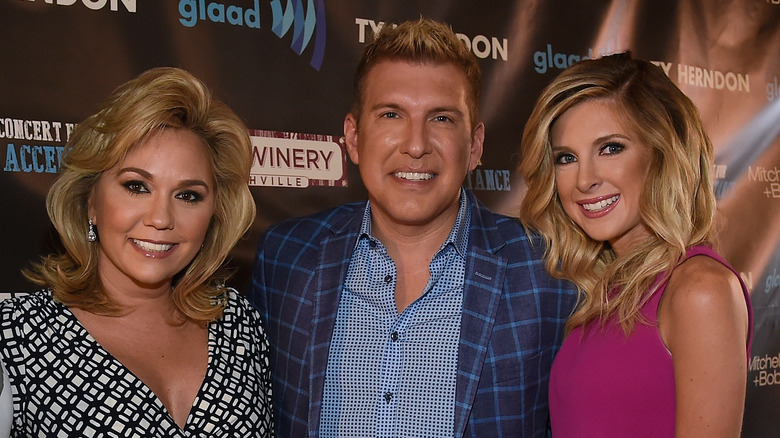 Rick Diamond/Getty Images
Todd Chrisley is still not on speaking terms with his daughter Lindsie Chrisley. He did say on his "Chrisley Confessions" podcast (via Life and Style), however, that "[Lindsie] is my first-born child, and she is loved," adding, "She is forgiven for what has happened in this investigation that she has contributed to. She's forgiven for what she's gonna do today and tomorrow."
Lindsie seemed to be coming around in April 2020 when she shut down accusations that she was happy that Todd contracted COVID-19, writing, "This is disgusting. My inbox is flooding with similar messages & I'm not here for it," per People. Yet, that next Father's Day when a fan asked why she didn't pay tribute to him, she replied, "He didn't bother to call me on any birthdays through college, or [recently] & has wished me a happy Mother's Day once in 7 years." She also called him out for posting her sister Savannah for National Daughter's Day and not her, saying (via Distractify), "If you just don't consider me your daughter, don't go on your podcast and be like, 'Oh, I still love her. I still this, I still that,' but then your actions aren't consistent with what you say."
Sadly, it appears the father and daughter still don't talk to this day. Julie Chrisley recently told Us Weekly that the family doesn't "have any correspondence with her." Lindsie and Todd also no longer follow each other on Instagram, so a reconciliation probably won't happen anytime soon.