Todd Chrisley Alleges His Children Spoke Against Him In Tax Case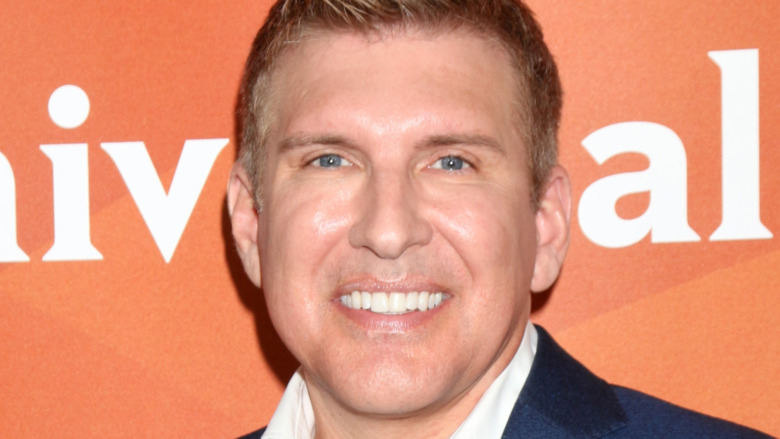 Shutterstock
"Chrisley Knows Best" star Todd Chrisley isn't holding back when it comes to his tax drama and his childrens' alleged involvement in the case. The reality star and his wife, Julie Chrisley, were previously indicted in August 2019 on charges of  "tax evasion, wire fraud, and hiding income from the Internal Revenue Service," according to The New York Times. The case has been settled since, but per USA Today, he agreed to pay just shy of $150,000 to the Georgia Department of Revenue. 
But after settling his case, he went on his "Chrisley Confessions" podcast in March 2021 to allege there was "lying, cheating, stealing, [and] manipulating" going on within Georgia's Department of Revenue, adding, "we have the things that we believe will shed so much light on that situation." However, Todd took to his podcast again to update his fans on April 23, claiming a court hearing exposed his eldest children, Kyle and Lindsie Chrisley, for going against him in the midst of his legal woes. 
Both kids previously spoke out about speculation of their involvement, with Lindsie even telling Dr. Phil in October 2019 she was not the "whistleblower" in her father's case, although she accused her father of blackmail. As for Kyle, he accused his father of bragging about not paying taxes in 2017, but in 2019 he publically vouched for his father and admitted he lied at the time. Keep scrolling to see what Todd said about Kyle and Lindsie's alleged involvement in his case.
Todd Chrisley is 'hurt' over his kids' allegations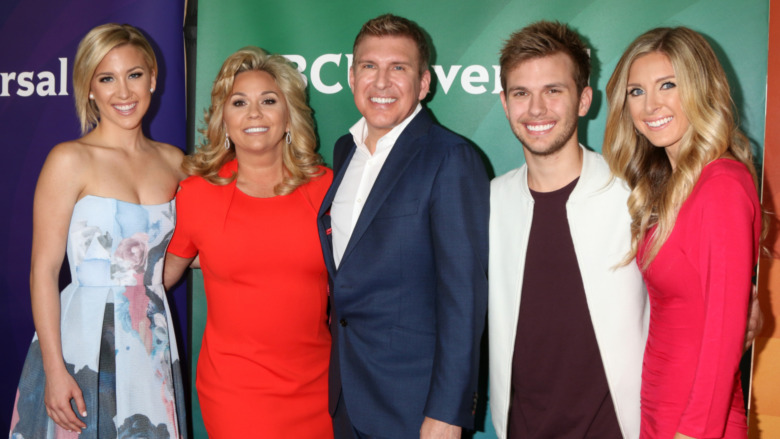 Shutterstock
Todd Chrisley put his two children from his previous marriage, Kyle and Lindsie, on blast after learning about their alleged interference in his tax case. "It came out in this court hearing and I'm gonna go ahead and put it here on the podcast today because you're gonna read it," Todd began on his April 2021 episode. "Yes — Lindsie my oldest daughter was involved in giving information to the Georgia Department of Revenue."
He continued to reveal,"According to a text message that Katie Vancil [a Georgia Department of Revenue employee] sent to Josh Waites [former director of the Office of Special Investigations] her statement is — and this information is coming from Lindsie — there is a Skype call ... between my oldest son Kyle and his ex-wife Lexi of where they are lying saying that I had money hidden in Cayman bank accounts." He explained, "There are statements from my own children saying — my two oldest children — saying they want to make sure that I'm punished."
Of course, learning of his eldest children's alleged sabotage was a hard pill for the patriarch to swallow. "Now folks that's heartbreaking," he admitted. "It's heartbreaking and I knew it was there because we've been sitting on this information for over a year now and it's sad, but it doesn't mean I don't love my children, but the hurt that is there is going to take a long, long, long time to ever heal from."