The Truth About Todd Chrisley's Relationship With His Son Kyle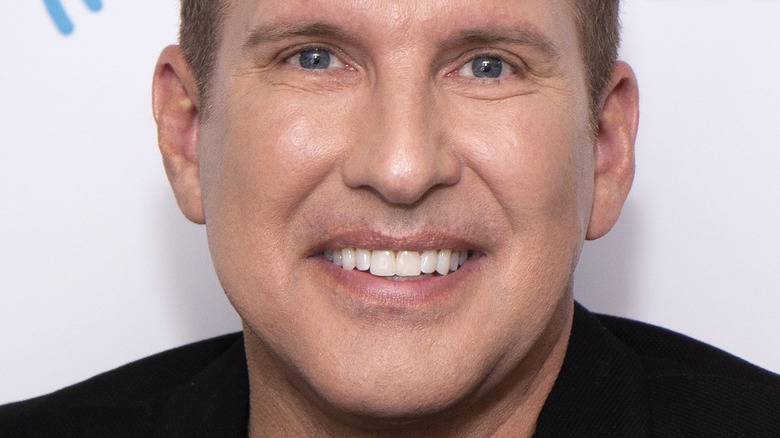 Santiago Felipe/Getty Images
It appears that after years of turmoil, "Chrisley Knows Best" star Todd Chrisley and his eldest son, Kyle Chrisley, may finally be in a good place. Their drama appears to stem from Kyle's past with substance addiction. Because of that, Todd and his wife, Julie, have custody of Kyle's daughter, Chloe. But in 2014, Kyle accused them of caring for Chloe with ulterior motives, saying (via Daily Mail), "My dad showed no interest in Chloe at all until the show and until it was pointed out that having a mixed-race child and getting her and all that would be good for his demographic." He also blamed his father, saying "At this point, he's ruined me and he's ruined the other three kids he's had who are spoiled."
Kyle publicly came for his dad again in 2017, telling Good Morning America that Todd brags about not paying taxes. The U.S. Sun reports that Kyle even helped authorities build their case of tax fraud. 
Yet, Kyle changed his tune in August 2019, and took to Facebook to defend his parents. He wrote, "These allegations against my dad are all LIES!" He also accused his biological mother and sister, Lindsie Chrisley, of taking advantage of his substance addiction, per the post, to help them get Todd behind bars. Kyle then praised Todd and Julie, writing, "I haven't been the best dad to Chloe, I've had a problem with drugs, I've acted completely ridiculous and through all that they have stood by my side." 
Todd never gave up on Kyle despite estrangement
Todd Chrisley and his son Kyle Chrisley are working on repairing their relationship after years of ups and downs. While Kyle was once estranged from his family and has publicly bashed them, he appeared to have a change of heart in August 2019. He wrote on Facebook, "[Nine] months ago I went to my dad with an apology. His words were 'I love you always, and you are forgiven' and just like that I was welcomed back into his life with open arms. I will be forever grateful for his love [and] graciousness." 
Todd has also opened up about their issues on his reality show "Chrisley Knows Best." A recent episode featured Kyle calling his dad in an attempt at reconciliation. Todd revealed (via People) that when it comes to a relationship with Kyle, "I want that because you know every day that's lost is a day that you don't ever get back." He added, "I want to see him, but I'm not diving all in just to be hurt again."
The two were apparently able to work out their issues and seem to be in a good place since, Kyle recently posted a heartfelt tribute to Todd for Father's Day. He gushed on Instagram, "I'm blessed beyond measure that I get to call you Daddy thank you for never giving up on me and for always having my back." It seems these two always bounce back.
If you or anyone you know is struggling with addiction issues, help is available. Visit the Substance Abuse and Mental Health Services Administration website or contact SAMHSA's National Helpline at 1-800-662-HELP (4357).