Who Is Todd Chrisley's First Wife, Teresa Terry?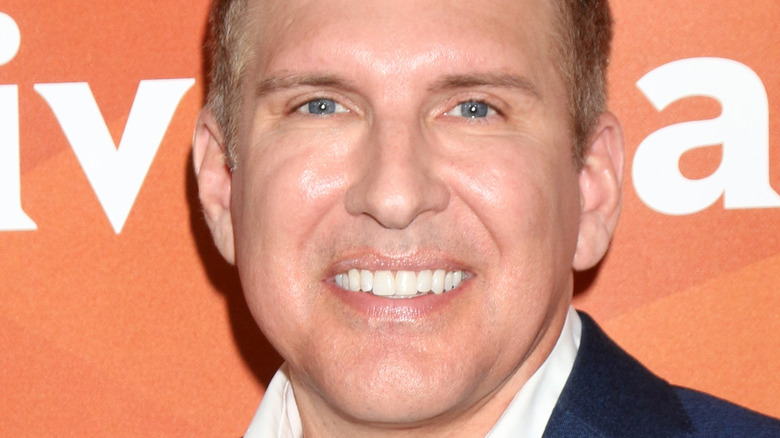 Shutterstock
Todd Chrisley is one of the most famous reality stars in recent memory, thanks to his hilarious antics and beautiful family. It's hard to believe that the Chrisley family first walked into our living rooms in 2014 (per IMDb). The series started with the brood living in the Atlanta, Georgia, area before moving to Nashville, Tennessee, where they currently reside. 
As viewers know, Todd is married to his wife, Julie Chrisley, and the two seem to be a match made in heaven — both in the real world and the reality television world. Together, the pair have three children — Chase Chrisley, Savannah Chrisley, and Grayson Chrisley — and they're also raising grandchild Chloe Chrisley. The show also features Todd's mother, Nanny Faye. But a lesser-known fact is that Todd also has two children from a previous marriage, as many think that all of the Chrisley kids belong to Todd and Julie. However, both Kyle Chrisley and Lindsie Chrisley are products of Todd's first marriage. (If you knew the information already, then we're just giving you a little refresher.)
Before Julie Chrisley, Todd was married to Teresa Terry. Teresa has not been on the family's reality show, "Chrisley Knows Best," but many facts about her are floating around the internet. Keep scrolling to find out a little bit more about Todd Chrisley's first wife.
Teresa Terry and Todd Chrisley's relationship goes way back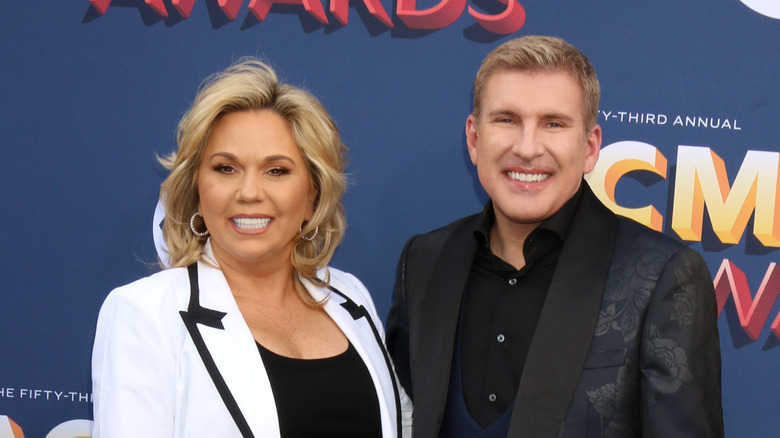 Shutterstock
We love to hear a story about young love, but it's not as fun when the relationship goes south. According to the Daily Mail, Todd Chrisley and Teresa Terry first met in Westminster, South Carolina. At the time, Teresa was just 17-years-old when she met a 19-year-old Todd. Fast forward to two years later, and Teresa was pregnant with the couple's first child, Lindsie Chrisley. At the time, Teresa was 19-years-old. "Most likely we wouldn't have married if I hadn't been pregnant, but we did, and it was a big deal," Terry told the Daily Mail. "There were six attendants on both sides, and even though the town where we lived wasn't big, the church was full." 
While Terry admitted that her pregnancy was touch-and-go for a while, she applauded Todd for doing all that he could to support their family. "He liked real estate, that's where he made all his money, and that's what he did from the beginning," she revealed. "He'd find houses, some of the ones he found dogs live in better places. He'd fix them up and make them amazing, and then it was onto the next house." Kind of like Chip and Joanna Gaines.
The couple's marriage ultimately ended in divorce in 1996, but Terry says she has no regrets. "It's been a wild ride, I'll tell you that," she shared. "But I don't regret marrying Todd because I sure don't regret my children."
Todd Chrisley and Teresa Terry had a tumultuous relationship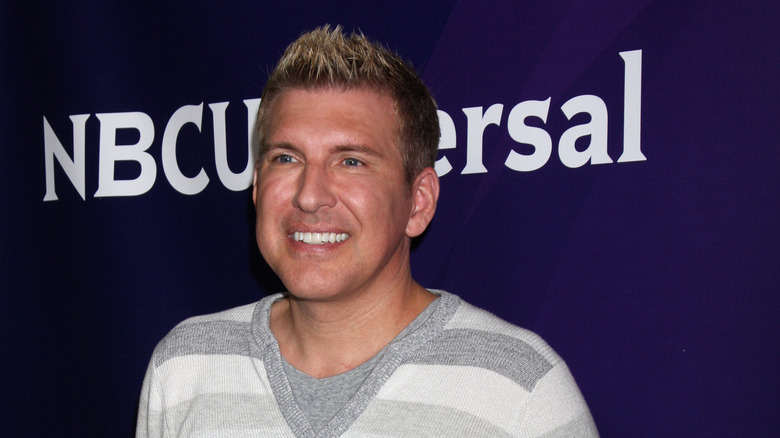 Shutterstock
While Todd Chrisley and Julie Chrisley appear to have a picture-perfect marriage, that wasn't the case with his first union. As we mentioned earlier, the relationship ultimately ended in divorce, and it was a pretty bumpy road for the former duo. 
Teresa Terry moved out of the couple's home and filed a domestic violence report against Todd (via the Daily Mail). She listed several instances where Todd lost his temper, including one in 1992 where he was allegedly drunk and destroyed personal property. Another report in 1994 said Todd "stripped her of all her jewelry," and another report the same year claimed he "tore all of her clothes, including her undergarments, from her body and battered her using his closed fist." Per the Daily Mail, Todd denied the allegations.
The couple also went through a few custody battles with kids Kyle Chrisley and Lindsie Chrisley, which ultimately led to Todd getting the majority of custody, and the court awarding Teresa getting three out of four weekends with them. Terry says Todd moved to California with the kids just two months after their custody agreement. "It was motivated purely by spite. Of course it's an exciting thought moving to California," Terry said at the time. "Lindsie and Kyle were old enough to say what they wanted. Lindsie wanted to go with her father, Kyle didn't, but we didn't want to split them up." They ended up moving back a few months later. 
If you or someone you know is dealing with domestic abuse, you can call the National Domestic Violence Hotline at 1−800−799−7233. You can also find more information, resources, and support at their website.