The Real Reason Da Brat Ended Up Behind Bars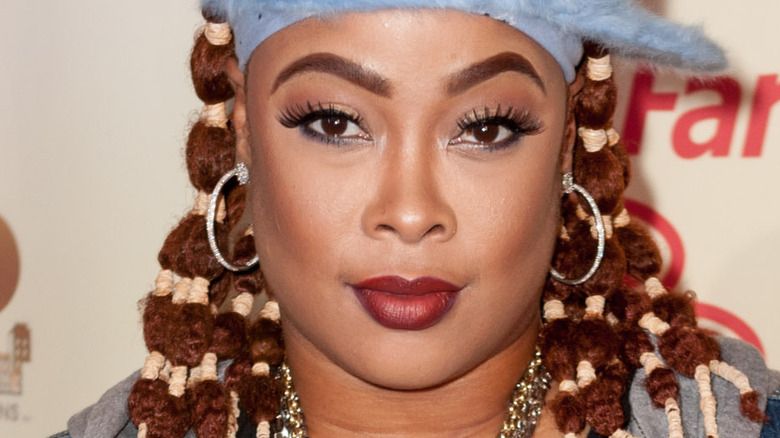 Jamie Lamor Thompson/Shutterstock
Da Brat, real name Shawntae Harris, belongs to the selective group of female rappers who helped define the hip-hop scene of the 1990s, as Billboard argued. In January 1995, Da Brat became the first female rapper to go platinum with her album "Funkdafield," released the previous year, according to MTV. A lot of Da Brat's success can be attributed to her explosive and genuine personality. "From her image to her music, Da Brat has been notorious, and successful, at staying true to her creativity," Billboard's Erika Ramirez wrote in 2014. That became evident when she told producer Jermaine Dupri that she didn't care about the prospects of her album going platinum. "I don't care if I go double copper," she said, according to Billboard. "I just want the world to know me and how good I am for what I do."
Her music has earned Da Brat two Grammy nominations, one in 1998 for her group performance of "Not Tonight," the Lil' Kim hit in which she was featured alongside Lisa Lopes, Missy Elliott and Angie Martinez, per Billboard, and the other in 2004 for her solo performance of "Got It Poppin'." Billboard also gave her three awards between 1994 and 1995.  
Her explosiveness may also have caused her trouble, however. In 2008, Da Brat was sent to jail and spent a few years behind bars. Keep reading to find out the reasons behind the legal troubles that have plagued Da Brat for the past two decades. 
Da Brat served almost three years for assault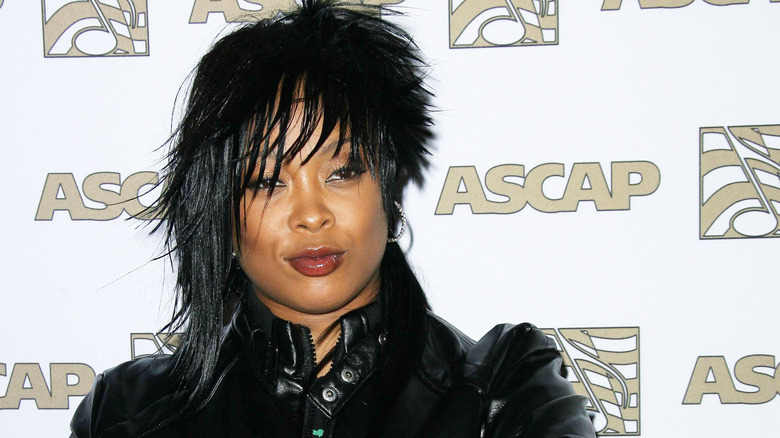 Entertainment Press/Shutterstock
On August 22, 2008, Da Brat was sentenced to three years in jail after pleading guilty to felony aggravated assault, MTV reported at the time. The charge stemmed from an incident that took place the previous year, when she attended a Halloween party at Studio 72, a nightclub owned by Jermaine Dupri in the metro Atlanta area, the report detailed. According to MTV, Da Brat hit a waitress in the face with a rum bottle after an argument turned physical. The altercation reportedly began when the employee "bumped" into the rapper, The Hollywood Reporter noted. The attack also caused permanent scars on the woman's face. 
In addition to jail time, Da Brat was also ordered to complete 200 hours of community service and spend seven years on probation. Da Brat was released from prison in February 2011, after serving about two and a half years behind bars, per The St. Louis American. Dupri took to his Twitter page to celebrate the news. "Happy day for me and all SO SO DEF fans, Da BRAT is finally home," Dupri wrote.
The victim, Shayla Stevens, a former NFL cheerleader, filed a civil suit against Da Brat, and the rapper was ordered to pay her $6.4 million in 2014, according to TMZ. "I shouldn't have done what I did. It was wrong. And, the girl definitely deserved some compensation... but $6.4 million? HELL NO!" Da Brat said about the verdict, per K104.
Da Brat had previously been convicted of reckless conduct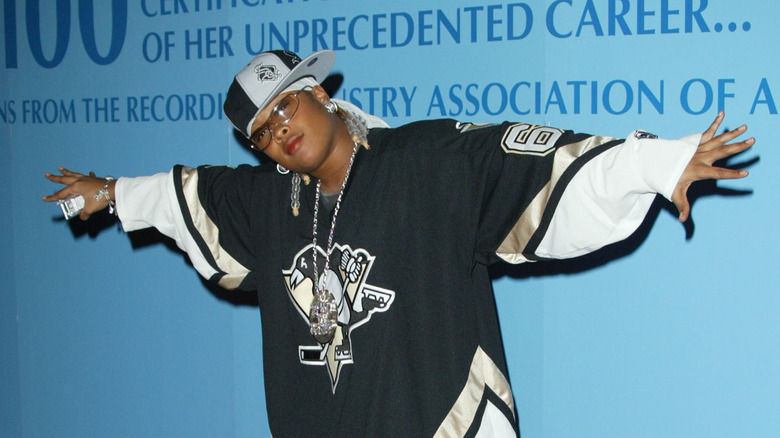 Frazer Harrison/Getty Images
The 2008 conviction wasn't Da Brat's first legal trouble. Several years earlier, in 2000, the rapper was arrested after she reportedly got in a fight with a woman over VIP seats at a Georgia nightclub, according to MTV. At some point during the altercation, Da Brat is said to have hit the woman over the head using a gun, and the woman was taken to the hospital and received six stitches on her head. The following year, Da Brat pleaded guilty to reckless conduct, a misdemeanor, and was sentenced to 80 hours of community service, a $1,000 fine, and to spend a year on probation. 
Her brushes with the law have taught Da Brat a few things. In lockup, Da Brat understood that she can't "take anything for granted, because it's the little things that mean the most," she told Essence in 2011. Da Brat wrote a biographical book while in jail, but she didn't write any music. "I just wasn't inspired really to write any music. Plus I had a portable CD player (laughs). It's not like being in the studio where the music is loud and you have good quality headphones," she told CNN, adding that she was "getting back into the swing of things." As Erika Ramirez argued for Billboard, "While she overcomes legal issues that's haunted her for years, Da Brat continues to challenge herself through music."