How Tall Is Nicole Kidman?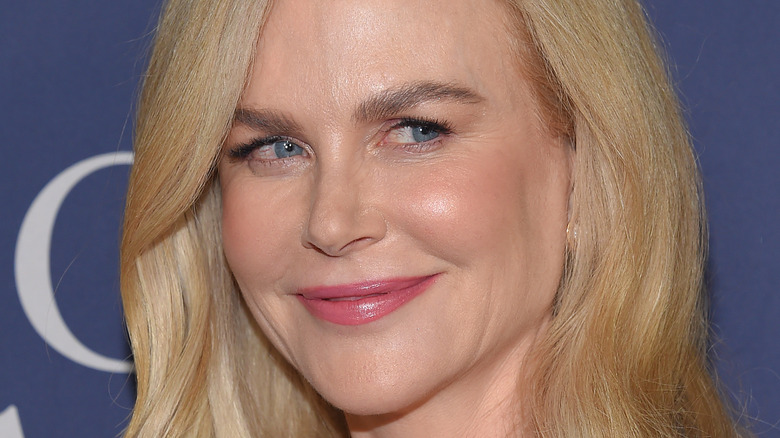 DFree/Shutterstock
If you're a fan of Nicole Kidman — and we have no doubt that many of you are — then you may have watched her transform over the years in various intriguing ways. Along with her fame (and accompanying fortune) continuing to rise to admirable and enviable levels thanks to her Oscar-winning on-screen talents, she has become known as a true stunner in the entertainment industry. In fact, she even received the honor of being the "most beautiful" woman from People in 2002, according to CBS News.
Indeed, thanks to Kidman's sometimes radiantly red and sometimes gorgeously golden (or even lighter) hair and strikingly delicate features, she's undoubtedly considered to be a crush-worthy celeb by plenty of people. However, there's something else that makes her stand out among the rest — literally. We're referring to her height. Frankly, you might be surprised to find out how tall this star really is. Although, you may have been tipped off to her true size due to the fact that there's something interesting about her height and how it relates to two particular people in her life who also happen to be super-famous. Keep reading to find out more!
Nicole Kidman is stunningly statuesque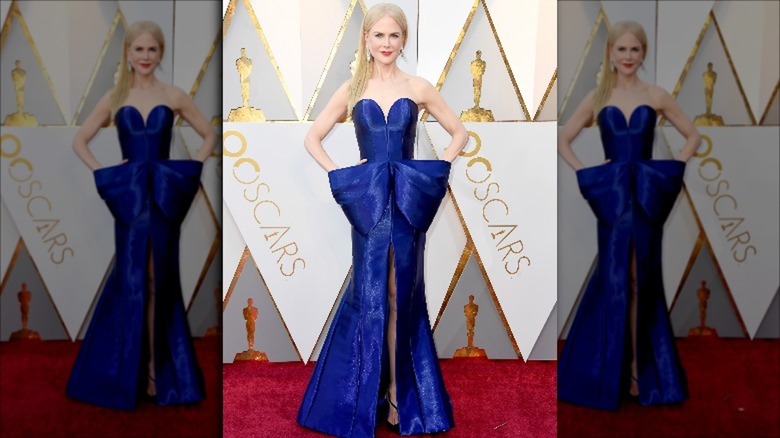 Tinseltown/Shutterstock
While there are a fair share of stars who are probably shorter than you expected, Nicole Kidman is on the taller end of the celebrity scale. That is part of what makes her a stunningly statuesque figure who surely captivates everyone around her whenever she shows up on a movie set or hits the red carpet for a fabulous industry event.
To be exact, Kidman is 5-foot-11 (or 1.8 meters), according to IMDb. How does that compare to other women? Verywell Fit explains that although the "average height for adult women varies around the world," the average height of women in the United States "is a little under 5 feet 4 inches tall at 63.5 inches."
On top of that, to get an idea of how tall Kidman is when it comes to other famous figures, Hollywood.com points out that she's the same height as other above-average ladies like Taylor Swift, Tyra Banks, Uma Thurman, Gisele Bundchen, Sigourney Weaver, and Rebecca Romijn. She's also slightly taller than Mandy Moore, Blake Lively, Khloé Kardashian, and Jordin Sparks who are all 5-foot-10. Granted, those aren't the only celebrities who Kidman is taller than.
Nicole Kidman is taller than both Tom Cruise and Keith Urban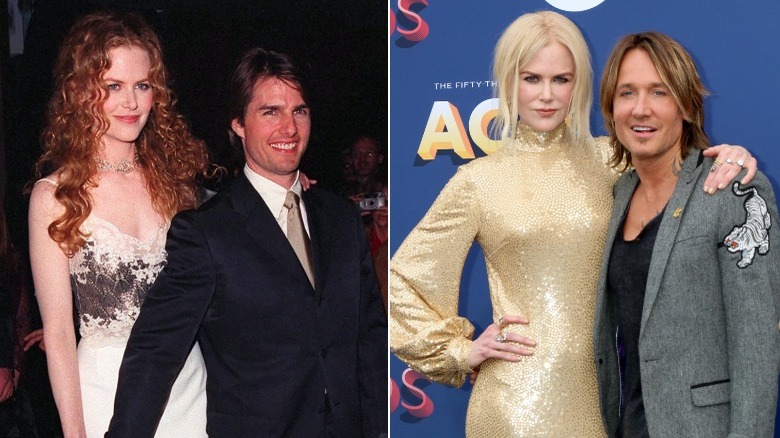 Featureflash Photo Agency/Shutterstock, Kathy Hutchins/Shutterstock
Back in the day, Nicole Kidman was married to fellow superstar Tom Cruise. As a reminder, she's 5-foot-11. Her former husband, on the other hand, is four inches shorter at 5 feet and 7 inches tall. That's why, following their divorce, she famously made a joke while talking to David Letterman (via Us Weekly), saying, "I can wear heels now."
Granted, that was before Kidman started dating the man who is now her husband, Keith Urban. The country music singer is 5-foot-10, according to IMDb, which again means that Kidman is taller than her spouse even if it is just by one inch this time around. However, Kidman is certainly not alone when it comes to being a woman who is taller than the man in her life.
Marie Claire Australia points out that model Rosie Huntington-Whiteley "towers over her action-star husband" Jason Statham, Cameron Diaz is "tall and California cool" while Benji Madden is "short with a rock 'n' roll edge," and Sophie Turner is "a good 10 centimeters taller than" Joe Jonas. That's not to mention Gigi Hadid who is only a little bit taller than Zayn Malik except when she wears heels which then makes her "a good few inches taller than ... Malik." It looks like Kidman and Urban are in good company.