What Jim Belushi's Relationship Was Really Like With His Brother John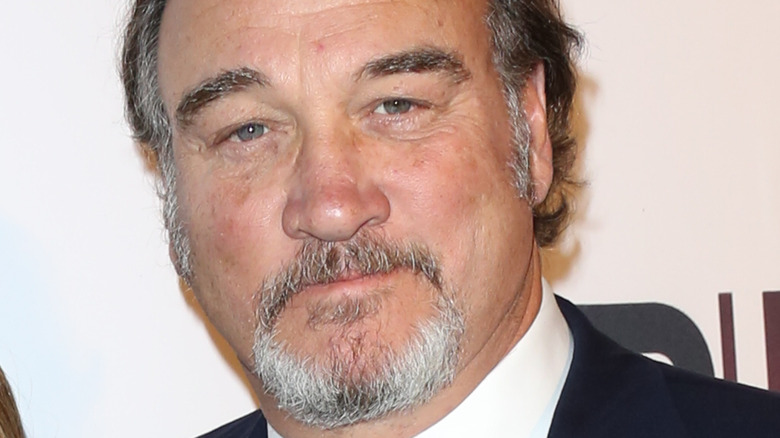 Paul Archuleta/Getty Images
Jim Belushi had the best inspiration living right inside his home. The younger brother of comedian John Belushi, Jim began following in the footsteps of his massively talented big brother early on. Both went on to mark their name in the history of American entertainment in their own right, John as one of the original seven members of "Saturday Night Live" and Jim as a film and TV actor.
But before Jim worked his way up in Hollywood and brought us the popular sitcom "According to Jim," he started the same way his big brother had: at the The Second City, a theater group in Chicago. Unfortunately, the Belushi family was struck by tragedy on March 5, 1982, when John died from a drug overdose, per the Los Angeles Times. He was only 33 years old. Jim continued to follow a path similar to John, even after his death. 
In 1983, Jim joined the cast of "SNL," a move his brother had advised against years earlier, Jim told Vulture. John thought that his ensemble cast, having been the first, could never be replaced. However, Jim wanted to be a part of that history. "It was close to our heart because guys that we knew were the ones that created it. So I wanted to be there too," he said. In more ways than one, John defined what Jim would become — and continues to do so. Keep reading to learn what the Belushi brothers relationship was like.
John Belushi initially was against Jim following in his footsteps
Jim Belushi was only 16 years old when he saw brother John Belushi perform in Chicago's Second City, per The Hollywood Reporter. After that, there was nothing else Jim aspired to do besides perform in front of an audience, like his brother did. "John captured the hearts of America. He was funny over and over again — and those feelings never leave you," Jim told People. 
Of course, John wasn't always thrilled that his young brother kept wanting to follow in his footsteps. Older siblings everywhere surely understand the feeling. When Jim was accepted into Second City, the first thing he did was call John. "I said, 'Hey, man, I just got into Second City!' There's a long pause, and he goes, 'Uh ... I thought you were more like a drama guy?'" Jim told The Hollywood Reporter in 2020. John could also be competitive, a trait that Jim noticed more clearly when he started to get meaningful parts, he said.
But John eventually understood that Jim was meant for the industry and took him under his wing. Jim still credits his brother for his success, not so much because he gave him practical advice, but more so for showing him that the sons of immigrants could achieve great things. "If it wasn't for John, I would be serving dinner tonight at my dad's restaurant," he said.
Losing John Belushi remains Jim's biggest trauma
There would be no Jim Belushi without John Belushi. John left a deep mark in the history of American comedy and perhaps a bigger one in the hearts of his family. To this day, Jim believes that the cruelness of Hollywood life was partly to blame for John's death. "I don't think John would have died in any other city. There is a loneliness that can prevail in Los Angeles, coupled with the unbelievable accessibility of everything," Jim told The Hollywood Reporter. The life of John's wife, Judy, was also turned upside down following his death. "[It] was like a gut punch. And then it was like I was thrown into the center of a tornado," she told People in 2020.
Jim also believes John's drug use escalated due to an undiagnosed condition. John played football in high school, a period that Jim said his brother began to have seizures. Jim suspects John developed chronic traumatic encephalopathy (CTE) and used drugs to self-medicate, per The Hollywood Reporter. 
Jim often honors his brother's memory on social media, showing that John is very much still present in his life. For the 38th anniversary of his death, on March 5, 2020, Jim posted a portrait of John smirking for the camera on his Instagram page. "38 years ago today this world lost a voice and I lost my brother, miss you everyday Johnny and I'm thankful for you," Jim wrote in the caption.
If you or anyone you know is struggling with addiction issues, help is available. Visit the Substance Abuse and Mental Health Services Administration website or contact SAMHSA's National Helpline at 1-800-662-HELP (4357).