Why Jon Gosselin's Rare Photo Of Hannah And Collin Is Blowing Fans Away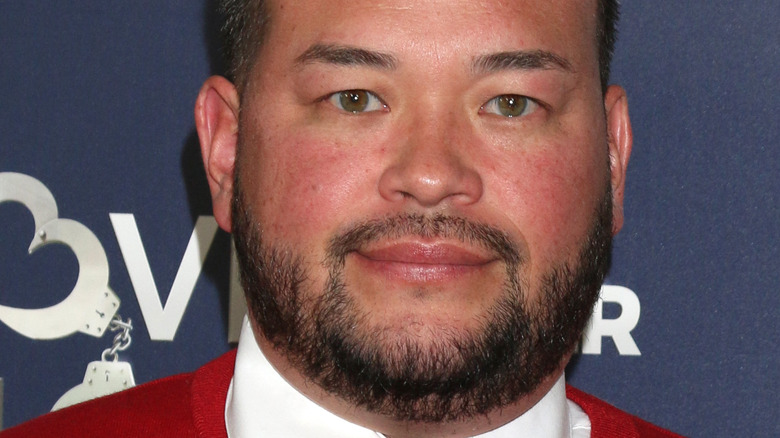 Kathy Hutchins/Shutterstock
Jon Gosselin is breaking the Internet! Well, not exactly, but he did post a photo of Hannah and Collin, two of his children with ex-wife Kate Gosselin. Jon took to Instagram on August 25 to share the snap, captioning it, "First day of 11th Grade!!!! Good Luck Hannah and Collin!!! Love Dad." Fans couldn't believe how old they were, as many of them remember watching them on the TLC show, "Jon & Kate Plus 8." After Jon and Kate divorced in December 2009, the show evolved into "Kate Plus 8."
Fans flooded his comments to praise the pic. One wrote, "Wow 11th grade I remember watching them in diapers." Another added, "I feel old!" One fan chimed in with, "How?? Omg I remember little Hannah and Collin from TV." Yet another fan penned, "Dang I'm old! Have a great year kiddos!" After the shock of seeing the kids wore off, some fans also praised Jon for another reason. Keep reading for more details.
Fans commended Jon Gosselin for keeping his kids off of his social media
Despite the fame from "Jon & Kate Plus 8," it seemed that Jon Gosselin wanted to keep a low profile on social media when it came to his kids.
When he posted a rare photo of Hannah and Collin's first day of 11th grade, fans applauded him for not showing many photos of his children. "I love that you allow your children some privacy but still share a pic of them every now and then," one fan wrote. "They have grown so much since your first appearance on national television." Another added, "Beautiful kids. God bless. Thanks for sharing with us. Have a great year Hannah and Collin!"
It doesn't look like his relationship with his other kids or with ex-wife Kate Gosselin is as peachy. On a March episode of "The Dr. Oz Show" (via E! News), he expressed that he hoped to reconnect with the rest of his six children. "I'm opening my house in open arms if they're willing to come," he said. "I love you, my door is always open, you're welcome anytime, there's no regrets or hard feelings or any of those negative things. You can always come see me or come see Hannah and Collin."