What Really Happened Between Kathryn Dennis And Shep Rose?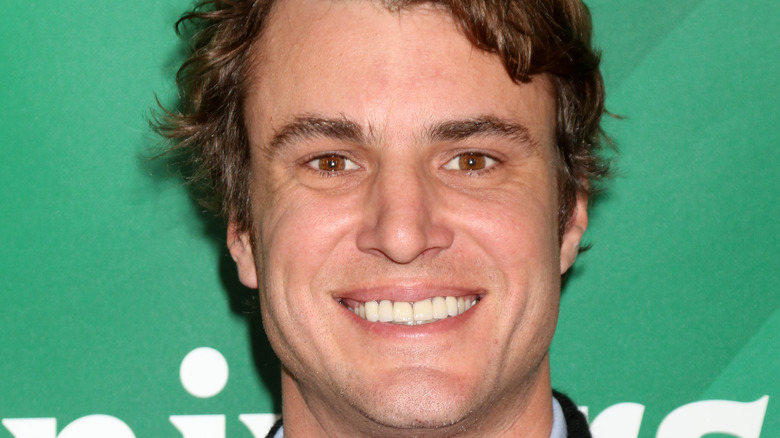 Kathy Hutchins/Shutterstock
"Southern Charm" is certainly a fitting name for the reality show on Bravo because the stars of "Southern Charm" do have charm. Despite all the drama that takes place, the cast knows how to charm their way through the south and their relationships — which are known to get messy.
In 2014, Bravo green-lit the new reality show, which follows southern socialites living in Charleston, South Carolina. And as most reality fans know, the mix of money and reality television can create dating drama, and "Southern Charm" is no different. For example, in a clip from the show, viewers hear the cast talk about hookups, pregnancy, and cheating in two minutes alone — a good precursor for the rest of the show. While "Southern Charm" is no stranger to dating drama, neither are two of the show's OG castmates, Shep Rose and Kathryn Dennis.
The two have never officially been together, but the pair have hinted at a relationship before, but it never seemed to work out despite what fans may have hoped for. What really happened between the two of them, and will "Southern Charm" fans ever get to see these two together for the long term?
The two have had an on and off situationship
A "situationship" is what defines a relationship that is difficult to define in clear terms. It seems that is what has gone on between Shep Rose and Kathryn Dennis of "Southern Charm" for the past few seasons. The two OG castmates of the reality show were known to have had a fling back in Season 1, but never officially defined their relationship. In Season 1, per Us Weekly outside of her fling with Shep, Kathryn reportedly hooked up with her co-star Whitney Sudler-Smith, and flirted with her other co-star Craig Conover, all before she ended up with former co-star Thomas Ravenel, whom Kathryn shares two children with.
In 2018, Shep went on "Watch What Happens Live with Andy Cohen," where he set the record straight on his relationship with Kathryn. He revealed that he and Kathryn have hooked up six or seven times after Cohen played a flirtatious montage clip of the two of them where Kathryn says, "We have good sex. He's cute, and fun," before smirking at the camera. In 2021, Shep detailed more of their relationship in his book, "Average Expectations," saying, "I had a wonderful time with Kathryn during our brief affair. I also remember tearing each other's clothes off ... Oh wait, I said I won't reveal too much," he wrote, per Us Weekly. So, where do the two stand today?
The two are just friends these days
Well, Bravo fans, it doesn't seem they are anything other than friends today. But don't worry, it doesn't seem like there is bad blood either. In 2019, Kathryn went on "Watch What Happens Live with Andy Cohen" and cleared the air of where she and Shep stand. She told a caller that while fans may say Shep was the one who got away, she doesn't quite believe it. "I will say life would be a lot different if I would have pursued him, but, I don't really think I have a one that got away," she said.
Most recently, there are barely any reports of the two of them together. There are even questions of whether they will star on the eighth season of the show. Kathryn had a difficult seventh season as her racially insensitive past came to light. As for Shep, he revealed to Entertainment Tonight that before Season 7 began, he was having second thoughts about even starring on the show. He told Entertainment Tonight that with social media, it can be very difficult to block everything out.
Yet, the two seem to be happily separate — and in new relationships. Kathryn has been dating Chleb Ravenell (who has no relation to her ex Thomas Ravenel) for a year now, while Shep has been dating Taylor Ann Green since May of 2020, per Us Weekly.