The Truth Behind Guy Fieri's Signature Hairstyle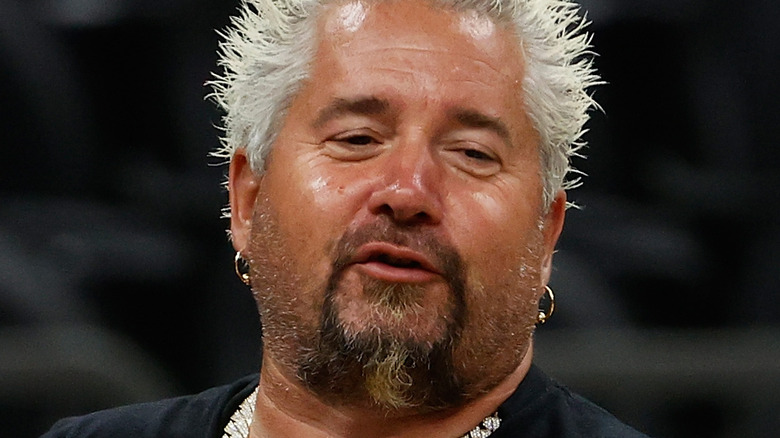 Christian Petersen/Getty Images
When you picture Guy Fieri, what do you see? Spiked blonde hair, a goatee, an infectious smile, and an infinite amount of flame-emblazoned button-downs, right? That's what we thought.
Known for his undeniable charisma and his unrelenting passion for food, Fieri has made a name for himself in the food world over the past decade and a half, becoming a staple of American culture in the process. After a decade of grinding it out in the restaurant business, Fieri's stock seemingly rose overnight following his big win on "The Next Food Network Star" in 2006. Soon, America would be beholden to the sight of the highly-enthusiastic, bleached-blonde chef as he went on to host "Guy's Big Bite," "Diners, Drive-Ins and Dives," and a number of other cooking shows.
And though the Mayor of Flavortown has yet to be seen without his signature frosted tips, plenty of Photoshop-savvy fans have taken the time to show what he potentially looks like when he's not rocking the iconic Fieri look (via Reddit). If you've ever wondered what led Guy Fieri into making such a controversial fashion choice that has essentially defined his career, you're not alone. And lucky for you, we have the scoop. Read on to learn more about the cooking star's hairdo!
Frosted tips weren't always in Guy Fieri's playbook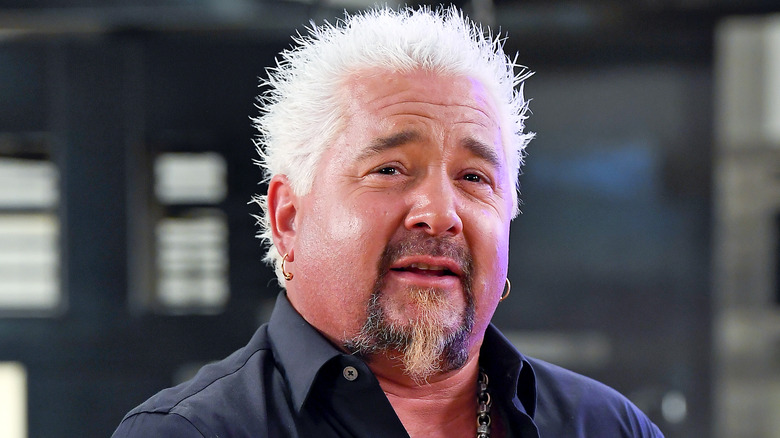 Steve Jennings/Getty Images
Can you believe there was a time when Guy Fieri didn't look the way he does now? We know, it's quite jarring to us, too. The celebrity chef has made a name for himself not only through his impeccable cooking skills but also his over-the-top image that has made him a marketing machine for the Food Network. In fact, Fieri's wife, Lori, told Vice that when the two first met, the cooking star "had no goatee ... had dark hair [and] wore a suit to work every day" (we imagine the closet of suits have now been replaced by a lifetime supply of flame-print shirts).
In fact, Fieri's hair came as a total surprise. Christina Jones, Fieri's friend and hairdresser at the time, was the one responsible for blessing us all with the spiked tips look. On how it came about, Fieri told Vice that he "was just kind of having one of those moods one day, and said, 'Just do whatever you want,'" which, quite honestly, was one of the best decisions he's ever made. "She goes, 'Whatever I want?' 'Whatever you want,'" Fieri further added. The chef initially thought the light color was "shampoo" before Jones dropped the bombshell: "That's your hair color."
Though the frosted tips would go on to define Fieri's image, you have to wonder how exactly the celebrity chef and those around him reacted to the drastic change. Read on to see the reactions!
There's nothing a good hat can't fix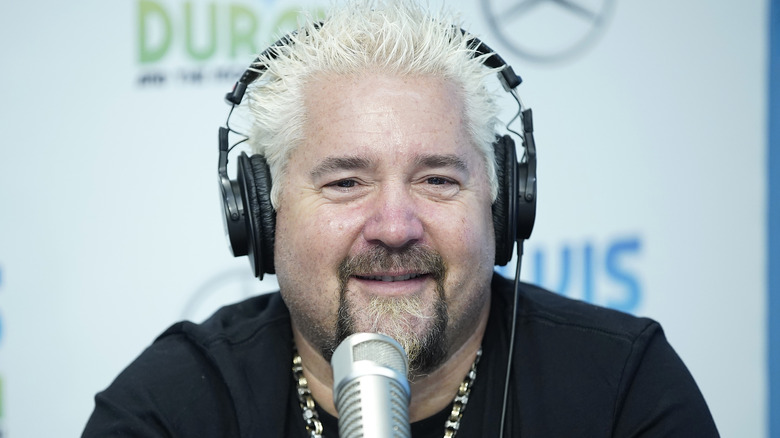 John Lamparski/Getty Images
Upon receiving the new 'do, Guy Fieri was in shock. It was a fateful Friday evening when Fieri "had to be at the restaurant," so in an effort to circumvent any embarrassment, Fieri simply "​put a ball cap on" and went into work. Though Fieri eventually embraced the look, his wife, Lori, still gets conflicted over the hairstyle. Talking to Vice, Lori revealed that she "tease[s] him every once in a while," while noting that she does "want a little change sometimes." She did, however, realize the futility in getting Fieri to change, saliently pointing out, "that's like me changing my hair to black" and that "[she's] not going to do that for him."
Regardless, Lori concluded with a wholesome and heartwarming message that may or may not have left a tear in our eyes. "At the end of the day, I look at him and I still genuinely like him," she told the outlet, before diving deeper and revealing, "[F]rom the time we wake up in the morning, he pretty much has me laughing." How's that for a true love story?
In light of the COVID-19 pandemic, Fieri spoke to USA Today about how he managed to maintain his beautiful mane and revealed that Lori "had to take up her barbering skills." He also managed to coerce "one of his best friends [who] owns a hair salon" to finesse his hair in private. "Long hair days" were a given.