Who Is Guy Fieri's Wife, Lori?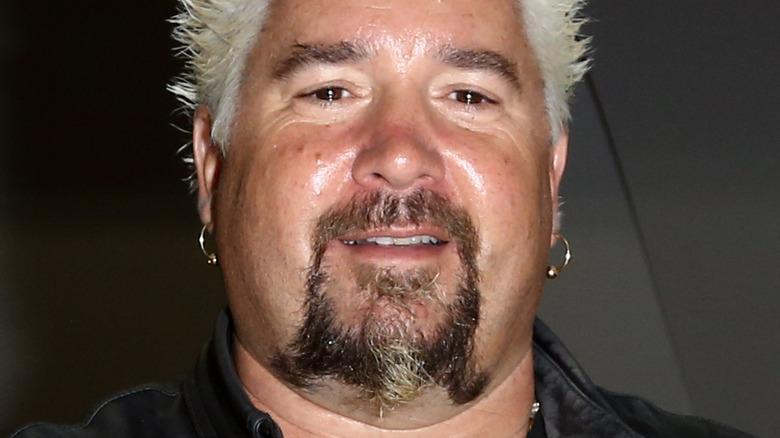 Shutterstock
You know him for his bleach-blonde, spiky hairstyle and his flavor-filled meals on "Diners, Drive-Ins, and Dives," but Guy Fieri is a lot more than just his iconic 'do and epic Food Network show. The celebrity chef is a loving husband to his wife of almost three decades, Lori Fieri, who has been by his side throughout the entirety of his well-received television career. Guy and Lori have been going strong since the early 1990s, having first met in an unlikely — but totally adorable — way in 1992, per Insider.
The Emmy Award winner and his blonde beauty crossed paths when Lori paid a visit to his Long Beach, California, restaurant with a pal who had been let go from his place. Guy recalled to Delish in 2017, "I was talking to her friend and saying 'Hey, listen, wait a few weeks before you come in,' and standing behind her is this blue-eyed, blonde girl giving me this mean mug." The Ohio native told the outlet that as soon as he spotted Lori, he "just knew" she was The One.
Doing what he does best, Guy won Lori's heart by cooking for her, although he "[doesn't] remember" what he made. "But I do remember it was quite an epic time," he gushed in the interview. Long story short, the two married in a romantic ceremony in Long Beach in 1995, per Insider, and they've been going strong ever since. To learn about Guy's longtime love, keep scrolling for more on Lori!
Guy Fieri's wife, Lori Fieri, is his biggest supporter and their family's rock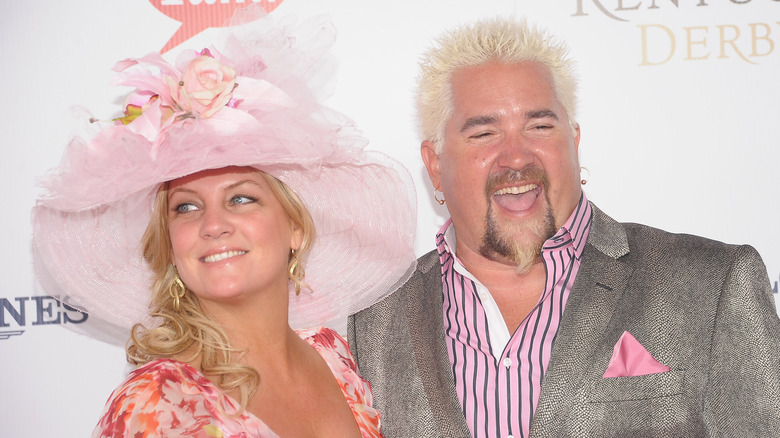 Michael Loccisano/Getty Images
Long before she became Lori Fieri, Guy Fieri's wife was a New England native with big dreams. Born in 1973, Lori grew up in North Providence, Rhode Island, according to The Sun. Guy's spouse stayed in the Northeast until embarking on a road trip to San Diego in her early 20s, per Delish.
Lori didn't make it to San Diego, though, as she met Guy along the way in Long Beach, Calif. Obviously, the two fell in love and eventually settled down, and they've since become quite the power couple. Not only does Lori often help her man out in the kitchen by giving him new, interesting ideas, but Lori is one of the reasons Guy is on TV, as she encouraged her hubby to audition for "The Next Food Network Star," per TV Over Mind.
In addition to supporting Guy's career, Lori has been holding down the fort at home as the loving mom of their two kids: Hunter Fieri, who was born in August 1996, and Ryder Fieri, who arrived in December 2005. In May 2021, the couple's elder child, Hunter, shared a touching Instagram tribute for "the one and only Flavortown Queen" on her birthday, writing, "Thank you for being such an amazing mother and always looking out for us. Today it's all about you! I love you." It sounds like Guy hit the jackpot!