Cut Audio From Biden's Recent Presser Sparks Heated Chatter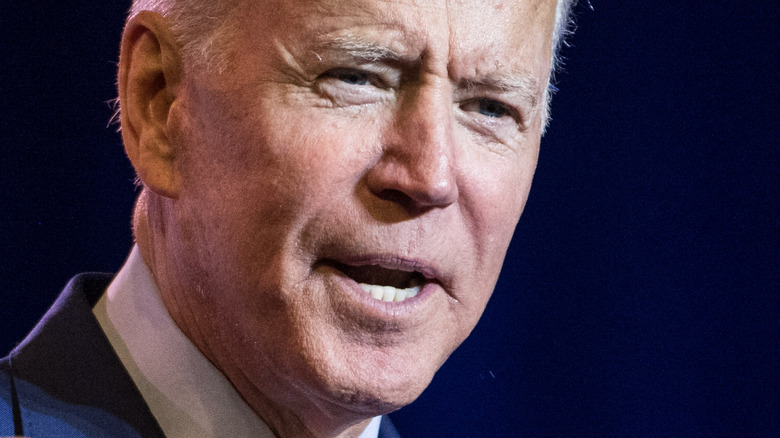 Naresh777/Shutterstock
President Joe Biden spoke to the press on August 24 at a cybersecurity event — an event that had nothing to do with the complicated situation unfolding in Afghanistan — according to a video shared by the New York Post. He thanked the press for being there and then said, "We're going to go private now." But NBC News correspondent Peter Alexander asked a question anyway: "If Americans are still in Afghanistan after the [August 31 withdrawal] deadline, what will you do?" 
At first, Biden ignored the question — arguably the correct response, since he said he wasn't going to take more questions. But Alexander asked again. Then the mic cut off (because the meeting was ending). Though the video continues with no sound, you can see Biden say something in response with a slight grin. Alexander later tweeted Biden's response: "You'll be the first person I call." (A White House transcript confirms Biden's remark.)
Of course, the internet is abuzz with responses to this exchange — here's what folks had to say.
Reactions to the cut audio are biased, as expected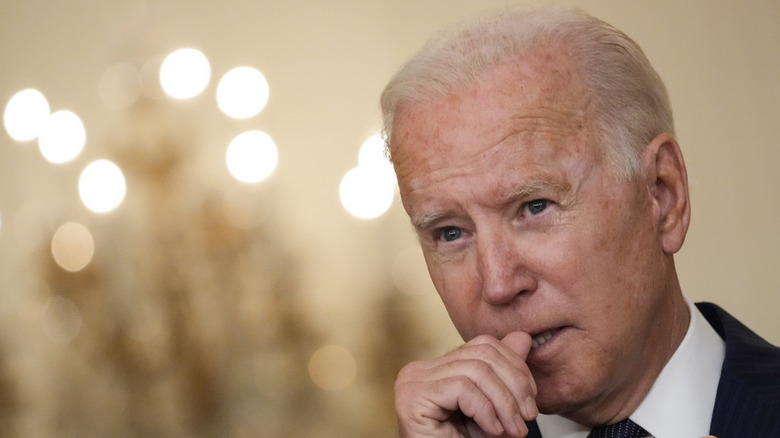 Drew Angerer/Getty Images
Not surprisingly, responses to the incident are divided along party lines. John Daniel Davidson, editor of conservative publication The Federalist, tweeted, "Biden's behavior in this is becoming obscene." Trump administration Press Secretary Sean Spicer tweeted, "If he is serious, that's an issue. If he's trying to be funny about something this serious and screwed up, that's also an issue." That garnered the response, "Not so fast, sporto. Sounds like we're supposed to just let it slide when a POTUS make[s] an attempt at a joke," while linking to a 2017 Washington Post video where Spicer told the press to "Trust Trump, unless he's joking."
Texas Republican Sen. Ted Cruz tweeted, "Americans were already worried that Joe Biden has no plan. This won't help." This triggered the response, "Um, basic OpSec would require him NOT to answer questions about exactly how we're getting people out. Think it through for half a second, Captain Cancun," referencing Cruz's sudden trip to Mexico in February while his constituents suffered from frigid temperatures and a power grid failure. One Twitter user responded to Peter Alexander's tweet by saying, "Why would he tell you at this point? Contingency planning and negotiations rely on keeping some information close to the vest. Media drives me crazy."
It's safe to say reactions to Biden's handling of Afghanistan and the press will continue to be hot-button topics.