Aubrey O'Day's Feud With Donald Trump Jr. Is Worse Than We Originally Thought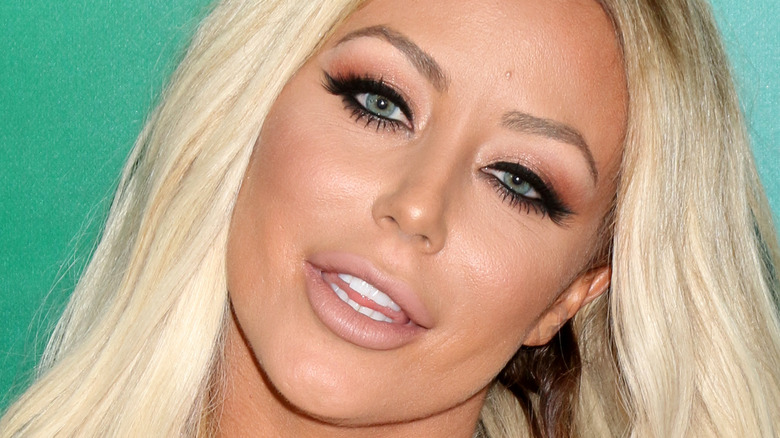 Kathy Hutchins/Shutterstock
Aubrey O'Day is no fan of the Trump clan. As Donald Trump's time in the Oval Office was winding down, the former Danity Kane member tweeted that Trump and the relatives who worked for him were "the most classless administration and family in modern history." However, there was a time when she thought highly of Donald Trump Jr.
According to Page Six, O'Day met Donald Jr. in 2011 when she appeared on the fifth season of "Celebrity Apprentice." The future senior political advisor was also working for his father in an advisory capacity back in those days, and an insider claimed that he took advantage of his access to the celebrities on the show to pursue a relationship with O'Day. At the time, he was still married to Vanessa Trump, who was pregnant with their third child. A source told Us Weekly that Donald Jr. had an extramarital affair with O'Day that lasted from late 2011 until March 2012. "He told her it was over with his wife, that they were separated and he didn't love her," one insider dished. However, Donald Jr.'s marriage wouldn't end until 2018. After the couple's split, O'Day began speaking out about her alleged affair.
During a 2019 episode of "Ex on the Beach," O'Day called Trump Jr. her "soulmate," according to MTV News. "We were passionate and connected and loyal and honest," she told People days after the episode aired. Surprisingly enough, she's still talking about him today, but no longer holds him in such high esteem.
Aubrey O'Day said Donald Trump Jr.'s behavior 'hurts' her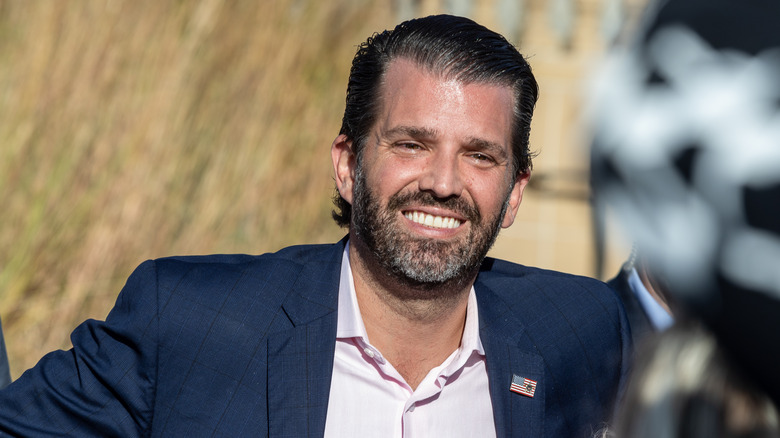 Chris Manning/Shutterstock
In 2019, Aubrey O'Day told People that Donald Trump Jr. was "not the person that I fell in love with." Fast forward to August, and she still can't seem to get over how much he's allegedly changed. A joke that Trump Jr. made about President Joe Biden and the Taliban chaos caught her attention on Twitter, and she decided to respond. "You r so much more interesting than this petty nonsense," she scolded. "Hurts to see u playing to your weakest self all the time."
O'Day also suggested that she might have a potentially embarrassing photo of Trump Jr. in her possession after he mocked Biden for breaking down during his speech about the deadly attack at the Hamid Karzai International Airport in Kabul. "(Searches for the picture I took of you with matching front ponytails I put in your hair).." she tweeted. 
The "Celebrity Big Brother" star has ridiculed Trump Jr. and his family on Twitter many times before, but her alleged ex never responds. "Meanwhile at maralago.. trump and ivanka are knee deep in hookers. the boys are covered in white power, I mean powder," she wrote in January. However, while she's claimed that she and Trump Jr. did drugs together, she said that cocaine was not one of them. "I mean he's either on serious adderol or conflicted inside," she tweeted in November 2020. "He doesn't look well..."
Aubrey O'Day claimed to know what Donald Trump Jr. really thinks about his dad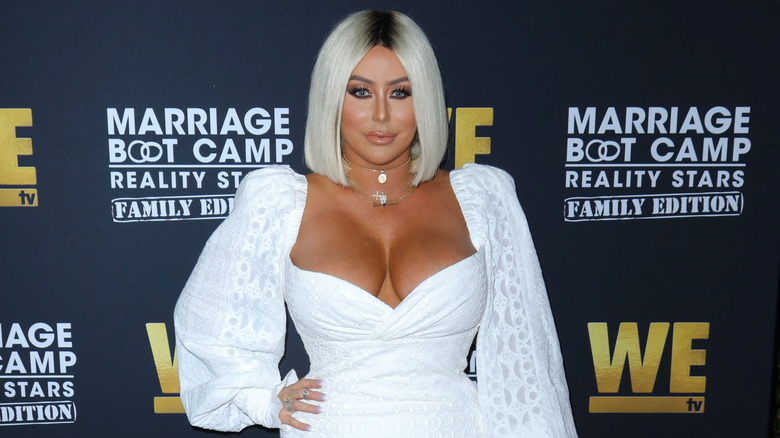 Jc Olivera/Getty Images
In November 2020, Aubrey O'Day tweeted a sizzle reel for a documentary series that never got picked up. In the video, she speculated about why Donald Trump Jr. never made good on his alleged promise to leave his wife for her. "The power and money and success of the family name became more than the love," she stated. According to Us Weekly, Trump Jr. ended the affair after his wife discovered email correspondence between him and O'Day. A source claimed that Vanessa Trump tried to make O'Day feel guilty about it by calling her "with her kids on the phone."
Page Six reported that Trump Jr. was also obeying his father's orders when he ended things with O'Day. An insider said that Donald Trump told him to "knock it off," and he did. However, while Trump Jr. might listen to his dad, O'Day has alleged that he can't stand the man. "I have so many receipts on all the ways he hated his father," she tweeted in October 2020. She also claims to have "receipts" proving that her ex wanted to have a baby with her. 
And even though he broke her heart, O'Day's critical tweets about him often include fond remembrances about the man she used to know. "He was so brilliant and courageous when I loved him," she wrote in November 2020. "He became everything he feared and hated for some power."