Haylie Duff Spills All The Details Of Life After Moving To Austin - Exclusive Interview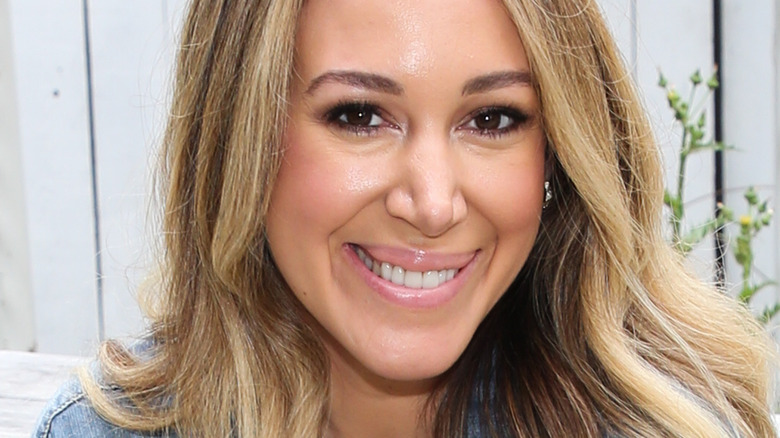 Paul Archuleta/Getty Images
Haylie Duff does it all! From music, to movies, to motherhood, the Texas-born multi-hyphenate has her hands full. Thankfully, she's got a great head on her shoulders — and a strong support system — to back her up. Duff's latest endeavor (besides filming a new holiday flick for Lifetime and the sequel to 2014's "The Wedding Pact") combines her love for great food and her furry family, and it's only fitting that she's launching it from her new home in Austin, Texas.
As she told Nicki Swift in an exclusive interview, moving to Texas after two decades in California felt like "the right thing," and not only has it given her and daughters Ryan and Lulu more space, but it's also allowed her and pups Birdie and Chicken to bond in a new way with Nutro Ultra's Barkuterie Boards. The program, which launched earlier this week, allows dog owners to dine with their pooches by creating customized canine-friendly charcuterie boards. Not only is it a great way to take feeding your furry friend to the next level, but as Duff said, it's also "so fun and so cute."
From her busy schedule, to becoming reacquainted with life in Texas, to her iconic onscreen characters in "Napoleon Dynamite," "7th Heaven," and "Material Girls," Haylie Duff was beaming as she caught up with us on it all.
Austin, Texas is the new L.A. for Haylie Duff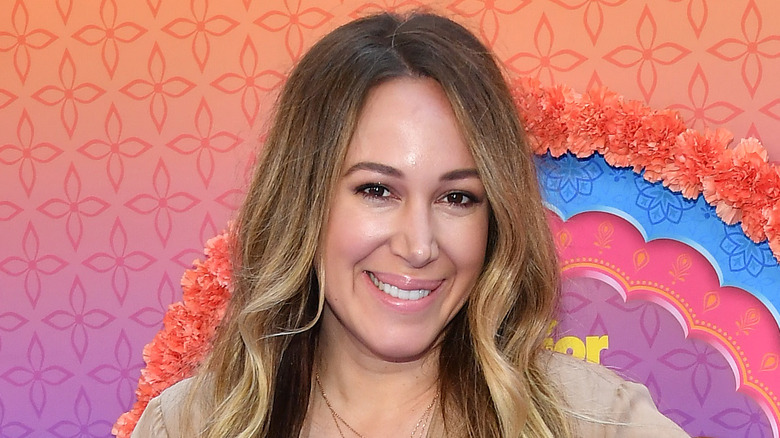 Amy Sussman/Getty Images
My first question for you is how has your pandemic been? It's been a crazy almost two years, I'm sure.
The fact that you just said two years, really, it blows my mind. I mean, I can remember [when] it was two weeks to slow the spread or whatever. Sometimes I'm like, "Well, during the pandemic," [then] I think "We're still in the pandemic." It just kind of has become the new way to do things, and we just try to make the best of it, try to keep everybody safe and ourselves safe. And what can you do?
Exactly. So I heard you recently relocated to Texas. How are you enjoying your new digs with the family?
I love it. I love it. Love it. Love it. I'm from Texas originally, so for me, the special part about this is that I haven't lived near my dad in close to, I mean, 20 years that I've been in Los Angeles. So, I'm really getting such amazing family time with him and my stepmom and my cousins here. I have two step-sisters here. They have kids, so I'm really getting to spend a lot of time with parts of my family that I didn't really get to spend much time with. So I'm soaking that in and loving that, and I've got great friends here. So, I'm feeling like we did the right thing and really lucky.
What part of Texas are you in?
I'm in Austin.
I love Austin!
Well, from Los Angeles I moved here and it feels almost like Los Angeles now, but yeah, we love it. It's great. It's a little hot, not going to lie, it's a little hot, but other than that, we're loving it
I went earlier this year and it's so fun. It's really hip and on the up and up, so I'm sure you guys have a great, cool little vibe set up there.
Yeah we're out in the Hill Country, and so we're a little outside of town, which is nice, but I've also learned about creepy crawly things that I did not know about before, like spiders and scorpions and all kinds of things that you deal with living out in the Hill Country, but Austin has some of the greatest restaurants, so we've really been exploring in town quite a bit too.
Haylie Duff's new partnership highlights her life-long love for dogs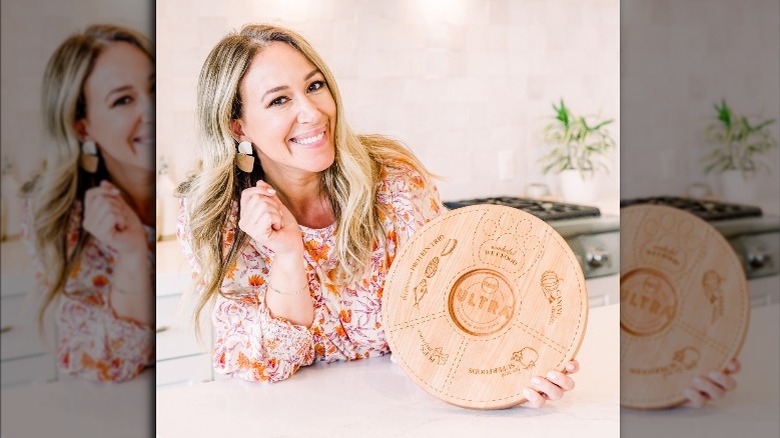 Nutro Ultra
So you're a mom, but you're also a mom to some adorable pets, a bit of a fur mom. What are their names? And have you always been a big animal person?
I have. I've always been a big dog person. I grew up loving dogs. We've always had dogs. We said goodbye to a very, very special dog right in the beginning of the pandemic [but we have] our two dogs. So we have our Birdie, she's almost 11 and she's a little, raspy pup. We think she's a Rhodesian Ridgeback-Lab mix. And then we have a little one named Chicken and she's 9.
So part of the reason why we're talking are these new Barkuterie Boards that you're partnering with Nutro Ultra to promote. What inspired that decision to work with them?
I love this partnership for me because I thought these were so fun and so cute, but also I love making boards for my friends and my family. And it's something that I have so much fun doing for myself that I thought this concept was just so fun and so cute. And to spoil my dogs a little felt great. So, it was really combining things that I love: food, and eating really good food, and then my dogs. So, Nutro Ultra, their food is just so amazing. It's all non-GMO and clean, healthy ingredients for them. So, I loved that I got to partner with them for this.
What Haylie Duff learned from working with Nutro Ultra on Barkuterie Boards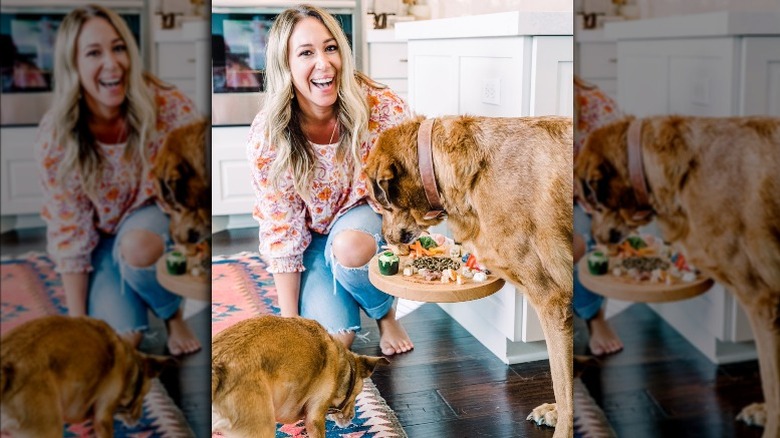 Nutro Ultra
Why is it important to you to know what you're feeding your pets?
Well, I look at it kind of as the same for us, we care about putting healthy food into our body and limiting things that are not so great for us. And I think if we can do that for our dogs, they just get to live longer, healthier, happier lives. Especially [since] my dogs are getting a little bit older, so for them, if I can give them food that I know is going to help with their joints or my big girl Birdie has developed allergies now. If I can give them good, clean food, I feel like it's helping them in the same way that it helps us.
Are you a big charcuterie board maker yourself? Are you going to bust some moves to make some stylish spreads for your animals?
Yeah, they're going to go crazy. Last week, when we were first kind of creating these boards, my dogs lost their minds. They were so excited about them. So, I think that's something that's just so fun about this partnership is that people get to really be creative and come up with things that they think their dogs would love. I know my dogs love cheese. Banana was a new thing that I didn't even know you could give dogs until I partnered with Nutro Ultra and now I do, and my little Chicken is obsessed with them. So, it's been really fun to kind of explore new flavors with them as well.
One of her next projects is arriving this Christmas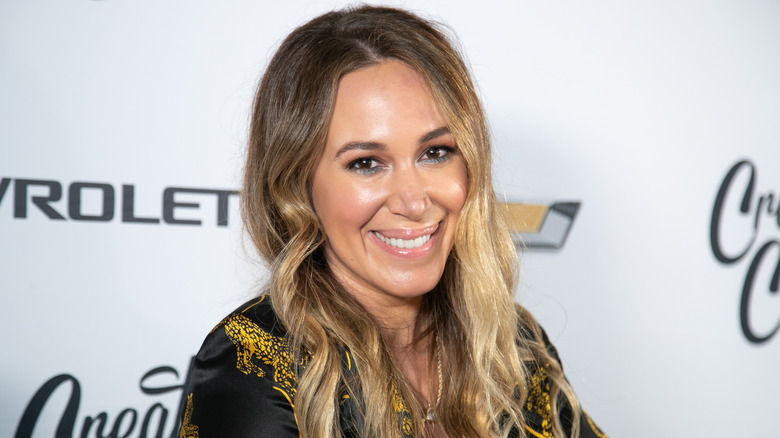 John Wolfsohn/Getty Images
So, moving on to your career a little bit, you've got a Lifetime Christmas movie "Blending Christmas" coming up. Are you a big Christmas person?
We are big Christmas people around here. I've done a handful of Christmas movies, but my little one, Lulu, for the last, probably two weeks, her bedtime song requests have been "Rudolph the Red-Nosed Reindeer" and "Frosty the Snowman." So, we're going to keep that Christmas thing going year round around here.
Yeah, Christmas in July... and August and September.
My daughter is like, "Is it almost Christmas?" I'm like, "Nope. No, it's not."
What was it like filming the movie in presumably not the festive Christmas season?
When did we do that? We did this in March and April, so definitely not Christmastime, but this movie was my first job back on an actual set after quarantine and all of that. And one of my closest, dearest friends, Marla Sokoloff, was the director. So, it was so awesome for me because not only had I not seen her in basically a year, but I got to be on set and be creative and collaborate with her, and that was really awesome. So, it felt good to go and be back, be back in the saddle, I guess.
Could you tell us a bit about what "Blending Christmas" is about or how that title plays into the story?
I can tell you a little bit. What I love so much about this story, which anybody that I think watches a lot of Lifetime movies will understand what I'm talking about, but most of them are about a man or a woman that are trying to make a relationship happen. They're looking for love or they're post-breakup and looking for love. And this story was about two people that were already in a relationship and about to take the relationship to the next level. He's trying to propose to her and he keeps messing it up and everything kind of goes wrong, and it's the blending of their two crazy families, but it was awesome to get to play a character that wasn't searching for something so much as she was just kind of happy in her life. I thought that was a really big difference in this movie versus some of the other ones that I've made for them or that they make, is that the couple was already together, which was pretty cool.
You're down one hurdle, so now it's just onto the family. Small stuff.
Yeah. We really are the Brady Bunch, the actual Brady Bunch.
Haylie Duff had no idea Napoleon Dynamite would become so iconic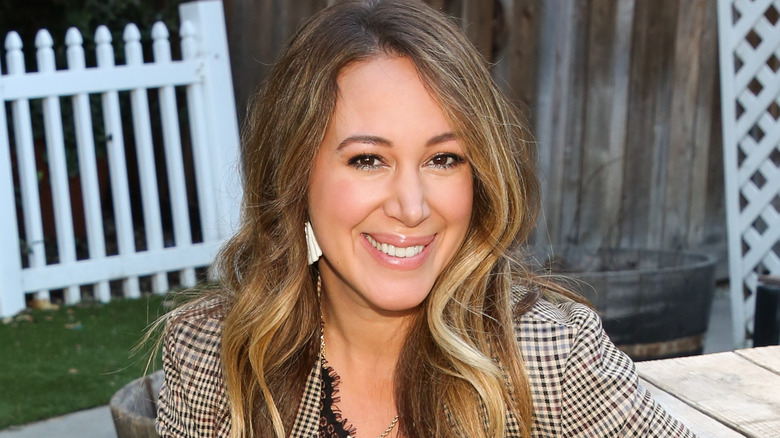 Paul Archuleta/Getty Images
"Napoleon Dynamite" is closing in on 20 years, one of your many big iconic roles, which is so crazy.
20 years, that's so shocking.
We have a few more years, but it's going to be in the next two or three.
Already?
Did you have any idea it would become such a beloved cult classic that you'd be talking about after all this time?
I've been asked this and I want to say, like, "Yes, I knew," but I don't think any of us really knew. We knew that we thought it was funny and reading the script, we thought it was funny. And then being on set, when you kind of looked at everyone in character and how the seeds are coming together, I think we felt like there was a different energy around it, but I don't think anybody could have imagined that it was going to turn into what it kind of has turned into, which is so special to be part of something like that. And Tina Majorino [who played Deb] is one of my best friends to this day. So, we got to walk away from an amazing experience with really amazing relationships too, which doesn't always happen.
Especially making a movie, I'm sure you're there for such a short time, and then it's either we forget about this or you can make some kind of bond.
What's so fun about it is that over the years we've been able to do reunions, and we had a really special, I want to say it was the 10 year reunion at Fox, and they put up a big Napoleon Dynamite statue, and it's been nice that we've been able to keep in touch with each other and watch each other's lives sort of unfold in all of these great ways. I feel like we all feel very lucky about it.
Yeah. Going back to high school for the reunion, but it's not your high school reunion, it's your post-Napoleon Dynamite" reunion.
I think that's the life of an actor, right? You didn't always get to go to high school, so your reunions are through movies or shows.
Haylie Duff has a good sense of humor about her pregnant roles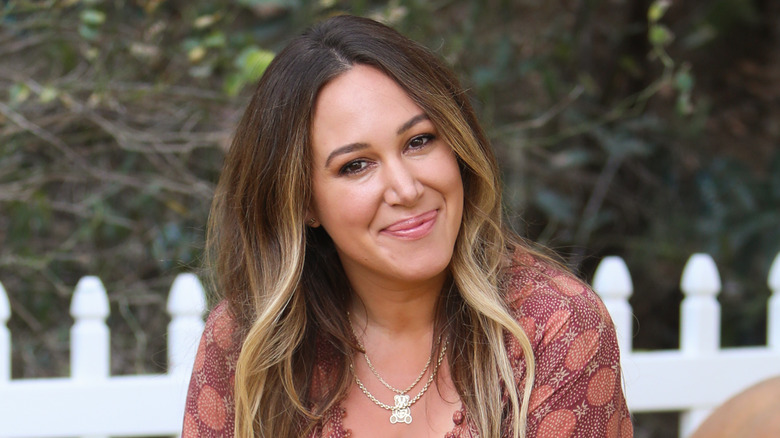 Paul Archuleta/Getty Images
From Disney, to "7th Heaven," to "The Wedding Pact," you've had a lot of different roles on film and TV. Is there a role you get recognized for the most?
I think "Napoleon Dynamite" for sure is one of them, but then I also get a lot of, "Oh my gosh, that's you?" I think I look totally different in it. So, I do get a lot of people surprised that it was me in, but "7th Heaven," I still hear all the time. That's a show that I think just goes down in history as one that was such a special example of a family and how much a family cares for each other and how much a solid, good family does for other people. So, I think people just love that show. And then definitely some Lifetime movies where I was like maybe a little bad or a little scary, a villain character.
I know it's funny. Planning this interview with editors, we were talking about rewatching "7th Heaven" and how great you were in it.
Well, "7th Heaven" was the beginning of my "Hire Haylie to be the pregnant girl and everything" sort of streak. After "7th Heaven," I think I've been pregnant in five movies.
So by the time you were ready to have kids yourself, you're like, "Okay, I've got at least the experience down."
I know what we're doing! It's funny. I just finished a movie called "The Baby Pact," which is the sequel to "The Wedding Pact," and I was very pregnant in it. And it had been a couple of years since I had strapped on a baby belly, so I had to get back in the flow of it, but it's always fun to play a pregnant person. A lot of craziness comes with it.
Do you have a favorite role that you've played so far?
Probably [it] would be Amber Von Tussle for "Hairspray." I did "Hairspray" on Broadway and I think that is one of my favorite roles, just the amazing wigs and the amazing talent on stage every night. That certainly goes down as one of my favorite experiences.
She looks back on working with sister Hilary Duff fondly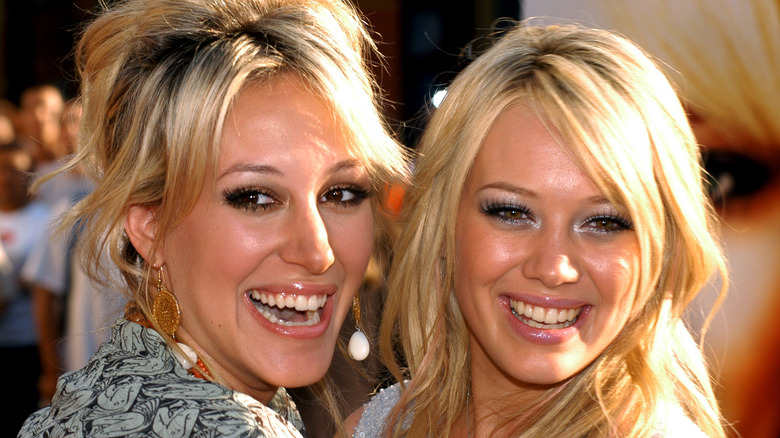 Everett Collection/Shutterstock
One of my go-to favorite sick day movies, especially with my sister, is "Material Girls." You and Hilary have both certainly grown up since then, but any chance we'll see a sequel or the girls-as-moms type deal?
Oh, that would be so fun, right? I don't know. I mean, I think that we would be open to it and excited about it, but yeah, I don't know. "Material Girls" is one of those things that people constantly quote to me and it always just makes me laugh. I feel like we were so young making that movie [that] we didn't necessarily realize the specialness of being able to make a movie together as sisters, and looking back, it's one of my favorite experiences too, for sure.
That's so sweet. And it definitely translates to the screen too. It looks like you guys had a great time with it.
We did.
Did you have anything to add that I might not have asked?
[There's a] giveaway for the Barkuterie Boards [you can enter at UltraBarkuterieBoards.com]. It goes from August 26th to September 14th. And I was just told you could enter every day, which is pretty great, but I love this because there's tons of winners. So, there's five main winners and then there's a hundred runner-ups and it's six months supply of Nutro Ultra and gift cards and Barkuterie Boards.
For more information on Nutro Ultra's ULTRA Barkuterie Boards and their giveaway, including a chance to win a barkuterie eat-and-greet with Haylie Duff and her dogs, visit UltraBarkuterieBoards.com.