The Truth About Jake Paul And Julia Rose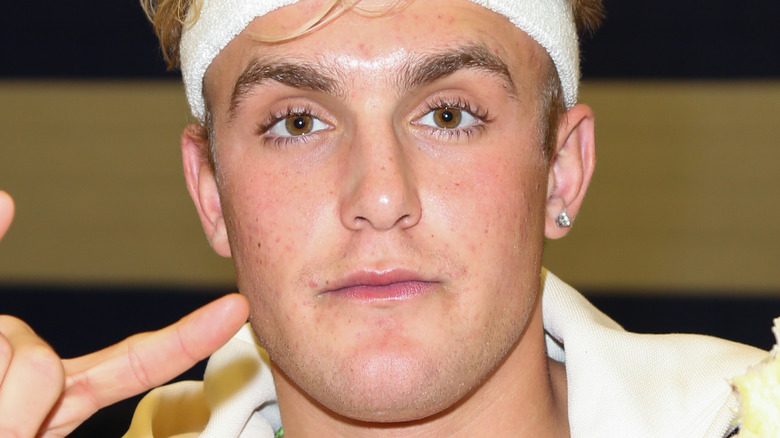 Paul Archuleta/Getty Images
Famed YouTube prankster-turned-boxer Jake Paul may have found his perfect match in girlfriend Julia Rose. The model first gained notoriety after appearing on MTV's "Are You the One" but Rose's internet fame skyrocketed after she and a friend flashed a pitcher during Game 5 of the 2019 World Series. This was not a reckless spur-of-the-moment decision for the pair, but a carefully plotted scheme. "Yeah, so we had it planned almost a year ago. I knew I wanted to do something at the World Series," Rose told Complex in 2019. "It was one of the top moments of my life," she told the New York Post in 2020 when describing the notorious incident. "I've always chased adrenaline," she added.
In early 2020, Paul and Rose were rumored to be dating, and he made it Instagram official with a post of the two sharing a smooch in March. "[F]irst video back is out now feat. new jeep – new content – new girlfriend – new life," Paul wrote in the caption. 
Shortly after, their relationship hit the first of several snags. Only 10 days after that PDA-filled post, Paul revealed on his brother's YouTube channel that Rose had ended the relationship. "I'm hungover, depressed, and heartbroken because my girlfriend dumped me because I'm a f****** idiot," the influencer confessed. "Julia if you're watching this, please take me back," Paul added. Later, the couple reconciled and appeared to take their relationship to the next level.
Julia Rose appears to have taken Jake Paul's name
Leading up to his boxing match with Tyron Woodley, Jake Paul was joined by Julia Rose for an interview with Entertainment Tonight in July where the couple was asked point-blank about Paul's alleged infidelities. "How did he win you back?" the host asked Rose. "A FaceTime call," she responded while laughing next to Paul. ET wanted to know if there were potential wedding bells for the couple. "Could you guys get married, if you win?" the host asked. "That's the question I wanna know," Rose replied.
On Aug. 18, Rose made it clear that she was interested in walking down the aisle. "[F]orget hot girl summer ... I'm ready for wifey winter," she tweeted. Not long after, the model updated her Instagram handle to @juliarosepaul. On an episode of her own podcast, Rose addressed taking on her boyfriend's last name. "The cat's out of the bag. We're back together," she said (via the New York Post). Rose was not the only one in the relationship plotting wedding arrangements. 
Paul appeared on the "3 Things to Know with Stephanie Haney" podcast on August 23, where the influencer revealed he had plans to pop the question. "We are not married. But I see that coming, for sure," he said. "I got her a nice promise-ring-slash-pre-engagement ring. I plan on proposing sometime soon. But we'll see what happens," Paul added. Keep reading to find out why some fans were skeptical of this relationship.
Another fake marriage for clout?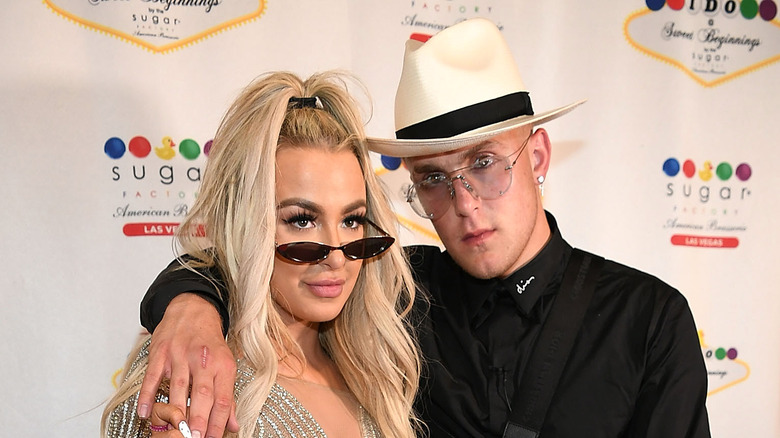 Denise Truscello/Getty Images
In the past, Jake Paul has been known to use his dating life to drum up publicity and gain clout, but the YouTube star insisted that his relationship with Julia Rose was legitimate. "Yeah, it's real, for sure," he told Entertainment Tonight in 2020. "My old relationships, there's a line where some of it's real and some of it's not. But this one's definitely real, for sure," Paul added. The influencer even referenced his prior relationship with model Tana Mongeau. "We all do things sometimes ... And sometimes you end up getting fake married," he added. 
Paul and Mongeau made headlines in 2019 when they were married in Las Vegas during a whirlwind ceremony. Leading up to the nuptials, Mongeau revealed that she did not condone "legal" marriage. "I really wouldn't want to do it on paper because I think that legally binding yourself to someone takes away the love," she said, via LAD Bible. Originally, the pair denied that the wedding was a publicity stunt, but after they split in 2020, the two exchanged jabs on social media. "When you hope he'll fall in love back after a fake wedding but doesn't," Mongeau wrote in a TikTok (via LAD Bible) after the unceremonious break-up. Hopefully this one's the real deal!