What Jake Paul And Tana Mongeau's Relationship Is Like Today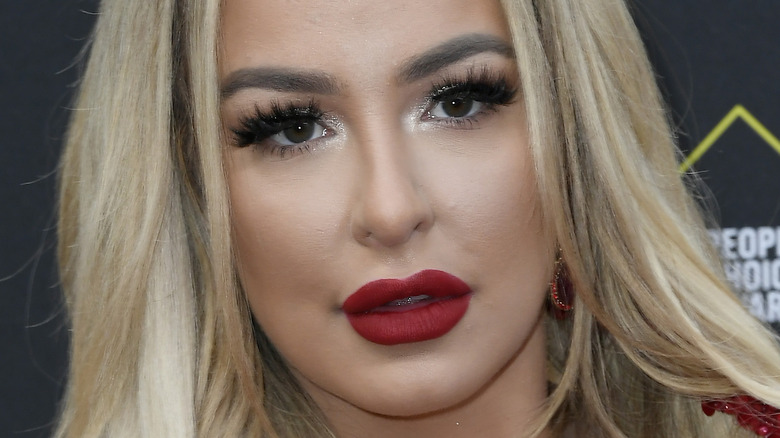 Frazer Harrison/Getty Images
It was the proposal heard around the world (or maybe just YouTube) when social media star Jake Paul asked fellow vlogger Tana Mongeau to marry him during her 21st birthday celebration in Las Vegas in 2019. As Mashable reported, fans weren't quite sure whether the proposal was for real or for publicity's sake. Mongeau and Paul's relationship had begun in controversy after Mongeau accused YouTuber Brad Sousa of cheating on her. Furthermore, the pair had publicly teased fans that they were only dating for clout, even going so far as to release a line of #Jana merch. And then there was the fact that Paul's previous relationship with Erika Costell was also fake, and manufactured solely for the likes!
So, was the relationship ever real or was it just to boost their fame? Maybe a little bit of both, according to Mongeau. "It was fun and funny to make the clout jokes ... but it was a lot more than that and it's my fault for not expressing that," Mongeau told E! News in December 2019. By that point, the couple had already split after tying the knot in July 2019 (a wedding which Mongeau later blasted as "fake"). Since the breakup, the two have stayed in touch, but things seem to be as complicated as ever. Here's a look at what Paul and Mongeau's relationship is like today.
Did Tana Mongeau and Jake Paul get back together?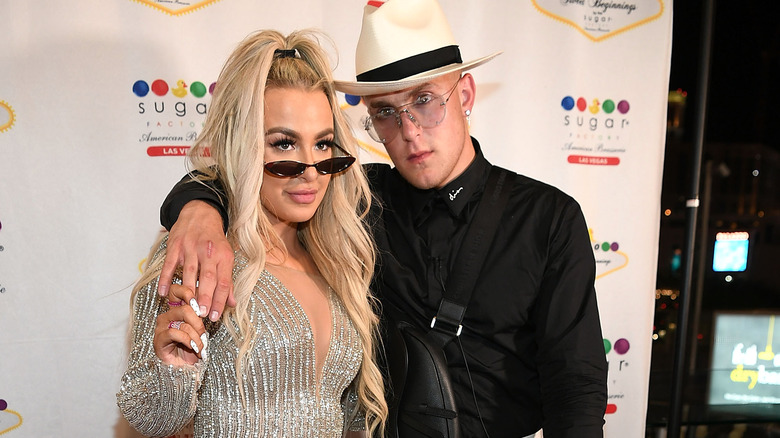 Denise Truscello/Getty Images
In January 2020, Tana Mongeau and Jake Paul announced they were "taking a break" via mutual Instagram statements. "For right now we both are taking a break to focus on our own very crazy lives," Mongeau wrote. "I'll never know what the future holds and I will always love Jake and everything we did." But her sweet words appeared to contradict an emotionally raw YouTube video, in which Mongeau tearfully shared intimate details of the pair's relationship with viewers, and called their wedding night "just hell." 
The whole thing gave fans whiplash — and the back-and-forth showed no signs of stopping. Per J-14, fans got excited all over again later on in 2020 when Paul and Mongeau cozied up together during a Vegas trip, though Paul told fans they were just "BFFs." In a July 2020 vlog, the exes once again teased a romantic reconciliation by referring to themselves with the couple name, "Take." "It's Take and it's take two," Paul told viewers. Still, things in front of the camera seemed to be purely for show. Paul focused on his burgeoning boxing career, while Mongeau continued to build her social media presence. The couple cropped up on each other's feeds every once in a while (notably in matching "Tiger King" costumes for Halloween 2020), but as Paul initially told Page Six after the breakup, they really were better off as friends.
Tana Mongeau lashes out at Jake Paul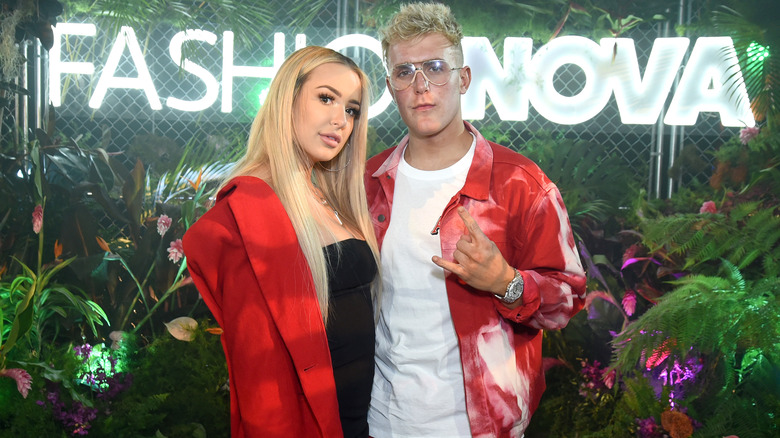 Presley Ann/Getty Images
Tana Mongeau welcomed the new year with a January 2021 post commemorating the anniversary of her split with Jake Paul — and this seemed to set a different tone for the year. Were things really peachy between the two? They did not seem to be, if this June 2021 TikTok video is any indication! Posing in lingerie to Olivia Rodrigo's "Favorite Crime," Mongeau got in a dig at her former flame with the in-screen text, "when you hope he'll fall in love back after the fake wedding, but doesn't." Paul appeared less than thrilled by the video, responding with a handwritten sign that read, "Hell Naw." 
This set Mongeau off, and she took to Twitter with a flurry of posts, the most ominous of which promised, "if y'all ever thought i was petty before hahahahahahahaha." She followed this up by tweeting directly at Logan Paul (Jake's brother) in a since-deleted post to ask whether he wanted to get together with her. Mongeau has a good relationship with Logan, whom she dubbed in a recent Instagram as "her brother" whom she "loves more than life," but the Twitter ask definitely makes good on her promise to bring new levels of petty. Here's hoping Mongeau and Jake are able to patch things up amid their rollercoaster romance.