The True Meaning Behind 'Papercuts' By Machine Gun Kelly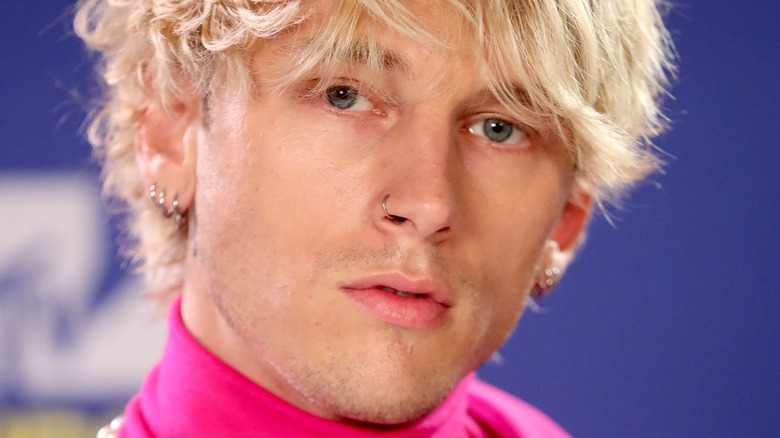 Rich Fury/mtv Vmas 2020/Getty Images
Depending on how versed in pop culture you are, you may know Machine Gun Kelly's name because of his highly covered relationship with actor Megan Fox. But outside of his relationship, Kelly is a star in his own right.
Born Colson Baker in 1990, MGK has certainly made a name for himself as a young singer despite the obstacles he faced growing up. He told Nylon in 2020 that as a teenager working at different fast food restaurants, he would detail his dreams of becoming a famous superstar to his coworkers, but no one would believe him. But MGK knew what he was talking about because his most recent album, "Tickets to My Downfall," hit No. 1 on the Billboard 200 chart and then he won the title of Top Rock Artist the Billboard Music Awards a short time later.
Now, MGK is continuing to cement his stardom. He released his first single, called "Papercuts," from his upcoming sixth studio album, "Born With Horns," in August. He started teasing the new song on Instagram with a video of himself sitting in the car as the new track played. He captioned the video with some of the song's lyrics, "Signed a deal, I got papercuts," before jamming out. So, what is the new song actually about?
'Papercuts' is about life in the limelight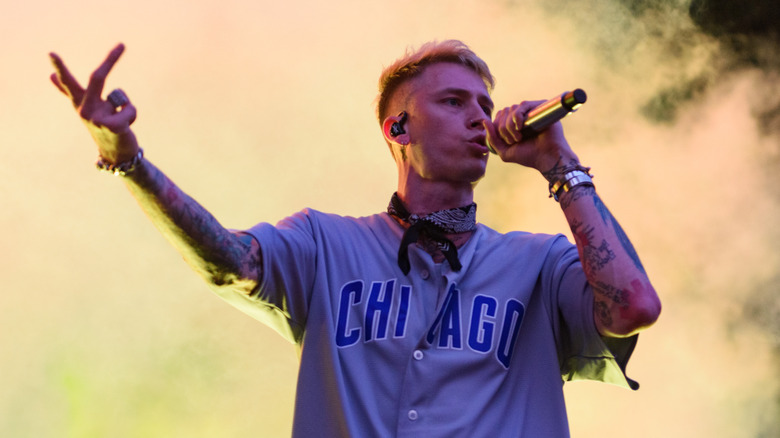 Daniel Boczarski/Getty Images
Artists and the media have long struggled to decide what genre Machine Gun Kelly's music fits into. Nylon has called him a hip-hop artist that turned toward pop-punk, while Apple Music lists him as a "rapper turned pop-punk provocateur." But whatever genre the industry places him in, MGK said in his Billboard Music Awards speech that people cannot keep him in one box. "To the box that society keeps trying to put me in, you need stronger material, because you can't keep me in it," he declared. 
His single, "Papercuts," has drums and hard-hitting lyrics that bring an angsty vibe to it. Not only that, combined with the tough-to-swallow lyrics, it's not hard to see what MGK is hinting toward. "I'm dancing on my grave," he bellows out, per Genius, before his more notable backtrack vocals spit out phrases like, "career suicide," and "everybody's not nice."
From his lyrics, it seems like MGK is pointing out the struggles of fame. His lyrics speak about internalizing what the media says, but it seems that MGK is pushing back on that narrative and finding his voice all at once. As Rolling Stone put it, "The lyrics delve into the struggle with finding balance amid fame, and the surreal video features an outsized MGK surrounded by masked characters who rage as the video progresses."
What is next for Machine Gun Kelly?
Emma Mcintyre/Getty Images
Machine Gun Kelly pushing back against this narrative has been a hit, as "Papercuts" reached No. 7 on the Alternative Streaming chart. Per People, MGK is debuting his new single at the 2021 MTV Video Music Awards, which is set to air Sept. 12. He is also nominated for the Best Alternative VMA, which he won last year, per Billboard.
The "My Ex's Best Friend" singer announced the new album, "Born With Horns," on his Instagram by showing off a matching tattoo of the album title with Blink-182 drummer Travis Barker, one of the executive producers of the album. According to Rolling Stone, Barker worked with MGK on his last album, and helped MGK let his real personality shine through. "He also showed me that you can completely scrap a whole song, right when you think it's done, and do it over until it becomes everything it should be. The studio sessions became cathartic. He encouraged the raw emotion to come out," Kelly explained.
While no release date for the new album has been announced as of this writing, it is a highly anticipated follow-up to "Tickets to My Downfall." Only time will tell if it will reach No. 1 as well.