Inside Diane Kruger And Norman Reedus' Relationship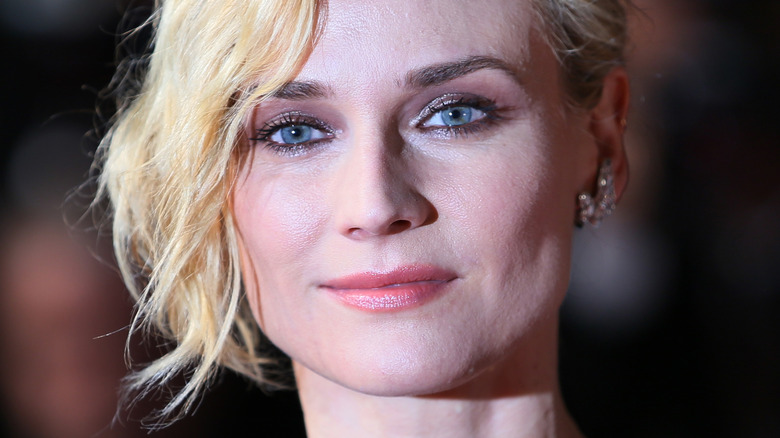 Denis Makarenko/Shutterstock
Norman Reedus and Diane Kruger just took another big step in their relationship. "The Walking Dead" star and the "Inglourious Basterds" actor have been a couple since 2017, and People reports that they're headed to the altar. They haven't commented on their engagement, but the outlet noted that they keep their relationship pretty private — unless you count the photos of them packing on the PDA on an NYC street and at the U.S. Open.
The couple welcomed their first child, a baby girl, in 2018. They've also been tight-lipped about their daughter and haven't even revealed her name. However, Kruger did describe the toddler's personality to People in April 2019. "She's not really girlie, she's kind of a dude," she said. It remains to be seen whether this means that she'll have no interest in being her parents' flower girl, but she might be tempted to take the job if a pink motorcycle is involved. 
Unlike Kruger, Reedus had some previous parenting experience. He and his ex, Danish supermodel Helena Christensen, have an adult son named Mingus. Kruger praised Reedus for being a very attentive father. "He just looks at her with unconditional love," she stated to People. "I wish he would look at me like that." We're sure he does, but maybe she just misses it because it happens when her focus is elsewhere, like on the sandwich that she's eating. Read on to learn why Reedus and Kruger's engagement is somewhat surprising news even though they've already started a family together.
Diane Kruger worked with Norman Reedus and her ex at the same time
Norman Reedus and Diane Kruger met while filming the movie "Sky" in 2015, per People. In it, Kruger played a married woman who slept with Reedus' character after leaving her husband. That same year, The New York Daily News reported that eyewitnesses spotted Reedus and Kruger "wildly making out in an East Village dive bar." However, a rep for Reedus denied the PDA allegations. At the time, Kruger was thought to still be dating "The Affair" star Joshua Jackson — who also appeared in "Sky."
Kruger and Jackson dated for 10 years before calling it quits. In July 2016, their reps told People that they had "decided to separate and remain friends." Kruger later told Vulture that their breakup happened months before they released a statement about it, so even if the aforementioned makeout session did happen, it's possible that Kruger was already single at the time.
Before she dated Jackson, Kruger was married to actor Guillaume Canet for five years. "Without sounding pessimistic, I learned that I don't believe in marriage," she told Glamour in 2011. This explains why she and Jackson never tied the knot. But by 2019, it seems like being with Reedus had made her a little more open to the idea. "Never say never. I would have a party. I'd like to wear a nice dress. But I'm not religious, so that aspect of marriage doesn't mean anything to me," she told Net-a-Porter.
What Norman Reedus' ex sent to Diane Kruger
Diane Kruger and Norman Reedus' ex get along so well that the couple spent Christmas with Helena Christensen in Manhattan (via Net-a-Porter). The former Victoria's Secret model also joined the couple when they celebrated Reedus' 50th birthday. Christensen and Reedus dated from 1998 to 2003 and never married, so when "The Walking Dead" star walks down the aisle with Kruger, it will be a first for him. 
Reedus and Kruger will likely get a wedding gift from Christensen, who sent her ex's now-fiancee a swimsuit in July 2020. It was a piece from the model's own fashion label, Stærk & Christensen. She often rocks swimwear from the line herself for Instagram photoshoots, but her freebie helped her reach a bigger audience when Kruger posed for an IG photo in the gifted swim garb. She gave Christensen a shoutout in her caption. "Thank you @helenachristensen and @camillastaerk for the cool bathing suit," she wrote.
In 2019, an insider told Radar Online that things were "awkward" between Christensen and Kruger at first, but they eventually became friends. "They bonded over the baby, and Helena was thrilled when Norman told her the news," the source dished. The outlet reported that the two women even went "shopping for baby stuff" together when Kruger was pregnant. So if Kruger needs help picking out a wedding dress, she knows who to call.