How James Corden Played A Role In Harry Styles' New Relationship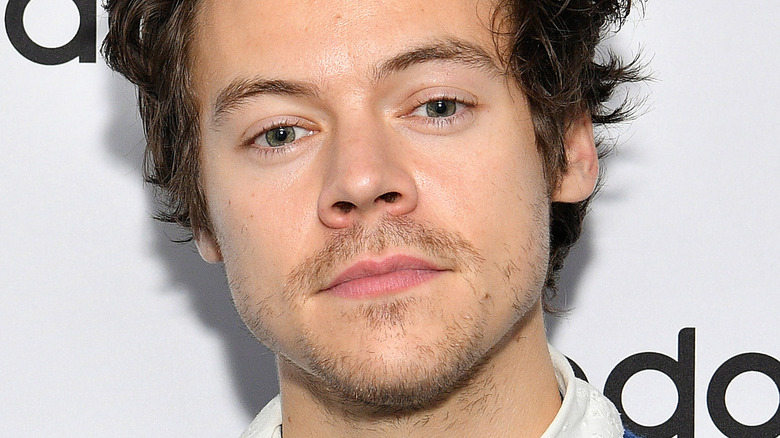 Dia Dipasupil/Getty Images
Fashion craze alert! Olivia Wilde and Harry Styles are making matching outfits the newest fall trend as chillier weather approaches us. Earlier this August, the rumored power couple were photographed enjoying each other's company in L.A. after sharing a romantic, chill meal, via Daily Mail. Though the duo both sported white shirts, jeans, and sunglasses, it was refreshing to see hints of Styles and Wilde's personalities peeking through their outfits. The "Watermelon Sugar" singer sported a graphic tee and a sky blue baseball cap, while his actor-director girlfriend chose gold jewelry to complement her navy denim.
We know for sure that the two share a deeper connection based on their mutual appreciation for filmmaking and acting. In February, Wilde posted a black-and-white Instagram photo of Styles and thanked him for his role in her upcoming movie "Don't Worry Darling." Not only did he relish the opportunity to allow for the brilliant @florencepugh to hold center stage as our 'Alice', but he infused every scene with a nuanced sense of humanity," the "House" star captioned her post.
While collaborating on Wilde's project might have helped their reported romance, we have caught wind that one of Styles' long-time BFF James Corden also played a significant part in the early stages of their relationship! But how did Corden help? And could this be a testament to his and Styles' epic bromance? Read on to find out!
James Corden lent out his Palm Springs house for Olivia Wilde and Harry Styles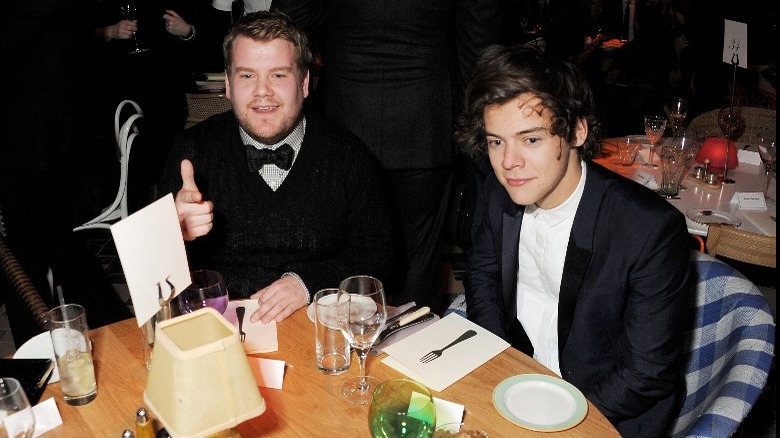 Dave M. Benett/Getty Images
We all remember the internet explosion that emerged from this January, when photos of Olivia Wilde and Harry Styles first started circulating on the web, right? The photos captured the duo holding hands and being all cute while attending the wedding of the "Adore You" singer's manager, Jeffrey Azoff, at the San Ysidro Ranch in Montecito, per Page Six.
However, a source indicated that Wilde being Styles' plus-one was just as much a surprise to the limited number of wedding guests as it was to the curious eyes of the public. "Harry had been staying at James Corden's house near Palm Springs during filming, and so they were able to be alone and keep their relationship very secret," the source revealed to Page Six. 
The same source told Page Six that Styles isn't phased at all about his 10-year age gap with the 37-year-old, and the "Dunkirk" star reportedly even referred to Wilde as his "girlfriend" as a joke during his wedding speech. "He was openly holding hands and kissing Olivia," the source concluded.
James Corden might be returning a bromance favor from Harry Styles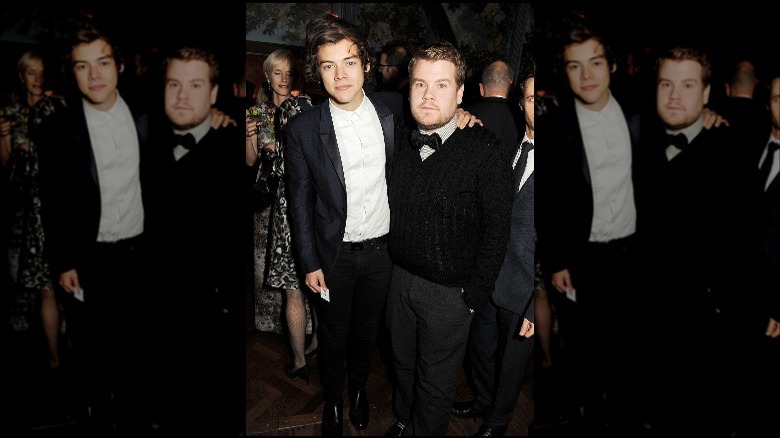 Dave M. Benett/Getty Images
While Olivia Wilde and Harry Styles are appearing to bask in each other's company, it's worth mentioning that the "Sign of the Times" singer's friendship with the "Late Late Show" host has been going strong ever since Styles' One Direction days. After all, it doesn't just take any casual acquaintanceship to have one party willingly lend out their house for the other, especially at the risk of paparazzi flocking to your property. 
Turns out, the "Peter Rabbit" star first met Styles through his ex-bandmate Louis Tomlinson, who brought together the duo to hang out after getting on "The X Factor," via People. The two British chaps must have hit it off right away, as Styles was brought on as a guest host back in December of 2017 when Corden was away celebrating the birth of his third child, daughter Charlotte Corden. "I was sitting at home two hours ago in this suit, obviously," the "Falling" singer joked to the audience that night, via People. "I got the call Jules [Corden's wife] was going into labor so James naturally called the funniest man he knew... he obviously wasn't available."
Talk about repaying a favor! We hope to see more of their bromance, perhaps even during the promotions for Wilde and Styles' upcoming movie.