Would Mary Trump Ever Run For Office?
The Trump brand seems to be synonymous with real estate branding and, of course, in recent years, political headlines. Former President Donald Trump didn't ascend the political ranks alone; he brought his family with him. He made daughter Ivanka Trump an assistant to the president, according to USA Today, while he made his son-in-law, Jared Kushner, a senior advisor.
Meanwhile, son Donald Trump Jr. became the executive vice president of the Trump Organization, according to Business Insider, and he and girlfriend Kimberly Guilfoyle campaigned aggressively for Trump. Middle child Eric Trump was also named an executive vice president of the Trump Organization, per a later publication by Business Insider, and he became "one of his father's fiercest defenders." Clearly, Trump's time in office was a family affair.
While rumors continue to circulate about another run from Trump himself or one of his children seeking political office, his niece Mary Trump has become famous thanks to her uncle's contentious time in the Oval Office. While she has been outspoken against her famous family, many are wondering if Mary might seek to create political change in a different vein than the rest of the Trumps. Here's the story.
Mary Trump doesn't have an answer yet
Mary Trump has taken a different approach than her relatives in her stance towards former President Donald Trump. While the rest of the Trump clan has made it a point to advocate for the former president, Mary has become an outspoken critic of him. In fact, she wrote the book "Too Much and Never Enough: How My Family Created the World's Most Dangerous Man," originally published in 2020. She followed this up with a second book, "The Reckoning: Our Nation's Trauma and Finding a Way to Heal," published in August 2021.
Speaking with John Casey in an interview for The Advocate, Mary responded to queries about her potential future in politics. "People have asked me that before, and they thought that I was giving them a typical political answer when I said that I didn't know, or that I didn't consider it," she answered.
"I can't say that I would never do it, on the one hand, but on the other hand, I really think there is something to be said for staying outside of politics and having a voice," Mary went on. "I don't have to be constrained in a way that I would be if I was a politician, and had to spend most of my time raising money... [T]hat's a question that I honestly don't have an answer for, at least not yet." While we're still waiting for her answer, Mary wasn't done talking about her uncle.
Mary Trump continues to warn people about Donald Trump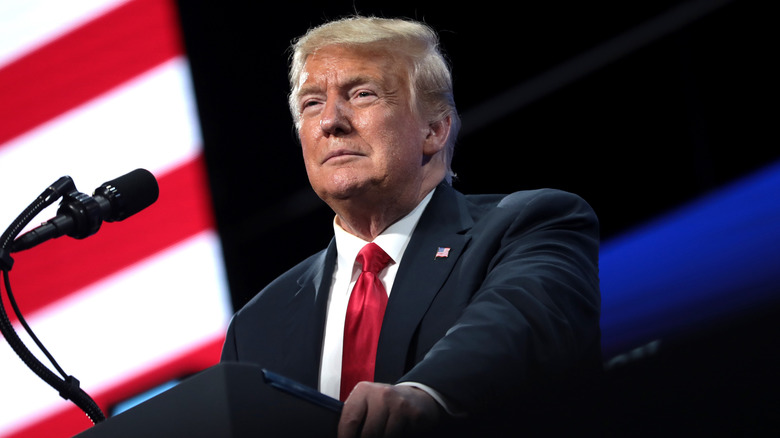 Nuno21/Shutterstock
Mary Trump might not have her eye on a future in politics, but that doesn't mean she isn't invested in politics in general, especially where her uncle, former President Donald Trump, is concerned. "We never addressed inequality in our country," she said to The Advocate. "I think many of us thought we had, but then my uncle came along and really held a mirror up to the country, and all he did was give all those people who harbored and hid hate a reason to come out from behind a curtain."
"He gave them an excuse to be open about who they are, and he ignited and endorsed all the racism that existed in this country, and that really came to life under his administration," she added.
This is a common message from Mary, and she reiterated it in an interview with Salon in late August. "We can't ignore him," she said of her uncle. "We ignore him at our peril because Republicans are keeping him relevant, keeping him empowered. Who knows what's going on behind the scenes. I wish I never had to speak his name or think about him ever again, that would be healing. It's tricky because we're all so exhausted and demoralized, but things are only going to get worse if we look away."