Mary Trump Lets Everyone Know The Most Devastating Thing To Happen To Donald Trump In Recent Years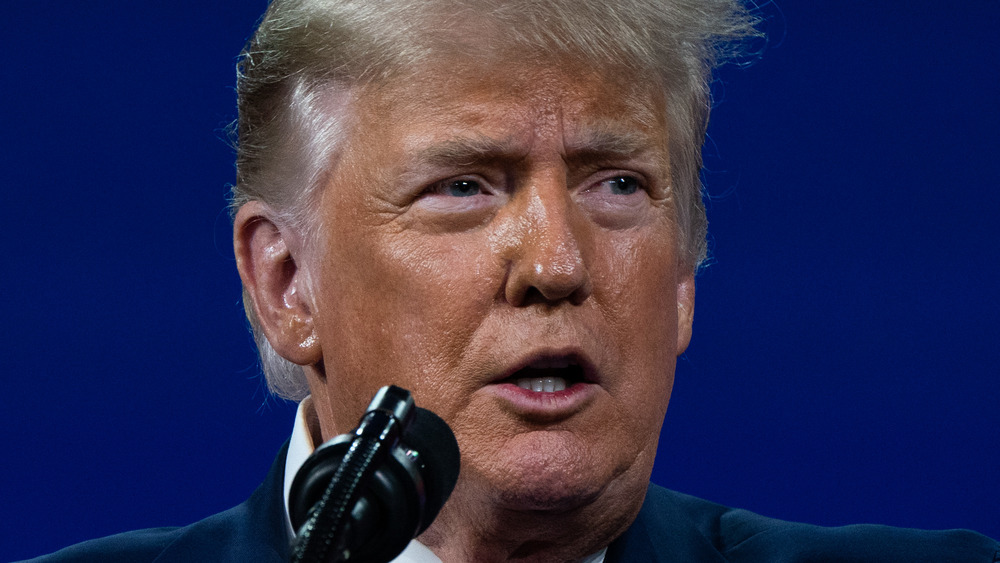 Bloomberg/Getty Images
Donald Trump's niece Mary Trump isn't afraid to tell it like it is. The psychologist wrote a book published in 2020, Too Much and Never Enough: How My Family Created the World's Most Dangerous Man, that was highly critical of the former president. Now, Mary is speaking out again, ahead of the July 2021 release of her second book, The Reckoning: Our Nation's Trauma and Finding a Way to Heal. And apparently, she doesn't think losing the 2020 election is the worst thing that's happened to her uncle.
Considering the fact that Donald fought the election's validity for two months, you'd think that losing to President Joe Biden would be the worst thing that's happened to him since he was elected in 2016. Or, perhaps people would think that being diagnosed with the coronavirus was one of the worst things he's faced. But according to Mary, it's neither of those things. She believes that her uncle's priorities are different — here's what she says are "the worst things that have happened" to Donald since his 2016 election.
Mary Trump knows her uncle values two things
We're not saying these are the only things that matter to the former president, but they're certainly up there. "I think that being banned from Twitter and having the PGA take their tournament away from his golf courses are probably the worst things that have happened to him in the last four years," Mary Trump said to Insider in March 2021. That's right: She thinks losing his Twitter account was more devastating to Donald Trump than losing the 2020 election.
"How is he managing without Twitter? Because even he must realize that people really aren't paying attention to him in the same way," the psychologist toldInsider. "Clearly, this stuff with the Republican party is helping him because imagine if he didn't have that. If he had become as irrelevant as every other person who loses an election becomes, then I think his mental state would be much different."
Twitter announced on Jan. 8, 2021 that it was subjecting Donald's account to "permanent suspension." The move came after he promoted unsubstantiated claims of election fraud, and Twitter noted in its statement that his tweets surrounding the Capitol riots had "the risk of further incitement of violence."
Whatever the former president has in store for the future, he won't be able to use his Twitter account to get the word out. And according to his niece, that could be a greater loss than the fact that he's no longer president.