How Did Prince Harry And Meghan Markle Celebrate Their Second Anniversary?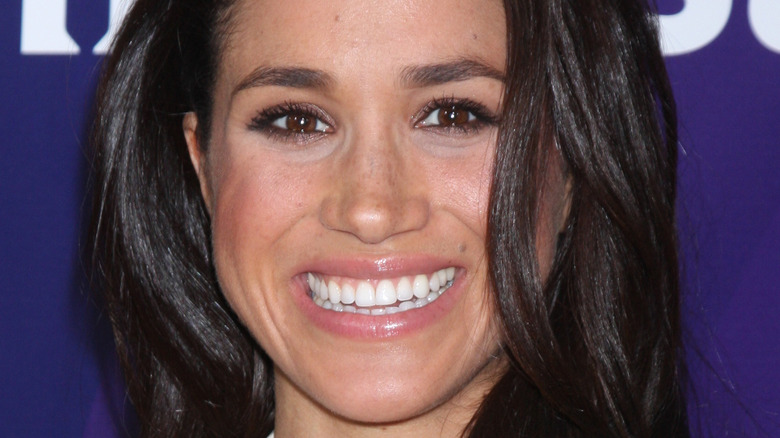 Kathy Hutchins/Shutterstock
Prince Harry and Meghan Markle's 2018 wedding was a lavish affair that few people in the world are capable of topping. One of their two receptions was hosted by the queen herself at Windsor Castle, and they were treated to a performance by Elton John (via Brides). Their wedding venue was the exclusive St. George's Chapel, where couples can only tie the knot with Queen Elizabeth's blessing. And let's not forget that Meghan's Givenchy wedding dress fit for a duchess cost more than most bride and groom's entire weddings. According to Vanity Fair, its price tag was an eye-watering $265,000.
Since their marriage began with so much splendor and pageantry, you might imagine that their anniversary celebrations would be pretty posh as well. However, according to authors Omid Scobie and Carolyn Durand, the Duke and Duchess of Sussex spent their first anniversary in May 2019 enjoying a low-key lunch with Meghan's mother Doria Ragland in the U.K. Ragland was there to visit her grandson Archie (via People).
In their book "Finding Freedom," Scobie and Durand revealed two of Harry's first anniversary gifts to Meghan. He made sure that the world can really see that "Markle Sparkle" by giving her an eternity ring and a second ring designed by celebrity jeweler Lorraine Schwartz. For the couple's second wedding anniversary, Harry opted for a present that was soft, not sparkly. Read on to learn more about it. 
Harry and Meghan's anniversary menu was perfect for a couple of Californians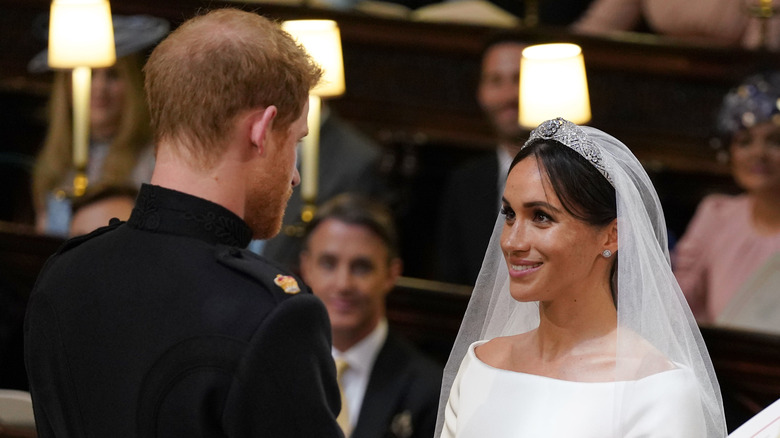 Wpa Pool/Getty Images
When Prince Harry and Meghan Markle had been married one year, their Sussex Royal Instagram page marked the occasion with a special tribute to the couple that included a slideshow of wedding photos. By their second anniversary in May 2020, they were no longer using that account because "Sussexit" had happened, and the couple and their son Archie were settling into their new life in Montecito, California. Unfortunately, the pandemic was raging, so celebrating at a swanky local restaurant like Lucky's Steakhouse was out of the question for Harry and Meghan.
According to the newly updated "Finding Freedom" epilogue, the couple ordered out instead. "They capped off the day with a Southern Californian favorite: Mexican food ordered from a popular local restaurant, washed down with margaritas (alcoholic for him, nonalcoholic for her)," Omid Scobie and Carolyn Durand wrote, per Town & Country. They didn't say whether the drinks were Meghan's own "TIG margarita" recipe, which adds cilantro, jalapeños, and cucumbers to the traditional lime beverage.
The authors revealed that the couple exchanged "cotton-based" gifts, which are traditionally given for a second anniversary. According to Brides, the fabric "symbolizes the strength and comfort of your union." A source told Harper's Bazaar that Harry and Meghan spent the day relaxing and reminiscing about their wedding day with friends via Zoom, so it sounds like they definitely had the "comfort" part down.