The Truth About Ed Asner's Relationship With Mary Tyler Moore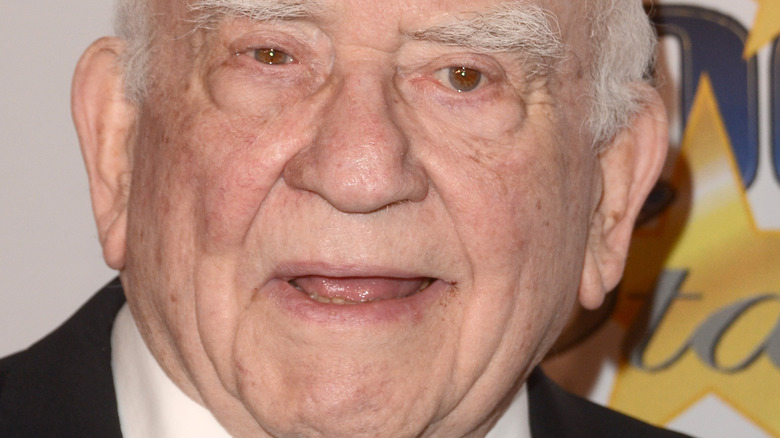 Kathy Hutchins/Shutterstock
Ed Asner, the beloved actor who personified Lou Grant on "The Mary Tyler Moore Show," died on August 29, according to CNN, at the age of 91. His publicist, Charles Sherman, said that Asner died in Los Angeles, surrounded by his family.
While Asner worked in movies and television for years, he was best known for playing Grant, who seemed brusque at first but softened over the years, much to the delight of fans, who adored his character. Naturally, the gig brought him close to Mary Tyler Moore, and the pair remained friends for the rest of their lives. When Moore died on Jan. 25, 2017, at the age of 80, Vanity Fair interviewed Asner the next day, as proof of their closeness. 
In the hilarious moment from the first episode when Asner says to her: "You've got spunk," followed by, "I hate spunk," Asner gave the credit from that successful scene to Moore. "It was the most powerful moment in theater I've ever had because she played it so beautifully," he told NPR (via Biography). Here's the story of their great connection.
Ed Asner and Mary Tyler Moore shared one kiss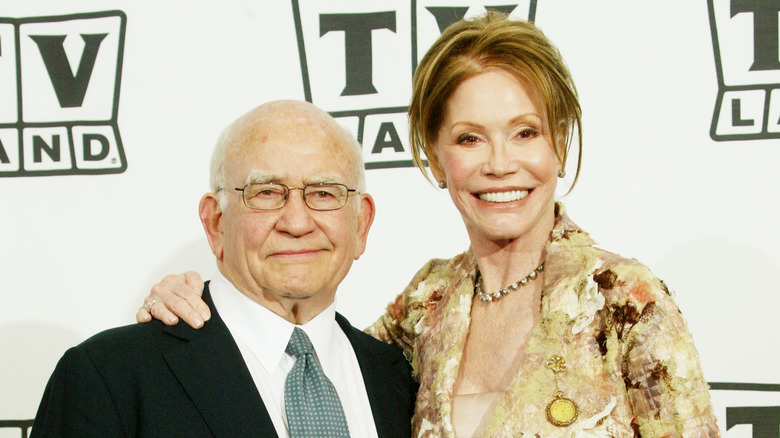 Frederick M. Brown/Getty Images
Ed Asner learned a lot from Mary Tyler Moore, especially when it came to being the lead of a show, something he was glad to learn for his own series, "Lou Grant," which came on the heels of the success of "The Mary Tyler Moore Show." Speaking with Vanity Fair, Asner said of Moore: "I discovered that just as she was the giving, generous [lead] of [her] show, that's what I would have to become to make [my] show successful: the giving, generous pivot around which everything revolves. In the end, it's your generalship, your giving [ensemble members] the backboard to bounce off and make them good that makes the show succeed."
Even when "The Mary Tyler Moore Show" ended, Asner and Moore stayed in touch, though it was tough with the demands of their respective careers. "We both had busy schedules on opposite coasts," Asner told Vanity Fair. "And only when CBS would bring us together for one of their reunions did we get to visit each other. I would never have been a no-show."
Things actually went beyond friendship between the two, but the spark of romance only lasted a split second. After their show ended, both Answer and Moore were single and went on one date. According to Biography, they "tried to kiss" and both realized they were better off as friends. As Vanity Fair notes, they were simply "too close for comfort."