The Truth About Scott Peterson's Parents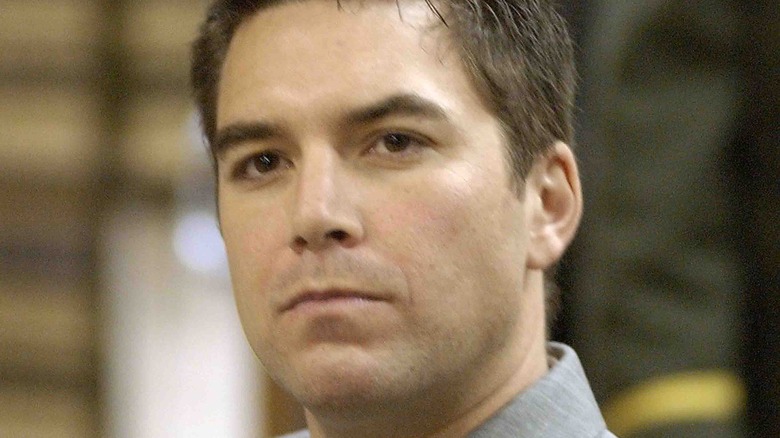 Pool/Getty Images
The gruesome murders of Laci and unborn son Conner Peterson were two that rocked the U.S. to its core in 2002. Committed at the hands of her then-husband Scott, the case quickly cultivated a media circus that followed both Scott and Laci's families at the time and for the years that followed. What eventually ensued and unfolded over the course of three years was a web of lies, betrayal, and infidelity from Scott for months leading up to the heinous crime that left the public in shock.
With his cold, distant approach to police and to any form of public questioning regarding the disappearance of his family, Scott's demeanor and dark past played an integral role in his eventual guilty conviction and death sentence (though the latter was ultimately reversed in 2020). While Scott remained stone-faced in the face of a frenzied public, the emotion from his parents told a completely different story.
Lee and Jackie Peterson, Scott's parents, were present all throughout their son's murder trial in 2004. Lee, who often appeared defeated and deflated amidst courtroom drama, and Jackie, who was known for her respiratory problems and wearing a breathing tube, often voiced their support for their only son during the highly-publicized ordeal. Now, over a decade and a half after the conclusion of the trial, some might have forgotten about what happened to the Petersons. So, what is the fate of Scott's parents? And what might have the public missed about Lee and Jackie Peterson? Here's what we know.
Scott Peterson's parents never gave up on him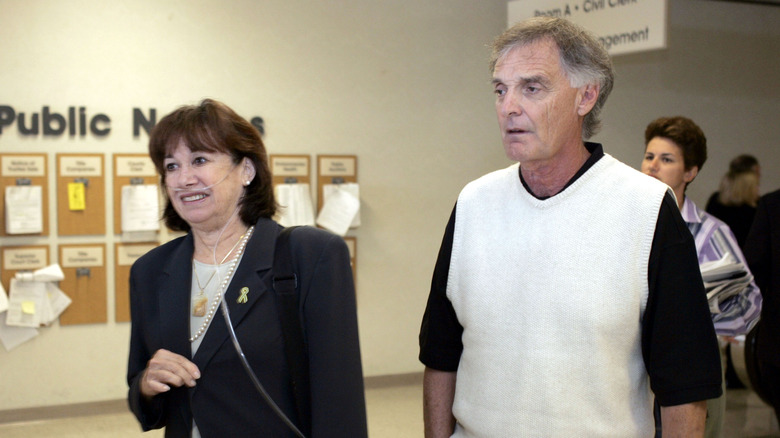 Pool/Getty Images
Amidst a tumultuous murder trial for Scott Peterson, parents Lee and Jackie Peterson put on brave faces every day in an effort to prove their son's innocence — even if it meant duking it out with victim Laci Peterson's family. Though the tension between the two families boiled over in the courtroom, Peterson's parents never backed down in defense of their only son.
When Lee took the stand during Scott's murder trial, he stated that he was "proud to say Scott is my son," per CNN. Later on in the trial, Jackie also echoed a very similar sentiment, showing both Lee's and Jackie's unwavering commitment to absolving their son of guilt. Prior to Scott's arrest, he was found to be in possession of a car under Jackie's name, as well as "camping equipment, several changes of clothes, four cell phones, and two driver's licenses – his and his brother's" — apparently indicating intentions to flee the country, according to CBS News.
When the time came for questioning, Jackie revealed that she advised Scott to purchase the car under her name to avoid the social duress accompanying the trial. It was also revealed that Jackie had provided Scott with $8,000 following Laci's disappearance, according to CNN. Furthermore, when questioned about having his brother's license, Lee explained that he advised Scott to bring the license in order to get a discount at a local golf course. Why? "Because I'm cheap," Lee said.
Scott Peterson's mother died in 2013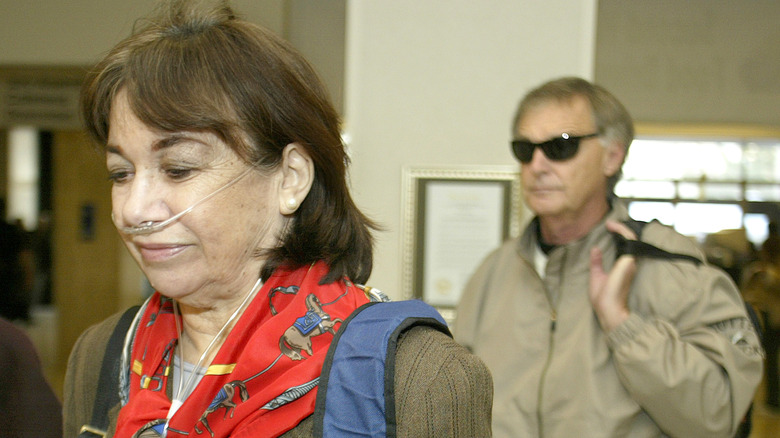 Pool/Getty Images
For those who recall the trial, you probably remember Jackie Peterson walking around with a breathing tube while suffering from respiratory issues. Unfortunately as time went on, her prognosis became more grim and Jackie ultimately died from cancer in 2013 at the age of 70, according to the Daily Mail. It was also noted that Lee Peterson brought Jackie home from the hospital where she served out her final days. Though she never got to say goodbye to Scott, Jackie still maintained her son's innocence until the very end. According to Radar, the family reportedly chose not to go public with her death due to ​​"the notoriety that will come with it."
And though not much is known about Lee's life today, a 2018 interview with Janey Peterson (Scott's sister-in-law) offered some rather poignant insight into Lee's mental state following the trial. "I don't know if you can understand how Lee is holding up unless you understand the (gravity) of this injustice," Janey told The Modesto Bee. "I don't know if I can put myself in Lee's shoes as a parent, or in Jackie's shoes. Or in [Laci's mother] Sharon [Rocha's] shoes. I just can't even comprehend it," she continued.
Janey also revealed that the family has a "legal strategy room" located at Lee's crate-building shop in Poway, California, in which they house alleged evidence of Scott's innocence. Janey gave viewers a behind-the-scenes glimpse into the room during an appearance on "Dr. Phil" in 2018.