The Extreme Diet Chris Hemsworth Once Did For An Acting Role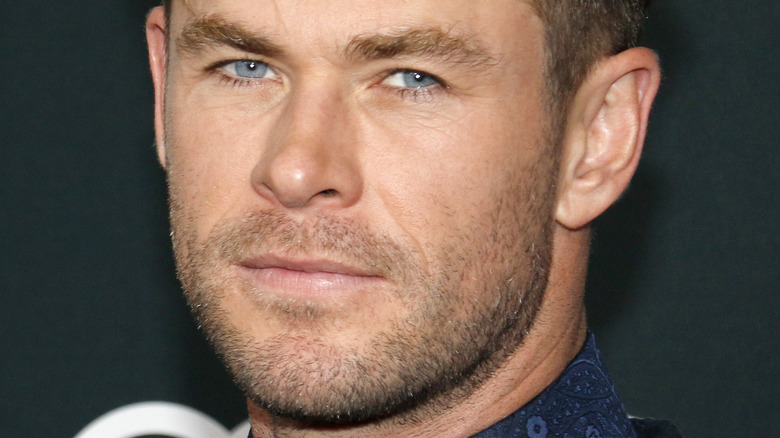 Tinseltown/Shutterstock
It's hard work training to play the God of Thunder, as Aussie actor Chris Hemsworth can attest. The star first burst onto the scene with 2011's "Thor," and continued to play the titular character in the franchise's "Thor: The Dark World," and "Thor: Ragnorok," according to IMDb. Standing at 6-foot-3, with long, blonde hair and piercing blue eyes, Hemsworth was seemingly born to play the Marvel superhero — but packing on the (muscular) pounds for the role was no cakewalk!
Hemsworth's longtime stuntman, Bobby Holland Hanton, told Page Six that the actor "takes it very, very seriously." Hanton added, "There's a real process that goes into achieving these goals. But I think over the last 10 years, we've managed to come up with ways to do that." And Hemsworth's trainer, Luke Zocchi, agreed. "It's just heavy weight lifting, training at least once a day, sometimes twice a day," he said, explaining how Hemsworth achieves his ripped physique. "It's normally an intense, heavy workout. But we're normally done within an hour because we've just pushed him that hard over that hour." 
Food plays a major role too, with Hemsworth consuming "like, six to eight meals a day," as Zocchi shared. But while we're used to seeing the star bulk up for the big screen, Hemsworth isn't averse to slimming down for a role (and in fact, has done so in the past). Keep reading for more on the extreme diet he once underwent, all in the name of his craft!
Chris Hemsworth once existed on 500 calories a day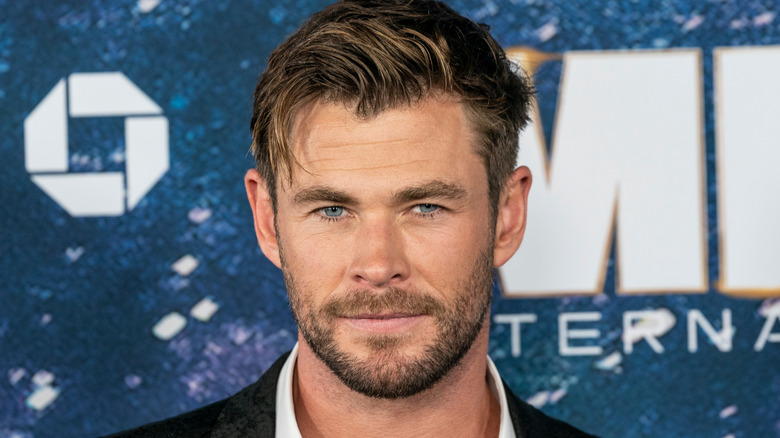 lev radin/Shutterstock
In 2015, Chris Hemsworth starred in a movie called "In The Heart of the Sea," where he played Owen Chase, a man stranded at sea for 90 days. The film was based on a true story that inspired the classic novel "Moby Dick," but tapping into the pysche of such a desperate character caused Hemsworth to go to an extreme place in real life, too. Appearing on "Good Morning America" to promote the movie, the former "Sexiest Man Alive" spoke of his dramatic weight loss and shared that the experience of dropping pounds was far more challenging than bulking up for "Thor."
"The gaining is fine, you just eat a lot and you lift weights, but that was underfed, which led to a pretty moody existence and inconsistent emotions," he said on the segment. "You play all sorts of games — if I eat this, maybe I don't eat that." Per GMA, Hemsworth's diet was whittled down to around 500 calories a day, most of which included boiled eggs and salads. Yum! However (according to him, at least) the sacrifice was worth it. "In order to do it [the movie] justice, we had to suffer in some way and we did," he added. "In other words, not a whole lot of acting was required. We were desperate."
Fans were shocked to see Chris Hemsworth's weight loss
Part of the challenge of Chris Hemsworth's extreme diet was that he had to lose around 30 pounds in a short span of time, per The Things. According to the film's director, Ron Howard, "They [the actors] had to work out every day, even on shooting days. Because they had to lose the weight pretty fast and they had to lose it safely. They needed to keep burning the calories, and we also needed that sinewy strength that was more of that era, as opposed to a kind of cut, buff look."
It may have been a tall order, but Hemsworth was more than up to the challenge. In November 2015, he showed off his shocking new physique and unkempt facial hair on Instagram, writing, "Just tried a new diet/training program called 'Lost At Sea.' Wouldn't recommend it." His fans certainly thought he looked the part of a man who had been lost at sea, and flocked to the comments section to commend him for his dedication. "Wow, did you have to do this for that role? That's discipline," one person wrote. Still, it's certainly telling that Hemsworth has not dropped this drastic kind of weight for a role since — looks like just once was quite enough in the way of extreme dieting.