For Every Kim Kardashian Taylor Swift Diss, One Stands Above The Rest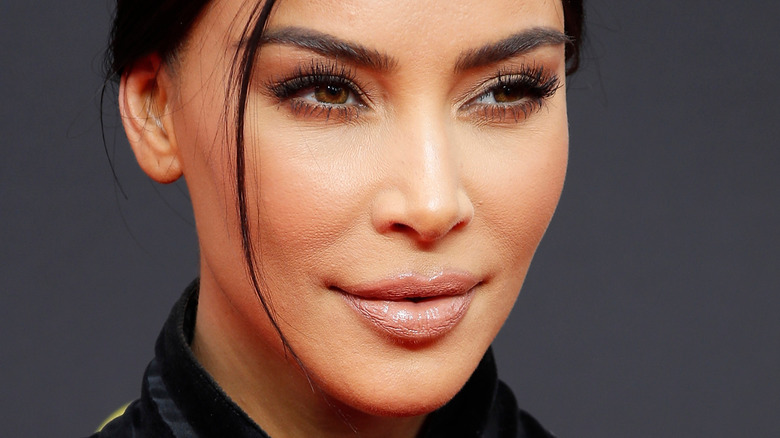 Kathy Hutchins/Shutterstock
Fans will have to dig wayyy back into the archives for a time when Kim Kardashian and Taylor Swift weren't feuding. The two superstars have been at odds largely as a result of Kim's ex-husband Kanye West, who infamously interrupted Swift during her VMAs acceptance speech in 2009. That single incident (which resulted in West being booed offstage) triggered a flood of diss tracks and back-and-forth social media drama between the two. In 2010, Swift dropped "Innocent" in response to West's behavior, while West released "Runaway" in reference to the VMAs run-in.
But with Kardashian's divorce to West still pending, there might be hope yet that she and Swift can bury the hatchet. Per InStyle, the reality star (and "Bridgerton" fan) shared a clip of the show to her Instagram back in March 2021 — and the scene just happened to feature Swift's "Wildest Dreams" in the background. It's not too far-fetched to imagine that a reconciliation between Kardashian and Swift could still happen. After all, the reality star worked hard to repair her relationship with Paris Hilton, while Swift finally made up with fellow pop star Katy Perry after years of diss tracks and shady tweets. But while we're holding our breath to see whether the two ladies can patch things up, let's take a walk down memory lane in the meantime. What's Kim K's worst T-Swift diss?
Kanye West dissed Taylor Swift in 'Famous'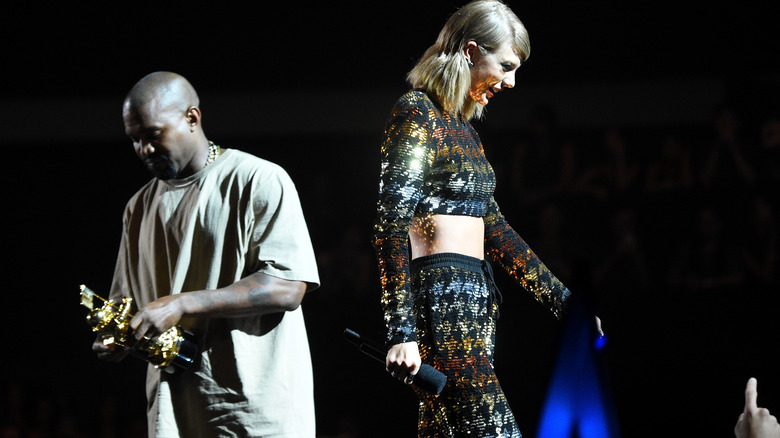 Larry Busacca/mtv1415/Getty Images
While there may have been "Bad Blood" between Taylor Swift and Kanye West ever since the rapper hijacked Swift's VMAs acceptance speech, they did form a truce at one point. In a 2015 interview with Vanity Fair, the "Fearless" singer explained, "I wasn't ready to be friends with him until I felt like he had some sort of respect for me, and he wasn't ready to be friends with me until he had some sort of respect for me — so it was the same issue." Once they reached this place of mutual respect, everything seemed hunky-dory... until it wasn't. Things came crashing down in 2016 when West dropped his album "The Life of Pablo," which featured some pretty telling lyrics, courtesy of a track called "Famous." The lyrics in question? "I feel like me and Taylor might still have sex / I made that b**ch famous."
While TMZ reported that West had contacted Swift for her approval before releasing the song, Swift insisted that she was just as shocked as everyone else to hear the track. According to her spokesperson (per People), "Kanye did not call for approval, but to ask Taylor to release his single 'Famous' on her Twitter account. She declined ... Taylor was never made aware of the actual lyric, 'I made that b**ch famous." OK, so what was the truth? Well, enter Kim Kardashian potentially to clear things up for us.
Kim Kardashian came for Taylor Swift
John Shearer/Getty Images
As Taylor Swift doubled down on claims that Kanye West never called her to talk "Famous," his then-wife Kim Kardashian proved she wasn't about to sit idly by. In June, Kardashian came through with the receipts and posted the entire conversation between West and Swift on her Snapchat, per PopSugar. In the clip, West can be heard asking for Taylor's opinion on the song's lyrics — to which she replied, "Go with whatever line you think is better. It's obviously very tongue in cheek either way. And I really appreciate you telling me about it, that's really nice!"
To coincide with her bombshell Snapchats, Kardashian criticized Swift for "playing the victim again" during an episode of "Keeping Up With The Kardashians" that aired that week. She also teased the Snapchat reveal on Twitter, writing, "Wait it's legit National Snake Day?!?!? They have holidays for everybody, I mean everything these days!" In response, Swift made it clear on Instagram that she "would very much like to be excluded from this narrative," and spent most of 2017 ducking the spotlight. In 2018, she returned with a bang, releasing her new single "Look What You Made Me Do," which was packed with references to the Kanye feud. However, a source told People that "Kim and Kanye don't care about Taylor's new music," because "they have more important things to focus on." Even if the feud sort of reignited in 2020, it definitely peaked back on National Snake Day in 2016.