The Real Meaning Behind Taylor Swift's 'Begin Again'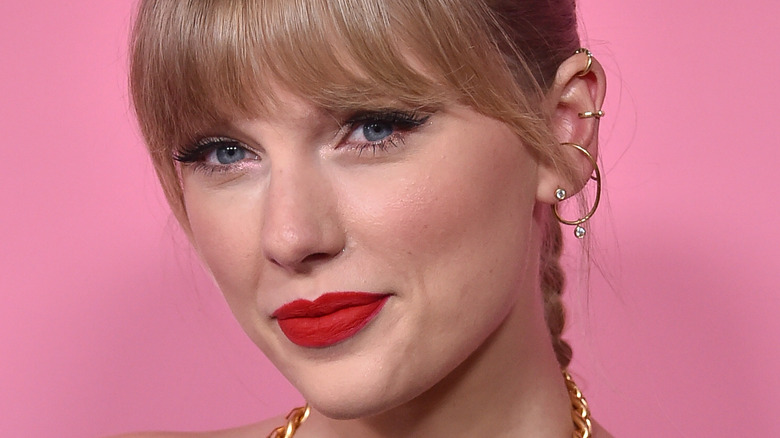 DFree/Shutterstock
Taylor Swift may have snagged a role in a David O. Russell film, but her acting career aside, Swift will first and foremost always be known for her music. After dropping two albums back-to-back in 2020, with "Folkore" arriving in July and "Evermore" in December, Swift is gearing up for a rerelease of her 2012 work with "Red (Taylor's Version)".
This is not the first time the musician has reintroduced her music. In early 2021, Swift released a re-recording of her second album, "Fearless." Swift had announced in 2019 that she was planning to rerecord her first six albums after finding out her masters were sold to Scooter Braun, who is best known as Justin Beiber and Ariana Grande's manager, in a move to retain her agency as an artist. According to Teen Vogue, the album is expected on November 19, which just so happens to coincide with Scooter Braun's birthday.
In her announcement, Swift said that "Red (Taylor's Version)" will include all the songs that didn't make it on the original album. "This will be the first time you hear all 30 songs that were meant to go on Red. And hey, one of them is even ten minutes long," Swift wrote. As fans prepare to immerse themselves into "Red" once again, they're re-examining the album's closer, "Begin Again." Let's take a deeper look at this track.
The loves of Taylor Swift's past and present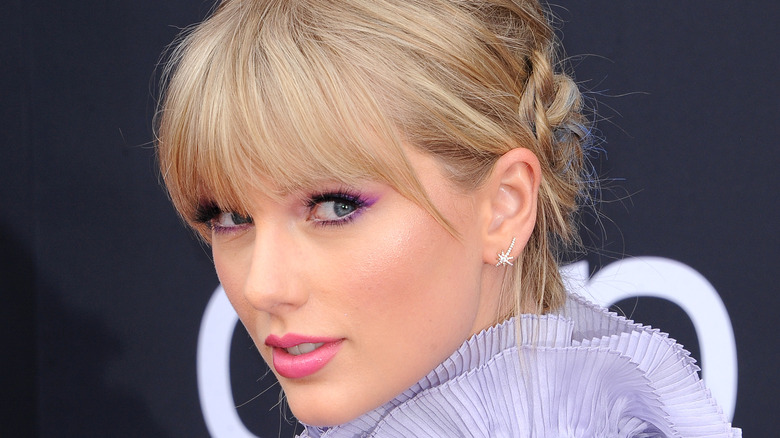 Tinseltown/Shutterstock
Taylor Swift's "Begin Again" is about the singer getting a second chance at love. Throughout the song, Swift shifts between talking about two lovers: one from her past, and one from her present. From the lyrics, it's evident her previous lover was holding her back. "Took a deep breath in the mirror / He didn't like it when I wore high heels / But I do," she sings in the past tense. "Turn the lock and put my headphones on / He always said he didn't get this song / But I do." 
By the last verse of the song, Swift has found someone with who she can start fresh, allowing her to leave the pain of her old relationship behind. "And we walked down the block to my car / And I almost brought him up," she sings, still in the past. But then, she switches to a current lover: "But you start to talk about the movies / That your family watches every single Christmas / And I want to talk about that / And for the first time / What's past is past." 

Upon the song's release, Swift explained a bit of the inspiration. "One day [I was] going to meet friends, [and] I had heels on," Swift told People (via Taste of Country). "[I] thought, 'I should take those off,' but realized I want to wear them and we're not together. There's no one to look at me skeptically anymore."
But who exactly is Swift singing about?
One song, two famous faces
Jason Kempin/Getty Images
Ryan Seacrest asked Taylor Swift what the song was about in 2012, and she was her usual coy self; "When you've gotten through a really bad relationship and you finally dust yourself off," she shared (via CBS News). While Swift usually never directly reveals who her songs are about, it has been long speculated that the inspiration behind "Begin Again" is two men in particular. "Begin Again," was most likely written about how Swift's relationship with Conor Kennedy, the grandson of Robert F. Kennedy, who helped her move on from actor Jake Gyllenhaal. Swift and Kennedy dated for a while in the summer of 2012 after the singer and Gyllenhaal broke up. Though Swift and Gyllenhaal didn't date for very long, their relationship was constantly in the headlines and seemed to be quite bumpy, making it likely at least one of the men in the song.
When announcing "Red (Taylor's Version)," Swift said that when she initially recorded the album, it "resembled a heartbroken person." She wrote, "It was all over the place, a fractured mosaic of feelings that somehow all fit together in the end. Happy, free, confused, lonely, devastated, euphoric, wild, and tortured by memories past." The singer has certainly come a long way since when she initially released "Red," so it's safe to assume fans can expect something different from this version, even if some of the songs are the same.