John Legend Talks Wife Chrissy Teigen's Postpartum Depression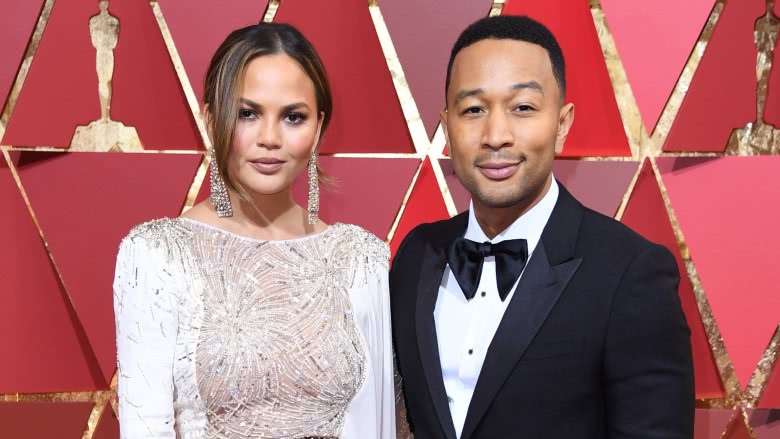 Getty Images
John Legend is speaking up about his wife Chrissy Teigen's postpartum depression and how it's affected their family.
In an interview with Time magazine for their 100 Most Influential People of 2017 issue, Legend complimented his wife on her open letter in Glamour magazine regarding her personal experience with postpartum depression and elaborated on how it impacts their day-to-day lives. "My wife just wrote very candidly about what she went through with postpartum depression and dealing with the aftermath of having a child," the "All of Me" singer said. "We're very happy in our relationship and very happy to be parents, but, like everybody, we're human and we have challenges."
Legend, 38, added, ""No one should think that our lives are perfect."
In her letter, Teigen explained how low she felt after she'd given birth to their daughter, Luna. "I couldn't figure out why I was so unhappy," she wrote. "I blamed it on being tired and possibly growing out of the role: 'Maybe I'm just not a goofy person anymore. Maybe I'm just supposed to be a mom.'"
Teigen, 31, continued, adding, "Postpartum does not discriminate. I couldn't control it. And that's part of the reason it took me so long to speak up: I felt selfish, icky, and weird saying aloud that I'm struggling. Sometimes I still do."
Legend's opened up about his wife's postpartum depression at least once before, telling People magazine that, to help Teigen, he just made sure he was there for her. "For me as a husband, it was my job to do the best I could to support her and understand what she was going through and do whatever I could do to help her. I feel like that's the least I could do," he explained.
In his Time interview, Legend also shared his thoughts on activism and the power of art. The 100 Most Influential People of 2017 issue is on stands now. Other celebrities highlighted in the magazine include Viola Davis and Riz Ahmed.