The Truth About Dwight Yoakam And Sharon Stone's Relationship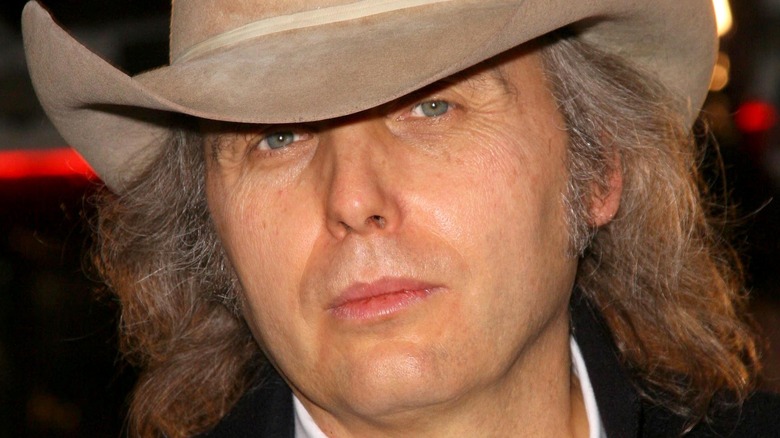 S. Bukley/Shutterstock
Sharon Stone is officially back and better than ever in her "second life," as she called it on "Sunday Today," and so is public interest in her love life. One of her more mysterious romances back in the day was a short-lived fling with country music star Dwight Yoakam in 1992, when Stone was at the height of her A-list status. But the relationship flamed out almost as quickly as it began, leaving fans of both celebs scratching their heads. What happened here, exactly?
Most famous for her roles in "Basic Instinct" and "Total Recall," Stone was also known for her lack of filter in interviews. Country music legend Yoakam, on the other hand, has always maintained a pretty hush-hush attitude when it comes to his love life. These days he's happily married, but he still gets asked about that brief moment in time when he was squiring around Stone. Here's all we could uncover about the romance.
Dwight and Sharon weren't a great match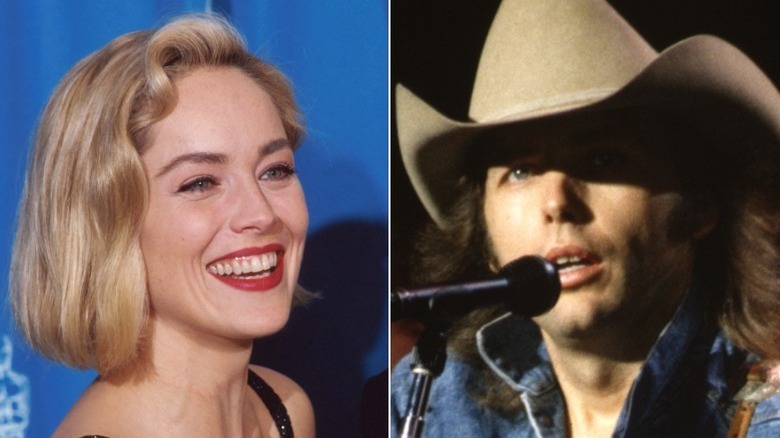 John T. Barr, Tim Mosenfelder/Getty Images
Sharon Stone and Dwight Yoakam made headlines as a couple when Stone brought the country star as her date to the Academy Awards in Los Angeles in 1992. He came wearing a cowboy hat (naturally) and she was dressed in blue velvet. Unfortunately, this award show seems to be the only event at which they were seen together. Their relationship was not long-lived and, if their interviews are any indication, not great, either.
After they broke up, Stone called Yoakam a "dirt sandwich," confirming the insult in a 1995 interview with The Orlando Sentinel. "That's one of my favorites!" she told the outlet. "Yes, yes, yes, I said it!" As for Yoakam, in an interview with the Los Angeles Times, all he had to say was, "I was coming out of a five-year relationship and pretty clumsy about myself emotionally. ... We dated."
The bad news is that neither of them seem to have expanded any more on what broke them up or why they got together in the first place. The good news is they both seem much happier these days.
David Yoakam and Sharon Stone have moved on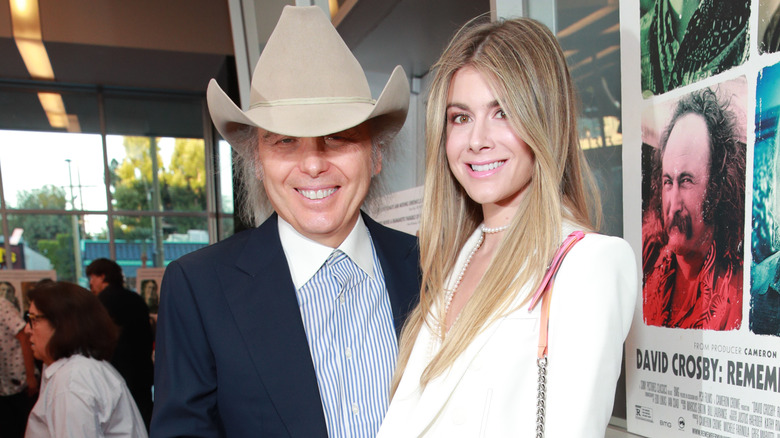 Rich Fury/Getty Images
It looks like both Sharon Stone and Dwight Yoakam have definitely moved on from their relationship. Since their momentary, not-so-perfect romance, Stone has been married twice and says she's now looking for love again. She even told Parade in a March interview that she'd been on the dating app Bumble for a time — although the app kept shutting down her profile, thinking it was a fake. "I had some interesting relationships on there," she said. "Love means something very different to me now. I have found deeper parts of myself. And I've experienced myself differently in relationships than I ever have before." 
Meanwhile, Yoakam married his longtime girlfriend, photographer Emily Joyce, in 2020, per Country Fancast. The couple had been dating since 2010. While Yoakam doesn't seem to have as hard of feelings about his relationship with Stone, it's safe to say he's probably not hoping for a reunion, either.