Cam Newton's Future With The NFL Just Took A Turn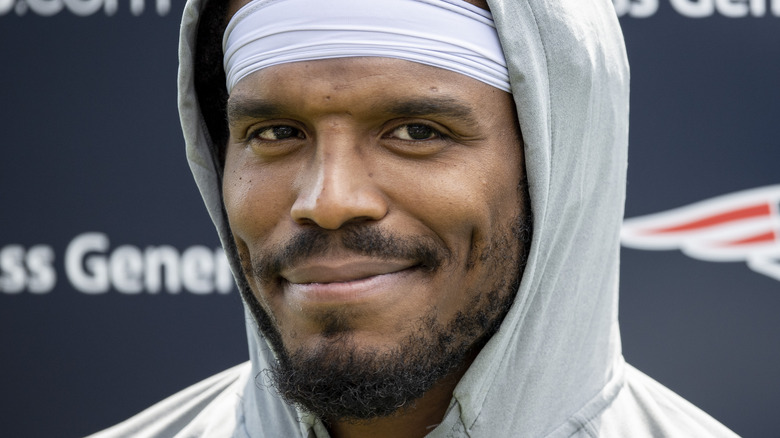 Maddie Malhotra/Getty Images
A battle for the starting quarterback position for the New England Patriots heated up as Cam Newton was pitted against rookie Mac Jones. On August 29, the former league MVP seemed to hint that the top spot was his with a cryptic Instagram post. "You are not in control of my thesis," Newton wrote in the caption of the three-photo post while including a snap of his jersey along with the words "QB #1" written across it. Two days later, Newton's trajectory with the team, and his career as a whole, went in a different direction as he was cut by the Patriots, per ESPN. This came after Newton signed a $5.1 million one-year deal with the squad in the offseason, per TMZ.
Jones was handed the keys to the team after he impressed in the preseason going 36-of-52 for 389 yards on 107 snaps. The rookie was given extended minutes after Newton was forced to miss time with the Patriots after breaking league COVID-19 protocols in what the team termed a "misunderstanding," per CBS Sports. "One important member of the organization believes this has 'opened' a window of opportunity for rookie Mac Jones," NFL Network's Mike Giardi tweeted at the time. Just hours before Newton's release, Patriots coach Bill Belichick heaped praise on the veteran, but the team ultimately decided to go in a new direction. 
Keep reading to see why the team cut Newton, and how he felt about being released.
Which teams could Cam Newton play for next?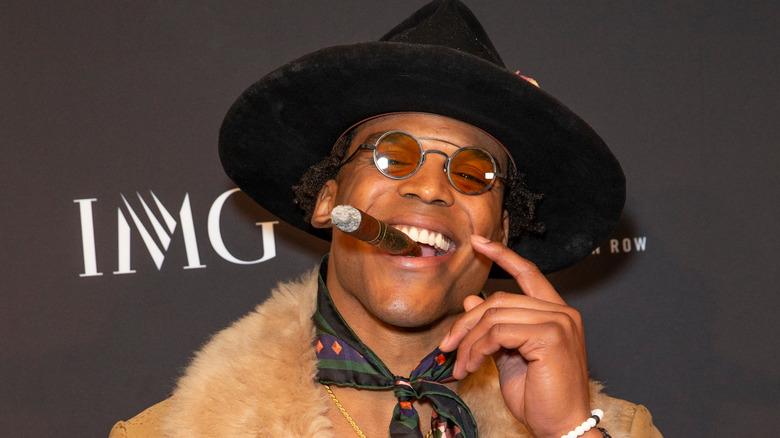 lev radin/Shutterstock
Experts believed the New England Patriots decided to sever ties with Cam Newton for multiple reasons, including Newton's COVID-19 vaccination status. "It was a combination of at least three, I'm told: Mac Jones' emergence, Newton's vaccination stance (which caused a bit of a stir behind the scenes) and Cam's uninspiring performance this summer," Adam Beasley of Pro Football Network tweeted after Newton was cut. Reports came in that after the Patriots decided Mac Jones would be their starting quarterback, they felt keeping the veteran around could overshadow the rookie. "His command of the locker room, and his vaccination status," Doug Kyed of Pro Football Focus tweeted about Newton. "Neither make him an ideal choice as a backup behind a rookie QB."
Shortly after the news of his release was announced, Newton took to Instagram to address his fans. "I really appreciate all the love and support during this time but I must say ... please don't feel sorry for me. #imgood," he wrote on his Instagram story. The former league MVP was unworried about his future, and several prognosticators weighed-in on what teams might look to sign him. "Cam Newton would be the best QB on Denver's roster," Sam Monson of Pro Football Focus wrote. Meanwhile, another expert believed Newton would be a great fit on the Houston Texans as a possible replacement for Deshaun Watson, and the Dallas Cowboys were mentioned as a third possible landing spot for the quarterback, per Spun.