Jack Nicklaus Opens Up About Donald Trump And Tiger Woods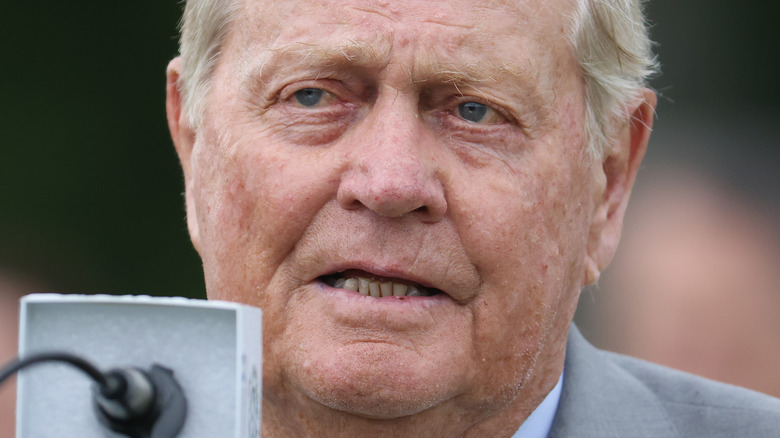 Andy Lyons/Getty Images
As far as golf's major championship victories go, no one is more accomplished than Jack Nicklaus. Nicklaus has won 18 times at the four golf Majors, including 73 PGA tour tournament wins, earning him a reputation as the greatest player the game has seen. Though his 73 PGA victories were outdone by Tiger Woods and Sam Snead, the outlet noted that Woods turning 45 in 2020 was "a reminder that he will almost certainly not reach the ever-elusive 19-major championship mark to best Jack Nicklaus by one." Aptly nicknaming himself "Golden Bear" after going pro in 1961, according to the Golf Channel, Nicklaus even adopted the moniker for his various business endeavors and companies. 
In October 2020, Nicklaus made headlines of a slightly different kind — for endorsing President Donald Trump in a long Twitter statement. "In my opinion, he has been more diverse than any President I have seen and has tried to help people from all walks of life – equally," Nicklaus' endorsement partly read. After the January 6 Capitol Hill riots, many Twitter followers followed up with Nicklaus, with one asking him, "How's that Donald Trump endorsement looking today?"
In a late August piece, The Washington Post revisited Nicklaus' Trump support with the man himself, as well as his thoughts on Woods. Read on for the tea the legend spilled.
Jack Nicklaus considers Donald Trump a good friend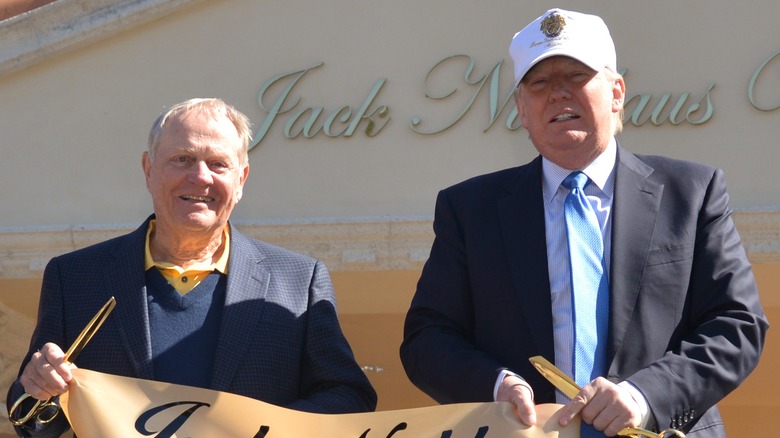 Manny Hernandez/Getty Images
As Jack Nicklaus told The Washington Post in late August, if his endorsement of Donald Trump for president in 2020 affected his public perception, the golf legend wasn't aware of it. "I never got any blowback," Nicklaus told the outlet. "And I'm sure I had a ton of it. But I don't pay attention to that stuff. I didn't see any of it."
According to the golfer, then-VP Mike Pence asked Nicklaus to pen his passionate (and lengthy) October 2020 Twitter appeal in support of Trump's re-election last year. Allegedly, Pence told Nicklaus, "The president knows you'll do it, but he didn't feel right about it."  The 73-time PGA tour winner admitted to the outlet that while Trump's four years inside the Oval Office didn't go "perfectly," people should look past Trump's "personality" as he believed the 45th POTUS accomplished what he set out to do. Granted, USA Today noted, Nicklaus and Trump share more than just political ideals, both being golf course developers. As Nicklaus said, Trump "has been a friend for years, I've built golf courses for him, and to support him was not difficult."
The golfer noted that he was a bipartisan voter, however. "I've voted for Republicans and a ton of Democrats, too. I vote for the person and how they do. And I'd write a letter for the right Democrat, too," Nicklaus said.
Jack Nicklaus has nothing but admiration for Tiger Woods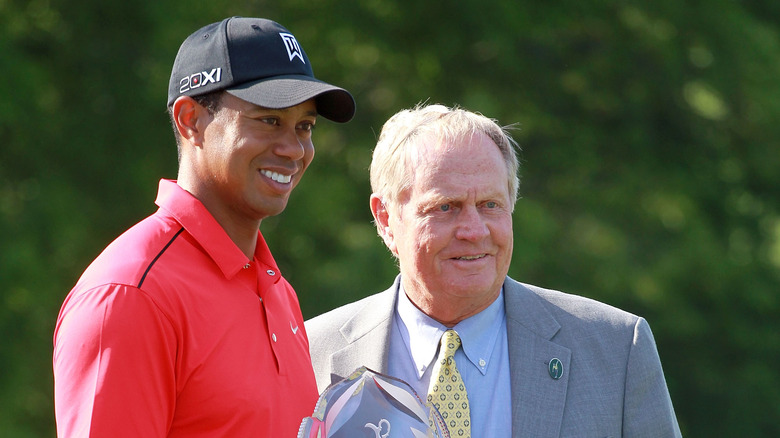 Andy Lyons/Getty Images
Despite Tiger Woods coming closest to beating his Majors victory count of 18, per CBS Sports, Jack Nicklaus predicted to The Washington Post in August that the injured Woods would soon return from rehabilitation and compete again. According to the outlet, Woods sustained multiple leg injuries after a car crash incident in February and has been working on recovery with no announcement of a competitive return yet. But, as Nicklaus remarked, "I know Tiger. What he did at Torrey Pines [winning the 2008 U.S. Open] on a broken leg... He'll still be able to slap it around, and if he can putt, he'll be all right. I don't know if he can reach his old level, but I do expect him to play again."
Though of different generations, Woods and Nicklaus have competed in the same major championships a whopping 22 times, according to the Score, with the last being the 2005 Open Championship. In 2020, Nicklaus had similar high regard for Woods' abilities on and off the course, telling Golf Digest that he's given Woods tips "about the swing, but I don't think he needs a lot of help." The golfing icon also praised Woods' aptitude dealing with intense media scrutiny. "This kid has been under a microscope since he was 5," he explained. " ... I didn't even decide that golf was a significant part of my life until I was 19. By that time, Tiger was public property."