The Truth About Armie Hammer's Ex-Wife Elizabeth Chambers' Life After His Scandal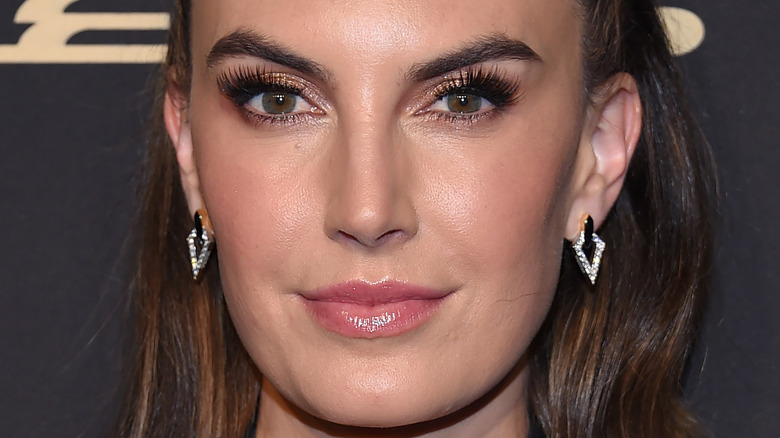 DFree/Shutterstock
Elizabeth Chambers, the estranged wife of disgraced actor Armie Hammer, has seen a lot of change in the last year. First, some context. Chambers filed for divorce from Hammer in 2020, but things really hit the fan in 2021, when the "Call Me by Your Name" star found himself in the middle of a public scandal as questionable texts from his past relationships emerged.
The graphic texts depicted a series of conversations in which Hammer supposedly claimed he was interested in engaging in cannibalism, among other violent sexual fantasies. Some of Hammer's exes also claimed that he was abusive and controlling during their relationship with him. Finally, things reached a crescendo when a woman named Effie, who had a four-year relationship with the actor (which would have happened while Hammer was married to Chambers), accused him of rape during a violent four-hour incident in 2017, per Insider. Hammer has categorically denied the accusations and maintained that everything that happened during his past relationships was always consensual. Hammer was dropped by his agent, his publicist, and removed from several projects, per the NME. Since then, he's been trying to get his life back in order by laying low and entering rehab. 
What about Chambers, though? What has she been up to since the scandal broke? Read on to find out.
Chambers is focusing on healing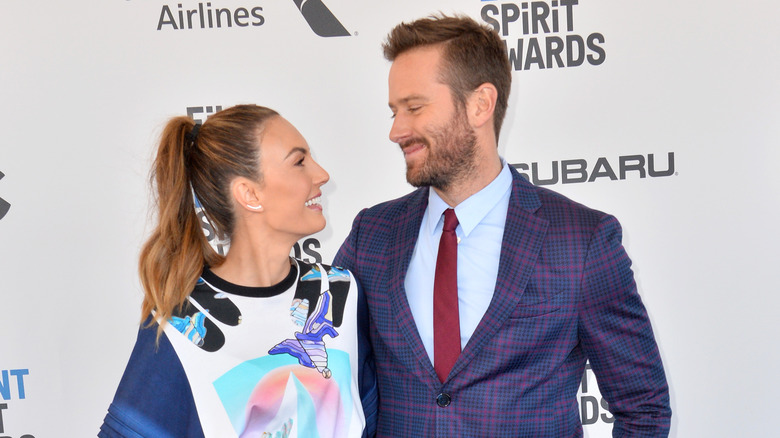 Featureflash Photo Agency/Shutterstock
When the news about her ex-husband's scandal broke, Elizabeth Chambers did her best to stay strong for her kids. "Elizabeth has told friends that while she is fearful herself, she is projecting strength for the kids and trying to find occasional humor in the darkness," a source told Vanity Fair in March 2021.
A month later, Chambers answered a series of questions about her current situation on her Instagram story. Responding to a fan asking what she had been up to, she reportedly said (via Vanity Fair), "Focusing on healing, my babes and work. A lot I've wanted to share, but hasn't felt right ATM." At the time, Chambers was hunkered down in the Cayman Islands. When the COVID-19 pandemic hit, she wanted to get her kids out of LA. The islands ended up having the additional benefit of being a convenient place for Hammer to rendezvous with his family, as he could stay with his father and stepmother, who live nearby. "We're not here to stay," she responded to another fan. "LA will always be home, but beyond grateful for our Cayman family and this incredible island for protecting my babes and me during these wild times."
According to her Instagram, Chambers is still in the Caymans. Now that she's two years out from her divorce and more than six months past her ex's sex scandal, what is her life like now?
Elizabeth Chambers is ready to date again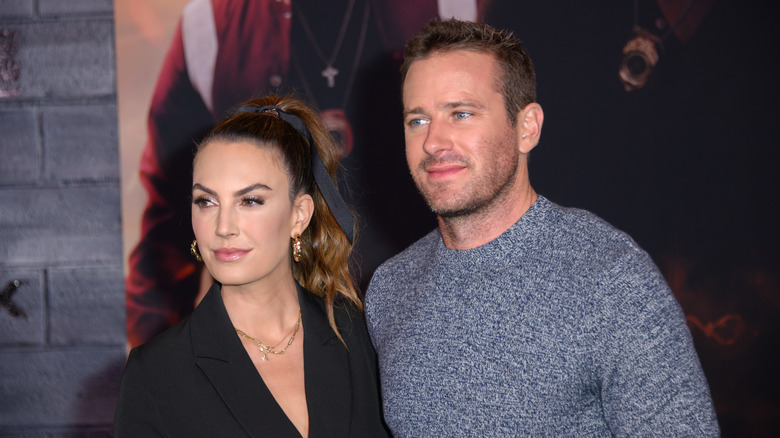 Silvia Elizabeth Pangaro/Shutterstock
Armie Hammer has been trying to get his life back on track while his ex, Elizabeth Chambers, has been trying to move on. Chambers is so committed to starting afresh that she reportedly won't even talk about her ex anymore. According to a source who spoke to People on that matter, Hammer's name never comes up in conversation between Chambers and her friends anymore. Additionally, according to the source, Chambers is putting herself back out there and is currently dating someone.
As for Hammer, it seems like he may have moved on as well. He is reportedly dating a dental hygienist based in the Cayman Islands. "Armie's happier and healthier than I've seen him in a long time," an insider told the Daily Mail. "He's even introduced her to his father and stepmother — it won't be long until she meets his kids."
As for the relationship between the exes, it looks like things may have warmed a bit over time. According to the outlet, an anonymous source posted an Instagram story in May 2021 that detailed how Chambers and Hammer shared an "emotional" goodbye at an airport in the Cayman Islands before he departed to seek treatment for his substance abuse and sexual issues.
If you or someone you know is dealing with domestic abuse, you can call the National Domestic Violence Hotline at 1−800−799−7233. You can also find more information, resources, and support at their website.