Inside The Feud Between Mariah Carey And Madonna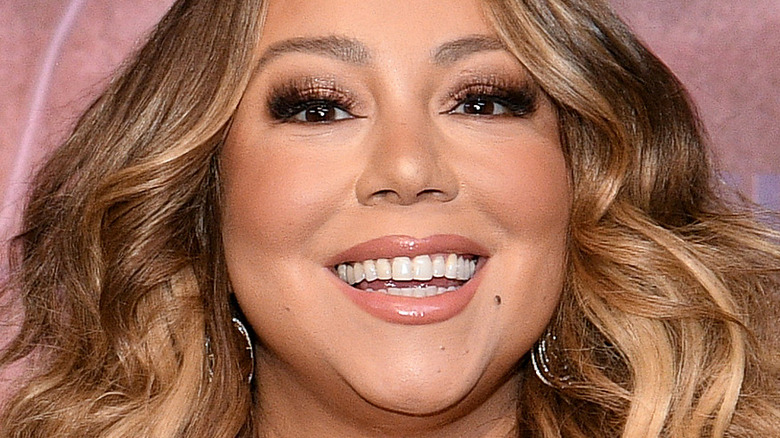 Dia Dipasupil/Getty Images
Mariah Carey famously once shaded Jennifer Lopez when she said she didn't know who the multi-talented singer and actor was. She also had beef with rapper Eminem in a "he-said, she-said" battle when she hinted that her song, "Obsessed," was about his supposed obsession her, according to In Touch Weekly. In 2006, Christina Aguilera accused Carey of behaving diva-like at a party. "One time, we were at a party and I think she got really drunk, and she had just really derogatory things to say to me," Aguilera told GQ (via People).
It's no wonder the chart topper has a long list of people that she either refuses to acknowledge or has traded barbs with in the past. But then again, Carey knows who she is and owns it, too. "Honestly! 'Oh my God, they're calling me a diva — I think I'm going to cry!'" the chart topper told The Guardian in an interview in 2020. She added, "You think in the grand scheme of things in my life that really matters to me, being called a diva? I am, b**ches, that's right!"
And while Carey's feuds with Lopez, Eminem, and Aguilera are the stuff that memes are made out of, little do her fans know that she's also thrown some major shade at another singer who considers herself to be the Queen of Pop: Madonna. To find out why, keep scrolling below.
Madonna's beef with Mariah Carey explained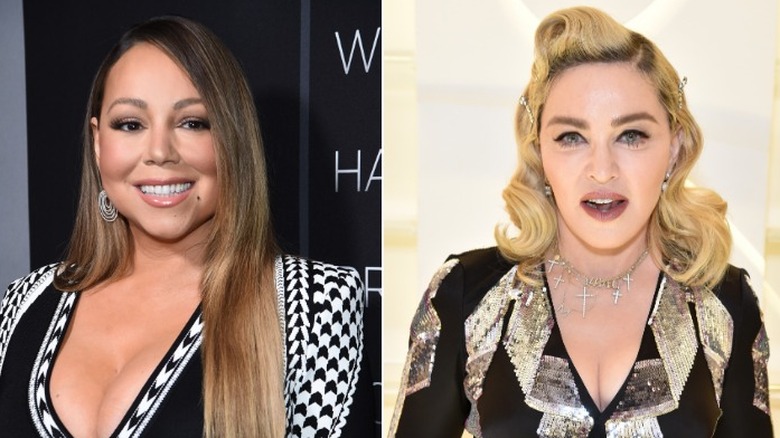 Jamie Mccarthy, Kevin Mazur/Getty Images
If you thought things were bad between Mariah Carey and Jennifer Lopez, that's nothing compared to the beef the "Butterfly" singer supposedly has with the Material Girl herself, Madonna. Whenever Madonna was asked about Carey in any of her interviews, she definitely didn't mince her words. During a 1996 interview with Spin, she dragged Carey when she suggested that her work was anything other than serious art. While Madonna did say that Carey was a very talented singer, she also said, "We have to realize that the same country that acquitted O.J. is the same country that makes a complete piece of sh*t movie No.1, that buys Mariah Carey records. It's this homogeneity. But it's got nothing to do with art."
If that weren't enough, Madonna also said in an interview with NME in 1995 that Carey might not be the kind of artist that has a point of view, or at least is willing to share it with the world. She said (via Madonna Nation), "People need something to look to, something to provoke them into questioning whether they completely hate something or completely love something. Perhaps somebody like Mariah Carey wishes she could make that happen."
Of course, when Carey fired back, she did it in the most Carey way possible.
Madonna doesn't want to be in Mariah's shadow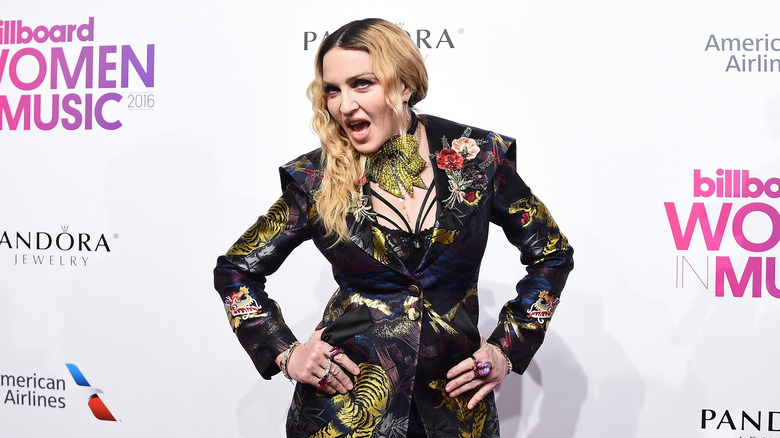 Ilya S. Savenok/Getty Images
Although Mariah Carey may be a woman of very few words — unlike Madonna in some of her interviews — she had the ultimate comeback to the "Papa Don't Preach" singer in a 1995 interview with MTV. "I really haven't paid attention to Madonna since I was in seventh or eighth grade when she used to be popular," she slammed. 
If that weren't enough, Carey made fun of Madonna's posh English accent that she adapted during her marriage to Guy Ritchie not once, not twice, but several times while appearing on British talk shows. To add even more fuel to the fire, Madonna told her handlers that she wanted to keep her distance from Carey during the Live 8 concert in London back in 2006, per Today. 
Carey and Madonna's beef hasn't stopped there. In 2019, Madonna posted a clip of herself while backstage at the Billboard Music Awards, in which she appeared bemused over the fact that she was asked to present Carey with the Billboard Icon Award, according to the Daily Star. She said: "At the Billboard Awards where I will be honored with nothing ... as usual." Well, if there was an award for longest-running feud between two pop divas, these two ladies would be carrying the honors.