Aaron Hernandez Reportedly Found With Bible Verse Written On His Forehead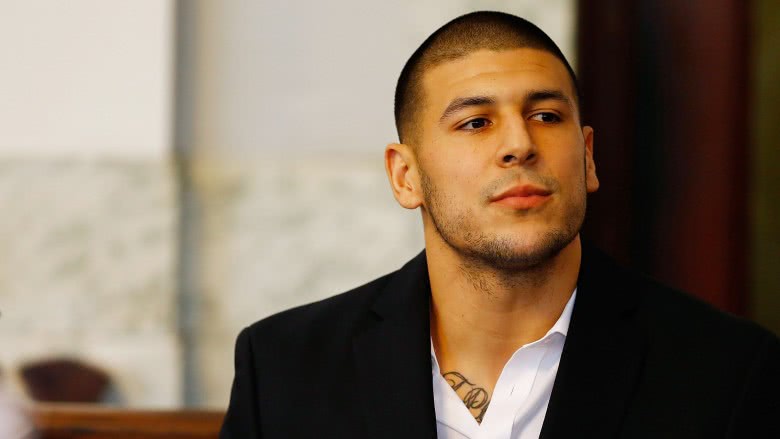 Getty Images
Aaron Hernandez's reported suicide just took a strange turn.
Since Hernandez was found unresponsive in his jail cell on April 19, 2017, more details have emerged surrounding the former NFL player's death. The Chicago Tribune reports that, at the time of his death, Hernandez had a bible verse written on his forehead. The verse? John 3:16. A bible was also reportedly flipped open to the verse nearby.
John 3:16, which is often quoted by Christians, reads, "For God so loved the world that he gave his one and only son, that whoever believes in him shall not perish but have eternal life."
While it was previously reported that Hernandez, who was serving a life sentence for the murder of the boyfriend of his fianceé's sister, Odin Lloyd, did not leave a suicide note at the scene, the Tribune now reports that authorities found three handwritten notes in his cell. There is no word on what those notes contained, and he had not been placed under suicide watch prior to his death.
But just when you'd think that'd be all regarding Hernandez's death, TMZ reports that the football player's lawyer has accused the Worcester Medical Examiner of illegally holding onto Hernandez's brain after it was supposed to be released to a hospital for research into chronic traumatic encephalopathy. Hernandez's family reportedly wants to know if he suffered from CTE, a condition linked to those who've experienced head trauma, and hopes to learn more about the condition by donating his brain to science.
Hernandez's lawyer is reportedly threatening to sue the medical examiner if the brain is not released.