Inside Val Kilmer's Strange Connection To Charles Manson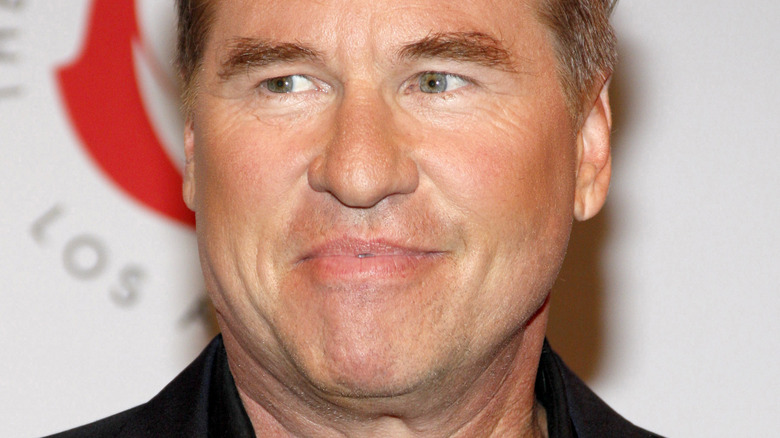 Tinseltown/Shutterstock
Over the course of his four-decade career, Val Kilmer has been established as one of Hollywood's greatest performers. Known for his versatility, the actor made his name with roles such as vocalist Jim Morrison in the 1991 biopic "The Doors," Elvis Presley in "True Romance," Doc Holliday in "Tombstone," and the titular role in 1995's "Batman Forever," per IMDb. With his Juilliard School training, Kilmer quickly ascended to the top and proved to audiences that he was an actor with a ton of staying power.
Though Kilmer's most prominent days on the screen are now behind him, he still remains active in his line of work — even reprising his role as Tom 'Iceman' Kazansky in the upcoming "Top Gun" sequel, "Top Gun: Maverick." And while Kilmer does have a bad reputation for getting under people's skin (with the late "Batman Forever" director Joel Schumacher once describing the actor as "psychotic," per Vulture), the actor still continues to find work in the industry today.
The word "psychotic" is one word that has been used to describe Kilmer, and it seems like similar adjectives pervade Kilmer's life more often than not. Aside from his bad behavior post-"Batman Forever," Kilmer has one strange life connection to someone who completely fits the description of the word: Charles Manson. In a jarring case of worlds colliding, Kilmer has revealed how he is tied to the infamous killer in his book, "I'm Your Huckleberry: A Memoir." Read on to find out how Val Kilmer is connected to Charles Manson.
Val Kilmer grew up near Charles Manson's residence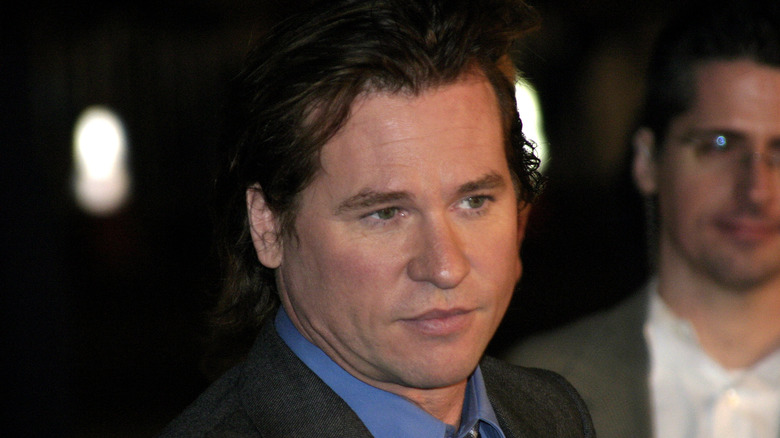 Tinseltown/Shutterstock
Talking about living in fear! In his book, "I'm Your Huckleberry: A Memoir," Val Kilmer recalled growing up near California's Spahn Ranch, which, at the time, was also the residence of Charles Manson and the Manson Family. In growing up near the cult leader, Kilmer recalled living "too close for comfort to Charles Manson," noting that he and his Family would "go to Spahn Ranch, where they all lived," per Ranker.
Why in the world would anyone want to visit the well-documented location of a serial-killing cult, especially at such a young age? Kilmer noted that it "was the closest place to rent a horse for a trail ride." And if that wasn't bone-chilling enough, Kilmer revealed that "[t]he guy who put me on a horse was Donald "Shorty" Shea, who worked for Spahn Ranch, [who] was killed by members of the Manson Family..." Clearly, horseback riding was worth the risk for the "psychotic" Kilmer.
The Manson cult called Spahn Ranch their home in the late 1960s, per Vox, where they were afforded to live by owner George Spahn in exchange for free labor. It was here that the Manson Family planned and committed some of their most heinous acts — taking advantage of Spahn's near-blindness at the time. So what exactly did the Manson Family do at Spahn Ranch? 
Mass indoctrination at the hands of Charles Manson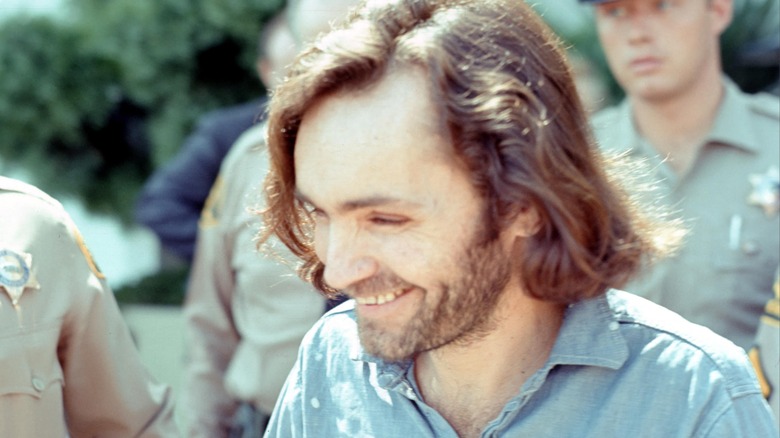 Michael Ochs Archives/Getty Images
At Spahn Ranch, Charles Manson was able to reign supreme over his so-called Family. In a ranch so remote and removed from society, Manson was able to rally his troops and indoctrinate them through a series of jaw-dropping methods. How did he do it, you ask? Well, according to Curbed, Manson's indoctrination regimen consisted of "acid trips, mandatory orgies, and hypnotic, repetitive lectures outlining 'Helter Skelter,' the race war he was determined to start."
Aptly named after the Beatles' song of the same title, "Helter Skelter" foretold an impending race war between white people and Black people in which Black folks would reign supreme, only for Manson and his followers — who would dwell in a secret city reachable through a hole in the Earth during the war — to emerge victorious as Black people "would find themselves unable to govern wisely."
Regarding the experience at the ranch, Family member and convicted killer Susan Atkins likened the group to "wood nymphs and wood creatures" and that they "would run through the woods with flowers in [their] hair, and Charlie would have a small flute," per Curbed. Fellow killer Leslie Van Houten recalled "no longer [being] in control of [her] mind" as she "became saturated in acid." Per the outlet, prosecutor Vincent Bugliosi noted that Spahn Ranch's isolated nature allowed for Manson to thrive, noting that there "were no newspapers at Spahn Ranch, no clocks" and that it was "cut off from the rest of society."