What Was Chet Hanks' Upbringing Really Like?
Tom Hanks' legacy in the entertainment industry is inarguably huge, as he's been an accomplished and awarded actor for decades. His several opportunities to play likable, wholesome characters, as well as his charitable, fair demeanor off-screen, has allowed him to be a highly idolized actor as well. 
Hanks has four children: two with his late ex-wife Samantha Lewes and two with his second and current wife, Rita Wilson, per Page Six. Most of his children have followed his path and have dabbled in acting or work behind the camera. Chester Marlon "Chet Haze" Hanks, however, has mostly focused on his rap career, although he has been seen in guest roles on highly acclaimed TV shows such as "Empire," "Your Honor," and "Shameless," per IMDb. 
He is also known to say off-the-cuff and controversial remarks about race, cultural appropriation, and even anti-vaccination statements. "Okay, I'm gonna keep this real simple for you guys. Real simple. Okay. Just like you have the right to be mad at me because I said I'm not going to get the vaccine ... I have the right to not get that sh*t," Hanks said in a deleted Instagram video, via The Hollywood Reporter. Aside from spreading anti-vaccine sentiments, he is also known to talk about his life in the Hanks' family. In a recent "Channel 5 With Andrew Callaghan" interview on Youtube, he gets real about what being a part of the Hanks' family legacy is REALLY like.
Chet Hanks never received allowance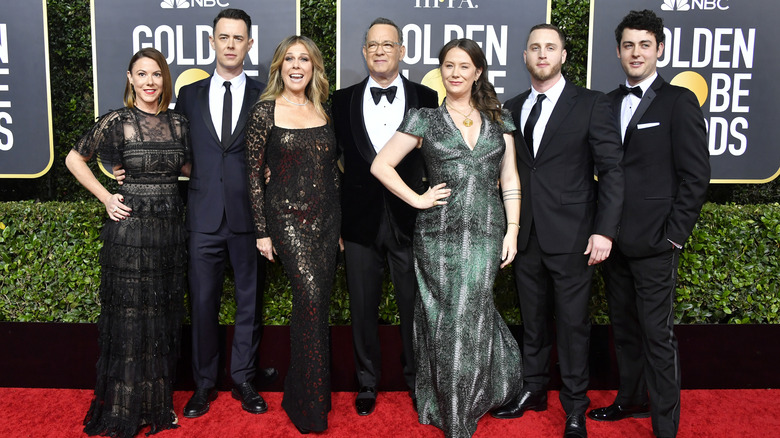 Frazer Harrison/Getty Images
Even though Tom and Rita Hanks worked really hard and made a lot of money to pass down to their children, they decided not to give them an allowance. While many may find this to be a great thing by preventing their children from becoming too spoiled, Chet Hanks doesn't share those same feelings.
"It was really kind of a double-edged sword," Chet said candidly in the "Channel 5 With Andrew Callaghan" interview. "People assume I lived this super privileged life, like Richie Rich, and that just wasn't the case. It was actually the opposite. They never f****** gave me an allowance. I don't know if I'm the brokest rich kid or the richest broke kid." 
Growing up, Chet claims his parents "put him on a short leash" due to getting caught engaging with recreational drugs. "My mom was in absolute hysterics. It was bad," he said in the interview, via Us Magazine. It sounds like Chet's parents didn't see eye-to-eye with how he wanted to live his life.
Chet Hanks takes on a new personality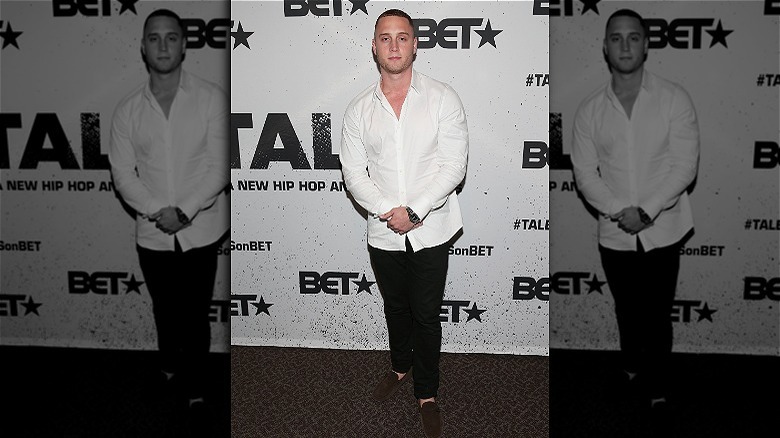 Bennett Raglin/Getty Images
Chet Hanks takes living his life on his own terms to the next level. He is an infamous rapper who is known to use African American Vernacular English and accents in his music to cause controversy so he can gain a following outside of his father's influence. Chet was once a part of two not-so-well-known rap duos called "Something Out West" and FTRZ. He recently was signed to Soulja Boy's label SODMG Records, and dropped a new song called "White Boy Summer," a play on Megan Thee Stallion's famous phrase and song "Hot Girl Summer."
In March, the "White Boy Summer" idea was first thrown around by Chet in a now-deleted Instagram video. "I just got this feeling, man, that this summer is, it's about to be a white-boy summer," he said, via The New Yorker. "I'm not talking about, like, Trump, you know, Nascar-type white. I'm talking about me, Jon B., Jack Harlow-type white-boy summer . . . Let me know if you guys can vibe with that."
We do not know if that idea really "vibed" with the majority of the population, as the summer is over now, the music video was released in April, and it still hasn't cracked over a million views yet on YouTube. However, we commend Hanks for trying and for having high aspirations. Now that he has a record label backing him, maybe his music will be better received later on.