Aaron Hernandez Death Officially Ruled A Suicide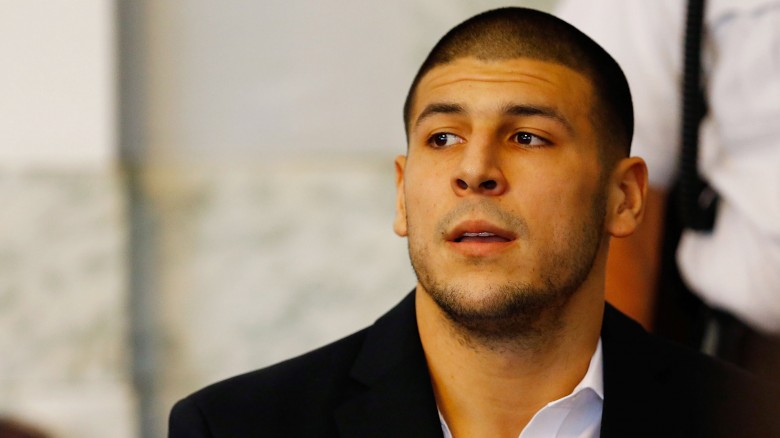 Getty Images
Chief Medical Examiner Dr. Harry N. Nields has concluded that Aaron Hernandez's cause of death was "asphyxia by hanging," and his manner of death was suicide, according to a statement issued by the Worchester District Attorney's Office.
As previously reported, authorities have not indicated that Hernandez left a suicide note, although three handwritten notes were recovered, of which TMZ is now reporting, "one of the notes addressed the general public, and the other 2 were written to specific people."
Meanwhile, Hernandez's fianceé, Shayanna Jenkins-Hernandez has filed a motion seeking "a preliminary injunction to stop the state from destroying documents, videos, audio recordings, writings and any other evidence linked to his death," according to NBC Boston. The filing also states the the intention to "investigate all of the circumstances regarding Aaron Hernandez's death."
Hernandez's lawyer, Jose Baez, has also announced that the family has commissioned an "independent autopsy" which will be conducted by famed forensic pathologist, Dr. Michael Baden. In remarks to the press yesterday, Baez said, "We're investigating everything. We're not rejecting anything. We're keeping all of our options open, which is what everybody else should be doing," according to The Boston Globe. "The culture of misconduct and the culture of negligence that goes on in this town is befuddling. It's unbelievable that they would engage in this type of conduct, especially when everyone's watching," he continued.
With the cause and manner of death now determined, Hernandez's brain will be sent to Boston University's CTE center, per the wishes of the family, in order to determine if the former NFL star had sustained any type of brain injury that could have led to his suicide.