Brad Pitt's Surprising New Gig Is Drawing Comparisons To George Clooney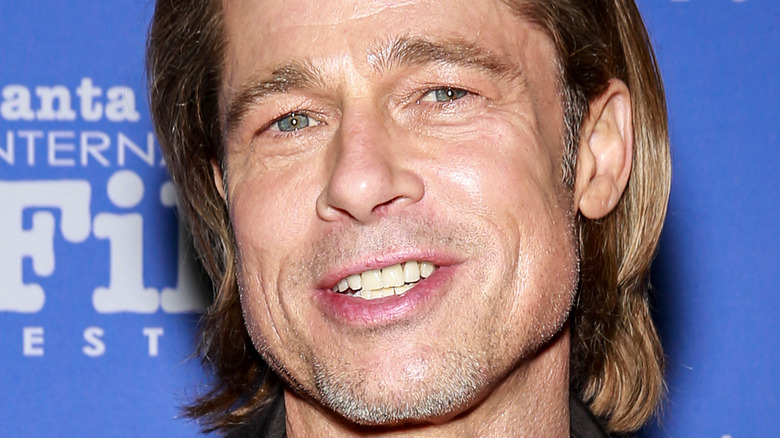 Ovidiu Hrubaru/Shutterstock
Brad Pitt is no stranger to making international appearances in obscure ads that you wouldn't otherwise see if it weren't for the internet. We've seen a bleached blonde Pitt push a copier out the door of his office building in a Japanese commercial for Roots Iced Tea, and play the guitar while singing and throwing his pants in the air for Edwin Jeans. If that weren't enough, the now-defunct airline Norwegian Air used his divorce from Angelina Jolie as a way to entice travelers to visit Los Angeles, Calif. for an ad, according to the Daily Mail. Because hey, when you see the words "Brad Pitt is single," you hop on the next plane and make a beeline for the airport, right?
But it's Pitt's new role that has a lot of people turning heads and even drawing comparisons to his good friend, actor George Clooney. But that doesn't seem to bother Pitt much as he admits, "You get older, you get crankier, and comfort becomes more important. I think it's as simple as that," he told Esquire. Well, Pitt might think he's older and crankier, but he certainly looks comfortable, casual, and content in his new clip. Keep scrolling below to find out what it is!
Brad Pitt is enjoying the slower side of life, one coffee cup at a time
Brad Pitt is staring in a new commercial for De'Longhi coffee and from the looks of it, the campaign is very on-brand for the Hollywood star. Aside from feeling "older" and "crankier," Pitt also admitted to Esquire that he drinks three cappuccinos a day. He said, "I am a serious, professional, committed coffee drinker. Usually a three-cappuccino drinker in the morning, and depending on the work in the afternoon, I might switch over to an espresso."
Pitt's new gig and commercial with De'Longhi has a lot of people thinking of the time that his friend George Clooney made an ad with Nespresso in 2014, in which he desperately traded a pair of his leather shoes for a pair of flip flops just to get French actor Jean Dujardin's last Nespresso cup. The ad also features Clooney's Italian villa in the picturesque town of Lake Como in Italy.
In Pitt's commercial, he gets to keep his shoes on but feels equally as content about his cup of coffee as Clooney does his. Now, could you imagine both Pitt and Clooney in the same commercial sipping their cappuccinos together? Not only would it exude the best kind of style, but comfort in knowing that our favorite A-listers like the slower side of life, just like the rest of us. We'd definitely drink to that.