The Real Meaning Behind Drake's 'Fair Trade' Featuring Travis Scott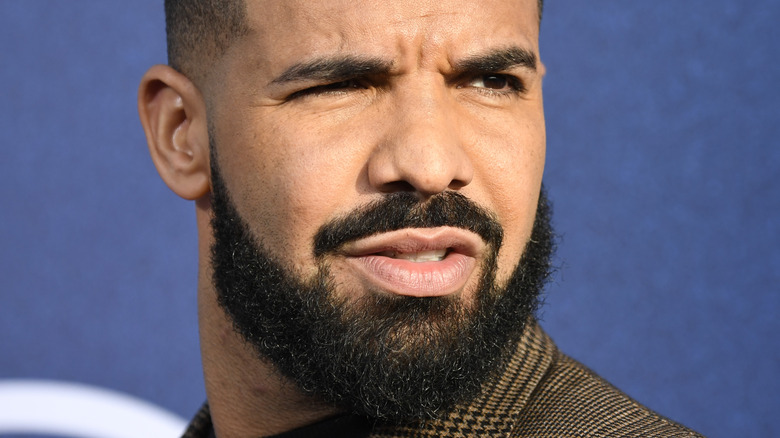 Frazer Harrison/Getty Images
The dynamic duo has teamed up yet again for another smash hit worthy of a smorgasbord of Instagram captions. Toronto native Drake (a.k.a. Aubrey Graham) and Houston native Travis Scott (a.k.a. Jacques Bermon Webster II) now have a fourth collaboration together with their new song, "Fair Trade," off of Drake's sixth studio album, "Certified Lover Boy."
Drake and Travis Scott seem to have the magical formula down pat after receiving high praises for their other collaborations like "Company," "Portland," and especially "Sicko Mode," which was certified Diamond by the RIAA in December 2020. It's like you can feel the heat smoking from your Airpods when Drizzy and La Flame decide to link up and use their Scorpio x Taurus brooding powers for good (after all, they are sister signs for those who are well-acquainted with astrology).
Nothing about their lyrics is light work, even if it comes across so seamlessly to listeners. With an amass of double entendres and metaphors that are more than meets the eye, it takes a couple of listens to let the words soak into the audience's subconscious and finally click. We're here to dissect the meaning behind Fair Trade so you don't have to.
Travis Scott would rather push past the negativity
There's a theme of betrayal and negative energy that Drake and Travis Scott want to leave behind in "Fair Trade." Scott is tired of being tired and having to watch his back all the time from people in his circle betraying him. Instead of worrying about his crew's loyalty and his personal mistakes, he would rather push past all those negative things weighing him down. "Worry, sick, I'm sick of worryin' (Sick, sick) / It's just a worryin', I'd rather bury them / I'm talkin' fake friends and skeletons (Yeah)," he raps, via Genius. 
Scott keeps this theme of looking past the darkness and into the light by having discreet fun with people he doesn't need to keep up with. "At the crib all by myself, this sh*t be cavin' in / Scrollin' through my call log, by emojis, how I'm savin' 'em / Del Mar as the beach where my hoe was but I favorite them / That butterfly emoji hold me down and all my babies them (Yeah)," he says over some high hats and trap beats. That could be a nod to his baby mama, makeup mogul Kylie Jenner, who got matching butterfly tattoos with the AstroWorld rapper to symbolize their relationship, according to her 2020 YouTube video.
Scott switches and speeds up his flow at the end of his verse to make it clear that he's not putting up with any more foolishness.
Drake is finding peace, even if that mean losing friends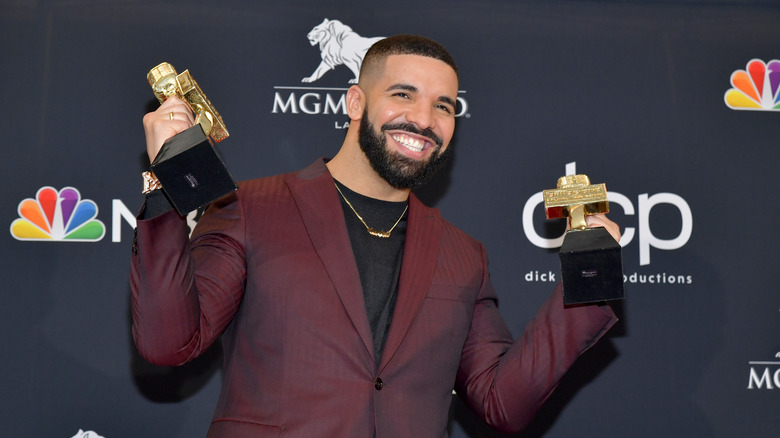 Amy Sussman/Getty Images
Travis Scott makes it clear that he's over worrying about people who don't deserve his loyalty, and Drake is on the same page. He samples a verse and the chorus from Charlotte Day Wilson's 2019 song "Mountains," which states: "I don't understand why you blame me / Just take me as I am, it's the same me / Senseless sight to see / Search through the valley (Search through the valley) / You hear me calling (You hear me calling) / Won't you come find me? (Won't you come find me?) / Please don't forsake me (Please don't forsake me) / All of a sudden (All of a sudden)/My heart is breaking (Breaking)/ I feel it coming, I, I," via Genius.
Drake is asking why the person he cares for isn't going the extra mile and instead is hurting and blaming him for who he is, when he's been the same old person from the get-go. Instead of feeling sorry for himself, he flips the script and decides he is better off without those people, gaining a sense of peace he once lost, which sounds like a better trade-off for him in the long run. "I've been losin' friends and findin' peace (Ah-ah, ah) But honestly that sound like a fair trade to me," he says, via Genius.
Seeing the widely receptive reviews of "Certified Lover Boy," we think Drake made the right decision to choose himself in the end.