The Truth About Mara Wilson And Robin Williams's Relationship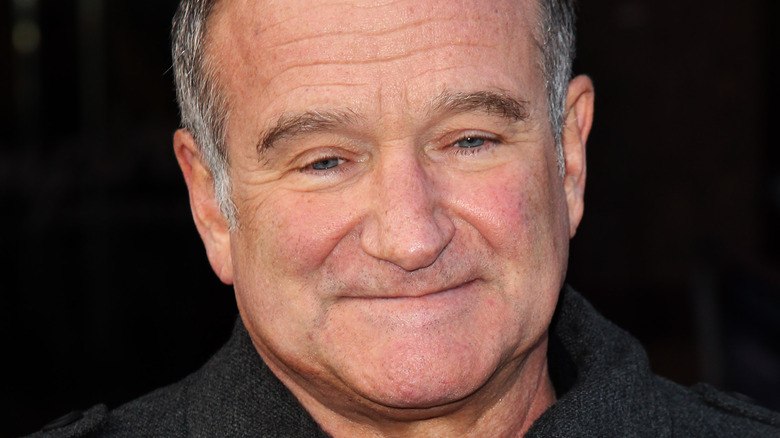 Dave Hogan/Getty Images
Robin Williams brought a spark to the lives of many adults through his comedic characters, but he undoubtedly brought extra light to the lives of children everywhere. Among his blockbuster films are some that defined a decade and the childhoods of a whole generation. No 1990s kid in their right mind will argue that they would have preferred to grow up without cheering for Peter Banning to remember Peter Pan in "Hook" (1991), marveling at Genie coming out of the bottle in "Aladdin" (1992), or doubling up with laughter at his female British accent in "Mrs. Doubtfire" (1993). 
Williams worked with plenty of child actors. Among those was Mara Wilson, who played Williams' daughter, Natalie, in "Mrs. Doubtfire." While many young actors might have been intimidated by sharing the screen with the legendary actors, Wilson was not. At 5 years old, Wilson didn't fully grasp what it meant to be next to Williams — or Sally Field or Pierce Brosnan, for that matter, she told Evoke. 
"When I got a little older, I started to get a sense of it but at the time not really... So I never had that pressure of feeling of being overwhelmed by their star power because I was only five when we filmed and at that age, you don't fully understand celebrity really. You're just like 'Oh this person is kinda cool,'" Wilson said. But that also allowed Wilson to get to know the real Williams. Read on to learn about the two actors' relationship.
Robin Williams was like an "uncle" to Mara Wilson
Robin Williams had a special relationship with kids on sets, Mara Wilson wrote in her heartfelt tribute (via ABC News) to the actor upon his tragic death on August 11, 2014. "Robin would do anything to make me and the other kids laugh. He seemed to know instinctively what we would find funny and never had to resort to saying anything that was inappropriate for children," Wilson said. Speaking on Dublin's 98FM's Big Breakfast, Wilson said Williams took on a caring role when they worked together on "Mrs. Doubtfire." Williams acted like "an uncle, a paternal figure," she told the hosts.
In her blog entry, Wilson said Williams seemed to feel more comfortable around children than around adults. "He could also be kind of shy. So sometimes, you know, he would be looking down at his shoes, not really looking you in the eye, especially if you were an adult," she said. 
Because Wilson was so young when she worked with Williams, her impressions of him became a bit more clear a few years later, when they saw each other again for a reading of the 1998 film "What Dreams May Come," according to ABC News. "Robin crossed to me from across the room, got down to my level, and whispered 'Hi, how are you?' He asked how my family was doing, how school was, never raising his voice and only sometimes making eye contact. He seemed so vulnerable," she said.
Other child actors agree Robin Williams had a special relationship with children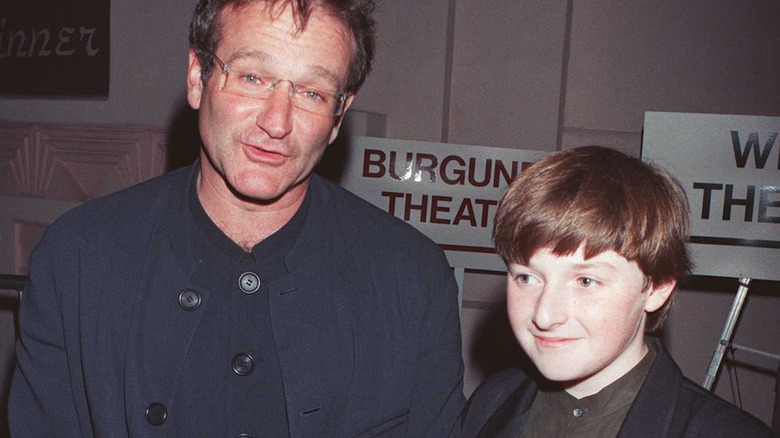 Denny Keeler/Getty Images
Robin Williams' special knack for working with children wasn't only known to Mara Wilson. Bradley Pierce, who co-starred with Williams in "Jumanji" (1995), said in 2020 that the actor stood up for the young actors on set when filming the movie's exhausting monsoon scene, according to People. Producers asked the parents of the kids, who because of their age had work-load restrictions, if they could do overtime to get the scene done that day, the report detailed. "Robin caught wind of these conversations happening and apparently he pulled the director and producers aside and said, 'No we're not doing any extra time'... For all the dollars that would have cost, nobody else could have stood up the way he did,'" Pierce said. 
Williams also knew that young actors grow up fast and need adults to have real talks with them. Lisa Jakub, who played his teenaged daughter in "Mrs. Doubtfire," told Yahoo! that Williams made it clear to her that she could talk to him about her mental health worries. Jakub told the publication that Williams used his own struggles with depression and anxiety to break the stigma around it. 
"I was able to share with him that anxiety was something that I struggled with, and he would talk to me about mental health issues in a way that 14-year-olds aren't usually used to adults being really open about those sorts of personal experiences with them," she said.